Rice-Eccles Stadium on the campus of the University of Utah seats 45,807. It's hosted the Olympics, a U2 concert and, of course, some of the greatest wins in Utah football history.
And this Saturday, it will be the site of a homecoming for Idaho State assistant coaches Kam Yancy and Lei Talamaivao.
"The very first time I ran down the tunnel (at Rice-Eccles), it was unforgettable," Yancy said. "I remember everything. I remember the disciplines, I remember how tough it was. I remember the structure, all the coaching. I remember all the wins and all the losses. I remember relationships with my friends. There's nothing I don't remember. Those are the greatest times of my life, was my three years at Utah."
Both Yancy and Talamaivao played at Utah, and both joined the Utes' coaching staff after graduating.
That's made this week a little more complicated for both of them, even beyond preparing their players — Yancy coaches the cornerbacks, Talamaivao the defensive line — to play the No. 11 FBS team in the country.
"I've been battling emotions, but also understanding where my loyalty lies now," Yancy said. "It's been tough, but it's been happening. I've been establishing a mentality ... to just block out any feelings I may have that may conflict with our success on Saturday."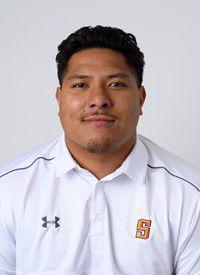 Both men's roots run deep at Utah. Yancy transferred there from Pierce Junior College in California and lettered as a cornerback for the Utes in 2009 and 2010 before serving as a quality control coach on head coach Kyle Whittingham's staff for three years.
"He was an extremely hard worker," Whittingham said. "Kam was a workaholic. He was completely dedicated to making himself the best player that he possibly could."
Talamaivao, meanwhile, played as a freshman at Utah in 2007. He redshirted with an injury in 2008, but played each of the next three seasons.
"(The injury) was tough on Lei, but he was a tough kid," Whittingham said. "He had a great attitude. He's one of the most positive people you'll ever meet. I mean, Lei is a guy that finds something good in everything and everyone, and that really helped him get through that. I'm proud of him for where he is now."
His playing career encompassed a historic era in Utah football history, from the Utes' undefeated season and Sugar Bowl win in 2008 to their transition from the Mountain West Conference to the Pac-12 in 2011.
Talamaivao returned to Utah in 2017 and 2018 as an assistant coach.
"It's exciting to go back where I've learned, first and foremost, to become a man," Talamaivao said. "Coach Whitt is a wonderful coach, he's a really disciplined coach. ... A lot of things that I implement now in my coaching philosophy and individual drills, I was lucky to be taught (there). I've just been lucky, really, to learn from those men."
Whittingham, interestingly, has connections that run the other way. He was a defensive assistant at Idaho State from 1988 to 1993, serving as the defensive coordinator for the final two years of his tenure.
Current Utah offensive coordinator Andy Ludwig overlapped with him in Pocatello for three years, coaching the Bengals' quarterbacks and receivers from 1989 to 1991.
For both Talamaivao and Yancy, their time at Utah shaped who they are as men, as players, and now as coaches.
Yancy described Whittingham's program as being run like a military base — the perfect place to learn toughness through discipline and hard work.
"You gotta understand where Utah came from to where they're at now," Talamaivao said. "Obviously, when I first came in, they were in the Mountain West, so our mentality was always kind of yeah, you might have more talent than us, but we're going to work harder than you, we're going to prepare, and we're going to be tough."
That's an attitude that they've taken into their coaching careers, and it's an underdog spirit that Idaho State will need to embrace Saturday.
Utah is the highest-ranked FBS team ISU has played this decade, and the Utes are favored by five touchdowns.
All week long, ISU's players and coaches have said that the most important thing is for the Bengals to compete, to show the right "attitude and effort," as head coach Rob Phenicie put it Monday, despite the odds.
That's even more important for Talamaivao and Yancy.
"Whatever happens, happens," Talamaivao said. "But I just want (the defensive line) to compete, I want them to play hard. ... I'm excited to truly kind of show (the Utah coaches), from my D-lineman perspective, of what I've learned from there. I think that's probably the most exciting part about it, is to go against them and apply the things I've learned there against them."