Chasity Snowden cried. So did her son Titian.
But what elicited tears was not sadness, but joy.
They were witnessing a parade from their Chubbuck home to celebrate Titian's seventh birthday this month. He couldn't have a party as gatherings aren't recommended amid the COVID-19 pandemic.
The parade featured a fire truck and other vehicles, some of which featured banners and streamers. Some of his classmates waved to him from inside vehicles while their parents honked their horns as they passed by.
"I think everyone needed that moment," said Chasity, a nurse at Portneuf Medical Center. "Everyone needed to feel that way because it's been so gloomy."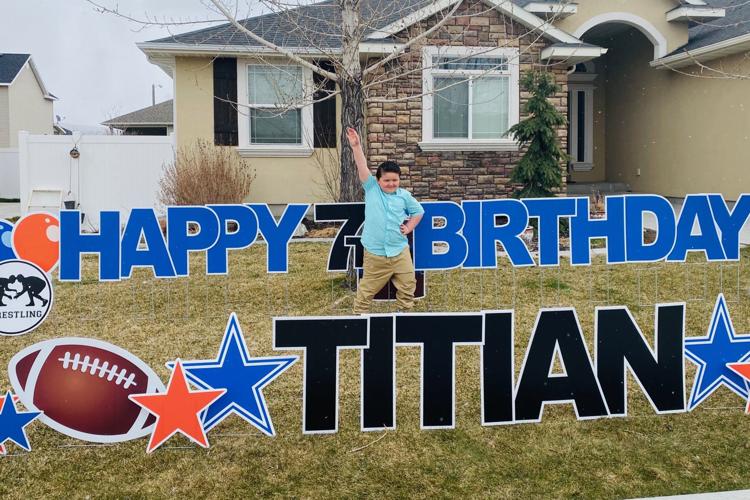 Birthday parades featuring first responders have been a national trend and have played out several times in Chubbuck since Idaho's shelter-in-place order was made in March to slow spread of COVID-19.
The Chubbuck and North Bannock County Fire Departments have had firemen drive fire trucks in parades in Chubbuck, plus the Chubbuck Police Department has also participated in some of them.
"One of the things that I've been encouraging in the entire community is the mental health and well-being of the community," Chubbuck Mayor Kevin England said. "So I think anything people are doing to build and lift and encourage people to feel good about what's going on around them I totally support."
The fire and police departments prioritize their main responsibility, but if they are asked to participate in a birthday parade, they try to.
Chubbuck Police Department Chief Bill Guiberson said his department has sent one or two cop cars to three different birthday parades and welcomes the opportunity to support the community, which was echoed by fire department leaders.
Chubbuck Fire Department Chief Merlin Miller said his department has participated in around five parades and there have been many missed chances because of being occupied with other duties.
"We're trying to be good neighbors in our community and let people know things are still OK," Miller said. "We try to keep it on a small basis. We're doing it as we have the ability to do it."
The North Bannock County Fire Department — which is less than a year old — has participated in two parades.
"Our responsibility as a fire department is to support the community," North Bannock Fire Chief J.R. Farnsworth said. "Whether that be fire prevention or supporting a kid that can't have a birthday party — that's totally within our jurisdiction and responsibility."
Farnsworth sent his department's backup Engine 21 fire truck to Titian's parade.
Chasity said there were 50 to 70 vehicles that passed their house twice over in the 15-minute parade on April 1. She said social-distancing recommendations were followed.
The mother said her family always goes all-out for birthday parties. With seven kids, it is challenging to pay special attention to all of them on a daily basis, so that's accomplished through the parties.
"That's when they actually get to have their time," Chasity said. "I had to get pretty creative. … He really missed his friends from school."
Chasity contacted one of his teachers at Connor Academy Public Charter School who sent out an email stating when the parade was and where birthday cards could be dropped off.
Chasity also asked her colleagues at Portneuf Medical Center to join the parade.
"We all know how devastating this is because we're on the front lines, but also how it's impacting our children," Chasity said of those at PMC.
Titian called the parade "amazing" and said he enjoyed seeing his friends and the fire truck.
"He's been talking about it for days." Chasity said. "He told me this was the best birthday that he ever had."