Known for some of the most technical skiing in the Northwest, Pebble Creek Ski Area, located about 4 miles east of Inkom, isn't just a winter getaway destination for Southeast Idahoans.
With what Pebble Creek Ski Area Marketing and Guest Services Manager Dana Kmetz calls the most spectacular vista views overlooking the Portneuf Valley throughout all of Bannock County, Pebble Creek is an ideal summer spot for concerts, business gatherings, weddings and outdoor sporting events.
"People are surprised," Kmetz said when asked what type of feedback Pebble Creek staff have received regarding the array of summer events. "On the one hand, they are surprised that it's so open and pretty. And on the other hand, others are surprised by how many people come up here for sightseeing, taking pictures or hiking almost daily."
The next big event at Pebble Creek, a venue nestled along the northwestern slopes of Mount Bonneville, the highest mountain of the Portneuf Range in the Caribou National Forest, is classic country music artist Muzzie Braun headlining the inaugural Inkom Revitalization Commission's fall fundraising event, the Inkom Village Mountainfest from 3 to 7 p.m. on Sept. 21.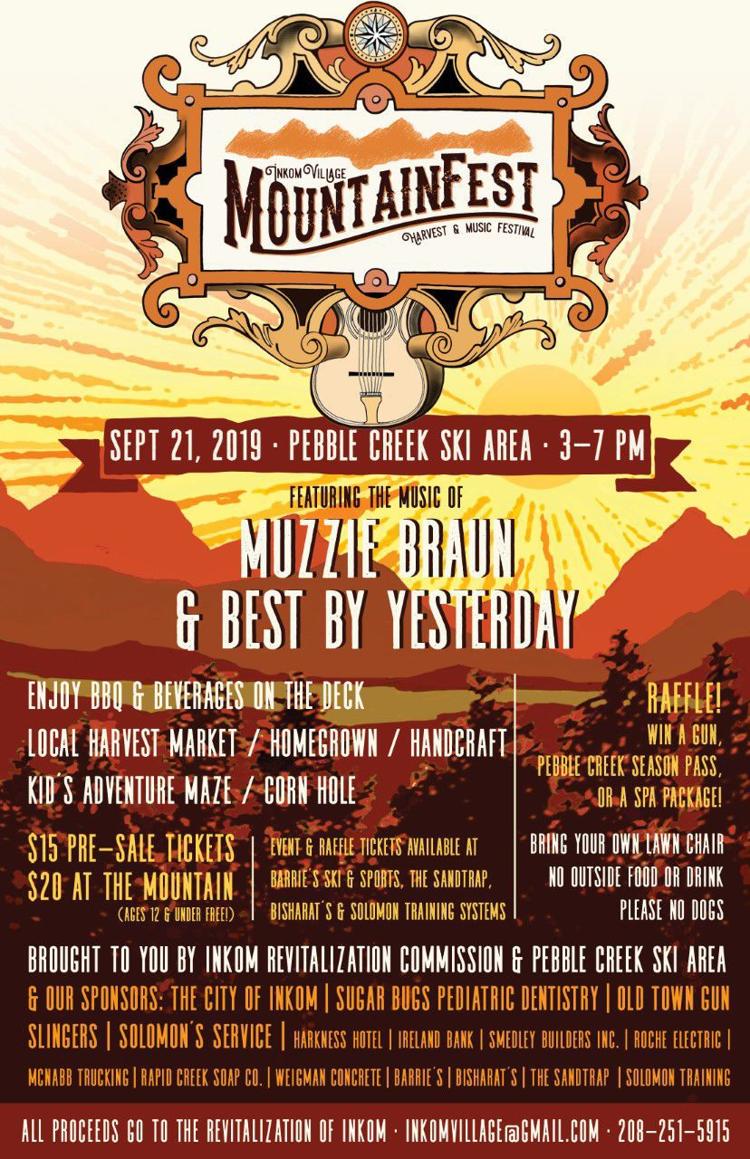 A native of Clayton, a small town in Custer County with a population of seven people as of the 2010 census, Muzzie Braun has been putting out classic, red dirt country hits for over four decades. Muzzie Braun has performed as a solo artist as well as in a variety of bands, and is known for putting on a three-day, family-friendly country music event known as the Braun Brothers Reunion Festival, which has brought thousands of people to Challis since its first year in 1979.
Lindi Smedley, board president for the Inkom Revitalization Commission, says it's the family friendly aspect of his music that prompted her to reach out to him for their first ever fall harvest and music festival.
"A few people on our committee are fans of his, and, as a part of the Pebble Creek mountain community, I have always heard that he is kind of a legend," Smedley said about what went into choosing Muzzie Braun to headline the event. "He has a very specific following and is famous for being from Idaho and playing classic country music for the family."
Pocatello pop-rock band Best by Yesterday opens for Muzzie Braun, playing from 3 to 4:30 p.m. Muzzie Braun is expected to start at 5 p.m.
Along with the live music, Smedley said the fundraising event includes barbecue food, a cornhole tournament, a photo booth for families and a child adventure maze. The event will also feature an alcohol booth, many Inkom vendors and a raffle with prizes that include a gun from Old Town Gunslingers, a season pass from Pebble Creek Ski Area and a spa package from The Harkness Hotel and Spa. All raffle tickets are $5.
"Our organization's primary mission is to develop a comprehensive plan for Inkom with the money from this year's fundraising events going toward developing that plan and raising matching funds for grant opportunities," Smedley said. "We wanted to keep the event in line with that harvest feel and show folks what Inkom has to offer."
Advance tickets for the event are $15 and are available at Barrie's Ski and Sports and The Sand Trap in Pocatello, Bisharat's Market and Solomon's Training Systems in Inkom, or online via the Inkom Events Facebook page. Same-day tickets are $20 and children age 12 and under are free. Those interested in participating in the cornhole tournament can email Inkom Revitalization Commission board member Bryce Larsen at larsenbryce10@gmail.com.
Smedley says the Inkom Village Mountainfest is modeled after one of Pebble Creek's most longstanding summer events, the Wildflower Festival hosted annually in June. Though the name and fundraising cause for the Wildflower Festival has changed over the years, Kmetz says the event is a mainstay for Pebble Creek and an anchor for the ski hill's summer offerings.
"At one point it used to be called the Full Moon Fest, and one year they finally paved the switchbacks up that mountain so it was a celebration of that," Kmetz said. "It has been going on for a long time. Lately, the Pebble Creek National Ski Patrol team has been using it for their main fundraising event."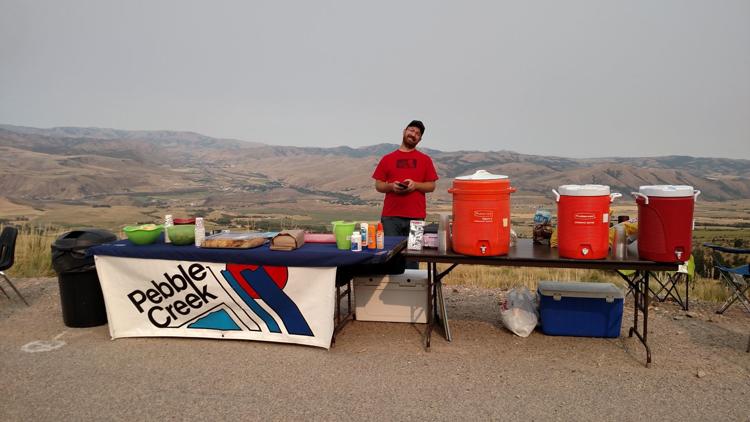 Including the few concerts during a short summer season, Kmetz said Pebble Creek plays host to approximately a dozen total events, including private weddings, summer sporting events and corporate banquets.
In August, Pebble Creek was a stop along the fifth iteration of the Four Peaks Gran Fondo, an 82-mile bicycle ride throughout the four tallest peaks in the Portneuf Valley — Crystal, Scout Mountain, Bonneville and Buckskin, and is touted as the toughest road bike ride in Idaho.
And a month before, Pebble Creek hosted its third annual 3D Archery shoot and tournament, which Kmetz says is an event that is open for the public to attend.
Though Pebble Creek has hosted weddings for many years, Kmetz said she has seen an uptick in recent years.
"As far as weddings go, we have done them in the past, but we have booked more the last few years mostly because the experience is unique," Kmetz said. "You can make the mountain yours for the weekend instead of having such a short time frame."
Kmetz continued, "But really, you cannot beat the view anywhere in Bannock County. You are outside in the forest with tons of open space, and the sunsets are unbeatable. And we have a great group of people that make sure the vibe is relaxed and super fun up here."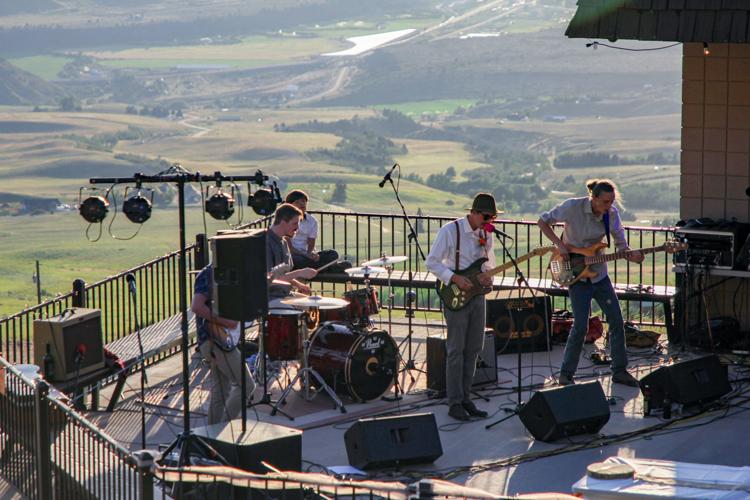 Those interested in renting Pebble Creek for their next event have full utilization of the lodge throughout the weekend, with managers on call in case something comes up, and plenty of time to host a rehearsal the day before and cleanup the day or two after so that you are not rushed, Kmetz added.
No matter the event, whether its small or large, public or private, Kmetz says Pebble Creek Ski Area is just as enjoyable during a time when the wildflowers bloom and it's warm enough to wear hiking shorts and sandals as it is when the slopes are covered in fresh white powder.
"No matter the occasion Pebble Creek is the perfect destination," Kmetz said. "And we look forward to seeing you on the mountain."
More information about Pebble Creek's summer offerings can be found online by visiting pebblecreekskiarea.com or following Pebble Creek on Twitter, Facebook, Instagram or YouTube.