Plant 'em in the spring eat 'em in the summer
All winter without 'em's a culinary bummer
I forget all about the sweatin' & diggin'
Everytime I go out and pick me a big one
— Guy Clark, "Homegrown Tomatoes"
Ask most vegetable gardeners, garden centers and community garden plot enthusiasts in eastern Idaho what the most popular plant in nearly every patch and the answer is generally the same: tomatoes.
"By far, tomatoes are the most popular," said Aaron McCracken, owner of Sunnyside Gardens in Ammon.
Gardening in eastern Idaho is in full swing, despite the recent threats of frost, and most growers are serious about their vegetables and why they grow them.
Gardeners mentioned two main reasons why tomatoes populate most eastern Idaho gardens. They want to make homemade salsa and "home-grown vegetables just taste SO much better than store bought vegetables," said teen gardener Heidi McJunkin.
It follows national trends. Across the nation, 80 percent of home gardens have tomatoes, followed by cucumbers (47 percent), sweet peppers (40 percent), beans (39 percent), carrots (34 percent), summer squash (32 percent), onions (32 percent), hot peppers (31 percent), lettuce (28 percent), peas (24 percent) and sweet corn (23 percent), according to the National Gardening Association.
McCracken said two varieties of tomatoes outsell all others.
"The one we sell the very most of is Early Girl because it's one of those old tried and true for the short season," he said. "But quickly gaining steam on it is one called Sun Sugar."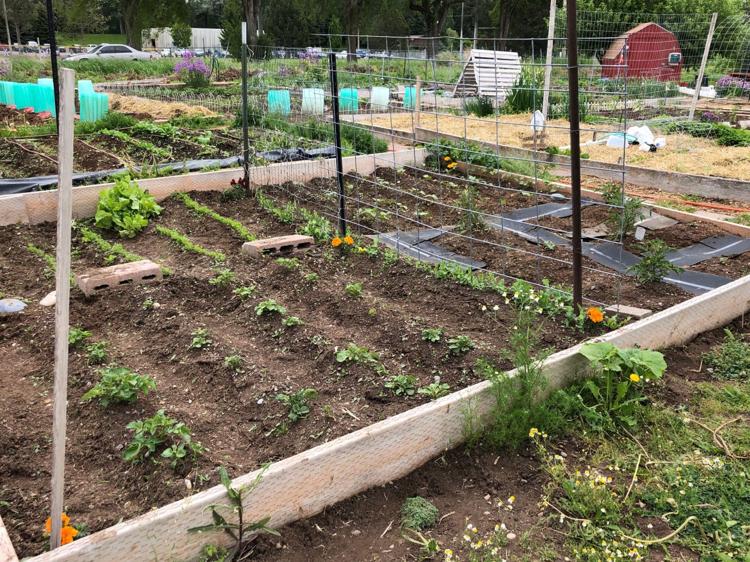 Sun Sugar is a bright yellow cherry-sized tomato featuring a sweet taste. "That one is my personal favorite," McCracken said. "We can't grow enough of that one (to sell). I'm surprised at how popular it has become."
Besides tomatoes, the Idaho Falls Community Gardens program also boasts a real variety of vegetables planted this year.
"Probably the weirdest I've seen is okra, just because it doesn't traditionally grow well here," said Sarah Mueller, a young mother and the garden coordinator for the community garden off Rollandet Avenue. "My kids have a plot, and they're doing just the standards."
Mueller said the season is off to a slow start because of the wet weather, and that there are still a few plots available at some of the community gardens. Community gardens offer dozens of plots for people who don't have garden space where they live. All gardening is done organically.
"One gal works at the zoo, so she is excited to be using some of the stuff that she grows to bring over and share with the zoo (animals)," Mueller said.
Many find that plenty can be grown in a small amount of space. The National Gardening Association estimates that a 600 square foot plot will produce $600 in produce on average and that $70 spent per household on a vegetable garden will return $530 for the investment.
"I like to grow tomatoes, onions, peppers and cilantro so they can, literally, feed my salsa habit," said Ryan Davis, of his 25-foot by 25-foot plot on the outskirts of Idaho Falls. "I like to grow sunflowers because my daughter loves the big yellow flowers. Finally, I love to grow corn because the best part of summer is those afternoon barbecues with fresh grilled corn, a little butter and parmesan cheese."
For gardeners who sometimes struggle to get anything but weeds to grow, Kristi Appelhans, president of the Idaho Falls Community Gardens, suggests a few vegetables for maximum success.
"One of the things that is almost fail-proof around here … are various kinds of beans," Appelhans said. "All the different summer squashes are easy to grow and are typically very prolific."
For information about community garden plots, go to Idaho Falls Community Garden Association's website www.ifcga.org or visit it on Facebook.