POCATELLO — One of two California teenagers accused of conspiring to murder and then brutally stabbing to death an elderly Pocatello woman in March is expected to stand trial after a judge in Bannock County ruled Wednesday there was probable cause to believe he committed the crimes.
In handing down the ruling at the Bannock County Courthouse against Dustin Garrett Alfaro, 18, of Marysville, California, Judge Aaron N. Thompson said he mostly relied on a cell phone video recorded less than 24 hours after Alfaro and his accomplice, Isaac Angel Rodriguez-Romero, 17, also of Marysville, allegedly stabbed 87-year-old Arlyne Koehler to death inside her McKinley Avenue home in Pocatello nearly six months ago.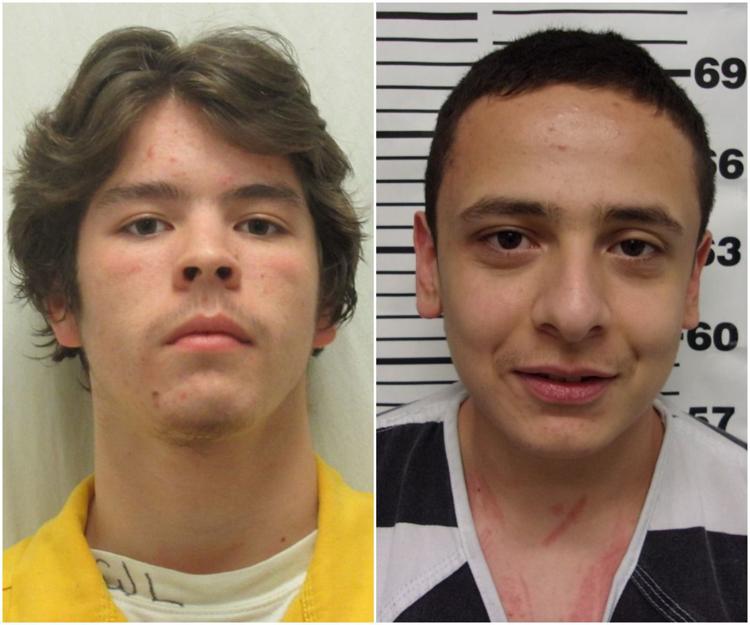 Family members found Mrs. Koehler, who lived alone, dead inside her Pocatello home on March 19.
In addition to Thompson's ruling, prosecutors on Wednesday introduced several pieces of evidence that finally shed light on what happened to Mrs. Koehler in her final moments alive.
Thompson found there was enough evidence to put Alfaro on trial for each of the charges he faces — principal to felony murder in the first-degree and conspiracy to commit murder in the first-degree. Alfaro could face the death penalty if he is convicted of any one of the charges levied against him. No trial date has yet been set.
Rodriguez-Romero is facing the same charges as Alfaro.
Though the 23-second video, which was captured on a cell phone confiscated from Rodriguez-Romero when he was arrested, was not played in the courtroom on Wednesday, Thompson said he privately reviewed the footage after Bannock County prosecutors and Alfaro's defense attorneys finished their closing arguments.
Thompson said the cell phone video shows Rodriguez-Romero admitting that he and Alfaro murdered Mrs. Koehler.
The judge said Rodriguez-Romero "states (on the video), 'We marked that (expletive) last night. This is gang life.'"
"Marked" is gang slang for murdering someone.
Because Rodriguez-Romero used the term "we" on his cell phone video, paired with the overall context of his comments, Thompson found that it inferred Alfaro acted with malice aforethought and willful and deliberate premeditation, which are prerequisites for the principal to felony murder in the first-degree charges against the teens.
In terms of the conspiracy charge, Thompson said that statements on the 23-second video indicated that there was a plan for Alfaro and Rodriguez-Romero to enter Mrs. Koehler's home and commit the alleged crimes Alfaro has been charged with.
Thompson also brought up a second video, a Facebook Live conversation between Alfaro and a key witness in the case, who prosecutors have requested the media not identify.
"(The witness) testified that when she had a Facebook Live discussion with Mr. Alfaro after the homicide had occurred there was an admission and the admission was that Mr. Alfaro killed Mrs. Koehler," Thompson said.
Both videos coupled with testimony from the key witness, a California woman who testified Tuesday afternoon, presented "substantial evidence to meet the probable cause standard" set forth in preliminary hearings, Thompson said.
Moreover, Thompson said that prosecutors presented enough evidence to meet the requirements of the charges because Alfaro and Rodriguez-Romero allegedly entered Mrs. Koehler's home with the intent to commit a burglary.
Bannock County prosecutors and Alfaro's attorneys declined to comment on Thompson's ruling Wednesday.
In addition to successfully introducing the video evidence, Bannock County prosecutors on Wednesday called four witnesses to the stand to testify.
Rodriguez-Romero was one of the four witnesses called to testify, but his Pocatello attorney present in the courtroom, Robert Otto Eldredge Jr., said his client was invoking his Fifth Amendment right against self-incrimination and would not participate. Rodriguez-Romero did not attend the preliminary hearing.
Though a detective with the Pocatello Police Department who testified Tuesday said that it appeared as if Mrs. Koehler had been stabbed over 20 times, the forensic pathologist who conducted her autopsy, Dr. Garth Warren of the Ada County Coroner's Office, testified Wednesday that he observed more than twice that number of stab wounds on her body.
Warren said Mrs. Koehler's body had more than 55 knife wounds. Of those injuries, Mrs. Koehler suffered over 25 stab wounds to her head and neck area, two potentially fatal stab wounds to her carotid artery, and other potentially lethal stab wounds to her heart, liver, spleen, diaphragm and one lung.
When one of Alfaro's defense attorneys, Dave Martinez of the Bannock County Public Defender's Office, asked Warren to identify which wound actually killed Mrs. Koehler, Warren said it was difficult to say exactly which injury ultimately led to her death.
It was during the Wednesday testimony of Pocatello police detective Richard Sampson, who led the investigation into Mrs. Koehler's murder, that county prosecutors introduced an interview in which Alfaro admitted to police following his arrest that he broke into Mrs. Koehler's home, though he did not admit to attacking her.
During the interview, Alfaro said the reason he and Rodriguez-Romero were in Idaho was because Rodriguez-Romero was wanted on an arrest warrant out of California for probation violations and the pair had fled to the Gem State to evade law enforcement who might be looking for him.
After visiting a friend in Rigby, Alfaro and Rodriguez-Romero drove to Mrs. Koehler's neighborhood, Alfaro said during his interview with police. The pair planned to invade and steal items from a home at random, said Alfaro, though he did not explain why.
Alfaro said during the interview that Rodriguez-Romero picked Mrs. Koehler's home because the lights were off and there was no car in the driveway, factors that Alfaro said he too would have considered had he picked the home.
Once the teenagers broke into the home via a window, Rodriguez-Romero immediately went into Mrs. Koehler's bedroom and Alfaro remained in the kitchen, Alfaro said. It wasn't until he heard Mrs. Koehler screaming that he too entered the bedroom.
Alfaro told Sampson and another Pocatello police detective present during the April 9 interview that Rodriguez-Romero was the only person who stabbed Mrs. Koehler and that he pushed Rodriguez-Romero off of Mrs. Koehler when he entered her bedroom. By that time, however, Mrs. Koehler was already dead, Alfaro said.
Alfaro and Rodriguez-Romero are each currently jailed on $1 million bonds. Alfaro is currently incarcerated in the Bannock County Jail and Rodriguez-Romero is being held in the 6th District Juvenile Detention Center, both in Pocatello.
Both teens were arrested on March 20 in California, less than 48 hours after Pocatello police held a press conference alerting the public about Mrs. Koehler's murder. Authorities have not yet stated what led them to believe the teens had allegedly murdered Mrs. Koehler.
The teens were extradited to Idaho to face charges for allegedly murdering Mrs. Koehler after authorities arrested them in California.
Because Rodriguez-Romero was a juvenile at the time of the murder, U.S. Supreme Court case law says it is unconstitutional for him to face the death penalty. He still faces a maximum punishment of life in prison if convicted.
Rodriguez-Romero's two-day preliminary hearing is scheduled for Thursday and Friday at the Bannock County Courthouse.