POCATELLO — The largest mass murder of Native Americans in the history of the Western United States occurred in Southeast Idaho over 150 years ago.
Just north of Preston along the banks of the Bear River in what is present-day Franklin County lies the site in which Col. Patrick E. Connor and the California Volunteers in January 1863 ambushed and slaughtered more than 400 Shoshone, including over 250 women, children and elders. The onslaught would come to be known as the Battle of Bear River well before it became what it is known as today, the Bear River Massacre.
Darren Parry, the former tribal chairman on the Northwestern Band of the Shoshone Nation, on Tuesday attended a Gate City Rotary Club luncheon in which he shared the Shoshone perspective of the massacre and the decades' worth of work his family has put in to ensure the story is chronicled accurately in American history books. Additionally, Parry provided the Rotarians with an update to the proposed Boa Ogoi (which is Shoshone for "Big River") Cultural and Interpretive Center that will provide site visitors with interactive and educational experiences about Shoshone culture and history.
"Our historical experiences require us to look beyond stereotypes and rethink some basic assumptions that we have about history," Parry said. "I've come to realize in my lifetime that when we reduce history to just data and we remove the storytelling side of history, we lose some of the humanity that makes history so important. And that's why my story and the story of my people are so important."
Parry is a descendant of Chief Sagwitch Timbimboo, who survived the massacre and afterward converted to Mormonism when Brigham Young and The Church of Jesus Christ of Latter-day Saints pioneers came to the Salt Lake Valley. Parry's grandmother, Mae Timbimboo Parry, was a storyteller and activist. He said he's simply continuing the work she started to provide the Shoshone Nation with a voice.
"For thousands of years, tribal elders would sit down with young children and tell them these stories," Parry said. "The stories were always the same. There was never a word out of place. It had to be that way, it had to be accurate. In our culture, nothing was ever written down."
Parry continued, "I went through this process with my grandmother. She was gentle and kind and would sit for hours and tell me stories about how the coyote stole fire or how the porcupine became greedy. And then, with reverence in her tone, she would relay the history of the massacre of Boa Ogoi. There is an Indian saying that goes, 'When an old Indian dies, a library burns,' and that statement was never as true as it was about my grandmother."
Mae Timbimboo Parry would petition the U.S. Congress at least 10 times for the site to be known for what it was, a massacre as opposed to a battle, Darren Parry said. Almost 60 years after the Battle of Bear River monument was first erected in 1932, the name was officially changed and historical placards were installed detailing the atrocities of the conflict in 1990.
"Col. Connor and his men approached the village just north of Preston and began firing upon my people," Darren Parry said. "The soldiers massacred men, women and children — holding infants by their heels and beating their brains out on any hard surface they could find. My people were being slaughtered like wild rabbits. … My grandmother said the blazing white snow was now brilliant red with blood."
Darren Parry recalled the story of Anzichi, a young Shoshone mother who while clutching her infant had to jump into the freezing cold Bear River below to escape her village that had been set ablaze. Anzichi swam to an overhanging bank and found herself surrounded by 10 other women who could hear the soldiers searching for them from above.
"And then it happened: Anzichi's baby began to cry," Darren Parry said. "Anzichi was a young mom that day, but she lived to be more than 100 years old. She often told the story to the community of Washakie of having to drown her own baby so as to not give up their location."
Darren Parry believes there is no better time than now to continue to advocate for a voice for the Shoshone people. In recent years — and surely exacerbated since video emerged of Black Minnesota man George Floyd dying under the knee of a Minneapolis police officer on May 25, 2020 — communities across the United States have began to reconsider how the history of colonization, slavery, and white supremacy is taught and viewed, especially through public art and memorials. Countless Confederate statues across the country have toppled over the past year and although it has not yet been changed at the federal level, numerous cities and municipalities have started celebrating Indigenous Peoples' Day instead of Columbus Day every October.
"(Racism) is such a big conversation at the national level in our country right now and people are so much more aware of it today," Darren Parry said. "People are really being forced to examine what side they fall on and that is a great thing. My grandmother always used to say, 'Our community is only as strong as our most vulnerable members,' and I will always advocate for that. We are at a time and place in our country's history where people are no longer standing on the sidelines. There is a great division in our country, but around this area I think people are becoming much more conscious about how racism has permeated our culture."
Since 2002, the Northwestern Band of the Shoshone Tribe has obtained approximately 700 acres of land surrounding the Bear River Massacre site, of which most of the land has been obtained in the last three years.
In 2018, Darren Parry spearheaded a fundraising effort to construct the new interpretive center, raising over $2 million. That number has since grown to about $4 million, and had the COVD-19 pandemic not occurred, Darren Parry says the groundbreaking for the Boa Ogoi Cultural and Interpretive Center was set to happen later this summer. Those interested in donating to the new center can do so by visiting boaogoi.org.
The interpretive center will share the story of the Bear River Massacre much like Darren Parry's grandmother would recite stories to young members of the tribe.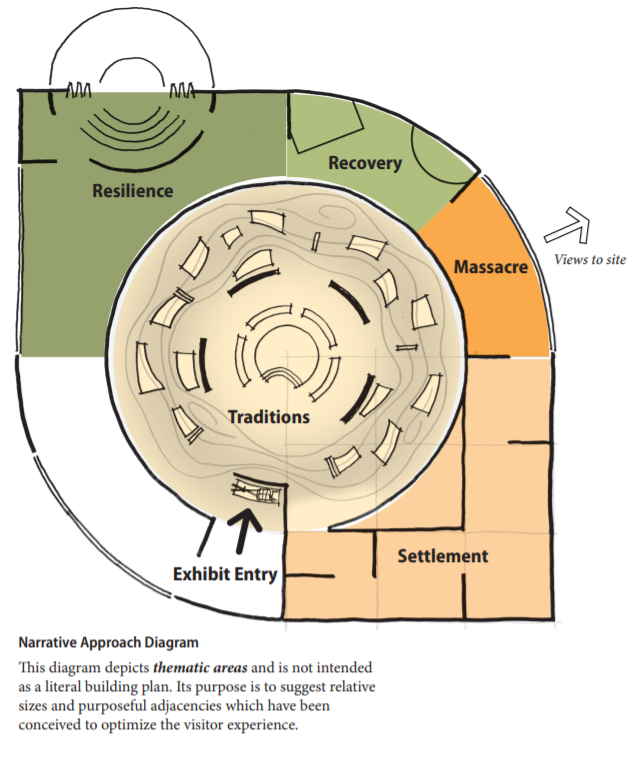 "The story begins in a space that evokes a deep connection to the landscape of the Great Basin and the eternal rhythm of the seasons," according to a project concept report presented to the Idaho Legislature in Feb. 2020. "With the arrival of settlers, the sense of unity and fluidity of movement is disrupted by an overlay of linear boundaries and structures. When the tension between these cultures culminates in the Bear River Massacre, all structure is removed, echoing the desolation of the event. In the Massacre's aftermath, these two life ways again appear and begin to integrate. Emerging from the journey, a more harmonious balance is achieved, as the strengths of each way of life contribute to a new unified whole."
The plan moving forward is to break ground on the new center in early spring 2022, Darren Parry said. And while the new center will greatly enhance the voice of the Shoshone Nation, Darren Parry believes it will also serve as a sort of framework for other aspects of American history being presented in a more accurate manner from the perspective of all the people involved.
"As a result of my grandmother's voice, we now have a voice," Darren Parry said. "That has taught me that as we preserve history, all views are important and we need to respect those views. It has taught me that everybody has a story and it has taught me that the souls of my ancestors peer out from behind my mask of skin and through my memories they get to live again."
Parry continued, "Tell me a fact and I will learn, tell me a truth and I will believe, but tell me a story and that will live in my heart forever. Ultimately, the story of Bear River is our story and in some ways I hope you can respect the story we want to have told as well as recognize your role within that story. History does not always affirm us, sometimes it challenges us to look at an uglier past we'd rather not have, but you know what, that's the power and benefit of history. It connects us to the path, connects us to our humanity and inhumanity and it offers us an opportunity to move forward."