POCATELLO — "Poky pride" apparently isn't the only spirit at Pocatello High School.
On Wednesday's series premiere of A&E's "Ghost Hunters" reboot, Grant Wilson and his team of investigators traveled to Pocatello High School where they debunked several urban legends surrounding the historic school and also encountered multiple instances of paranormal activity.
Brandon Alvis is the paranormal technician on the new "Ghost Hunters" team, and on Thursday he spoke to the Idaho State Journal via telephone to talk about his time investigating the oldest school in the Gate City.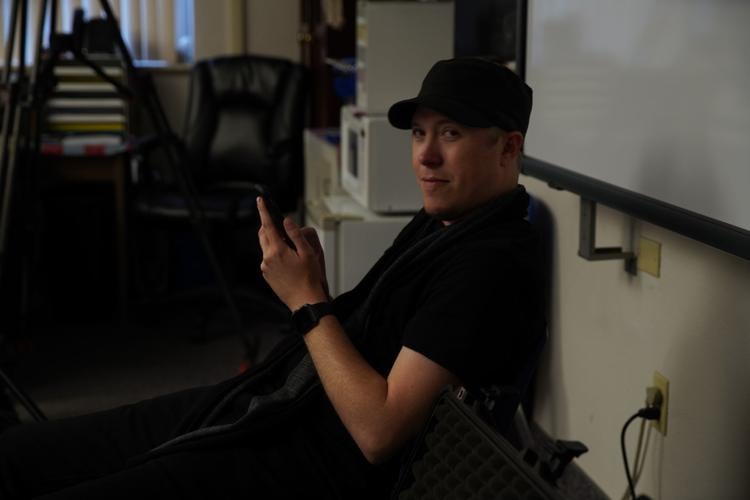 "What an amazing location," Alvis said about Pocatello High, built in 1892. "This is one of the first times ever that a high school has been investigated in this capacity. It was such a cool experience and honor to investigate Pocatello High School for our first episode."
Alvis and the rest of the "Ghost Hunters" team used a vast array of technical equipment to investigate the school for two nights, including binaural microphones that allow for supersonic human hearing, ambisonic microphones that provide 360-degree audio recording and data loggers to document the entire environmental condition associated with the school. Before the investigation even started the team's paranormal historian, Mustafa Gatollari, conducted extensive research surrounding numerous myths and stories involving otherworldly occurrences at the school.
Some of these legends include the story of a school librarian who, after a relationship ended poorly, committed suicide by hanging herself from a chandelier in the library located on the second floor of the school's main building. Another legend is the story of a boy who haunts the school after he drowned in a swimming pool located somewhere at Pocatello High.
Others have reported hearing voices at various locations throughout the school, seeing shadowy figures standing in windows or on the auditorium balcony, or smelling perfume when no one else is around. And then there is the most compelling piece of paranormal evidence in the viral security camera footage of nearly five years ago that depicts lights inside the school flickering rapidly as what appears to be a ghostly apparition hovers out of a women's restroom.
The video from December 2014 is likely not as authentic as previously believed, however. During the first night of the investigation, Wilson and Alvis used a ladder to examine the security camera that captured the footage and uncovered a large dust bunny that they said likely wavered back and forth in front of the camera, giving the appearance of an apparition.
"That figure coming out of the bathroom and going back is not an apparition. It is a cobweb moving back and forth," Wilson tells Alvis during the show.
Pocatello High School Principal Lisa Delonas told the Journal during a Thursday phone interview that she also believed the shadowy figure was a dust bunny.
"The ghost in the hallway, we always knew it was a cobweb," she said. "We actually went up and removed the cobwebs. So I thought about pranking my faculty. I just never thought it would go viral."
The "Ghost Hunters" team also interviewed local historian Arlen Walker, who worked as a foreign language and photography teacher at Pocatello High School from 1972 to 1999. Walker told the team that the glass chandelier was not installed at the school until 1974, and since that time there have been no reported deaths inside the school, which again debunked one of the oldest myths surrounding the school.
Though Walker quashed the hanging librarian legend, he still believes the school is haunted by some type of paranormal entity.
"In all those years when I was there working late at night with a few other teachers and some students many strange things happened," Walker said. "We heard bumps and noises. Though I wouldn't say that it wasn't haunted, I never experienced anything scary or unsettling."
Regarding the often retold story of a boy drowning in a pool at Pocatello High School, the school never actually housed a swimming pool, meaning it would have been impossible for such an incident to have occurred, Delonas said.
One aspect of the security camera footage captured in 2014 that Delonas cannot explain is what happened to the school's interior lights during the video. She said the random flickering of the lights seen on the video occurred for about 40 minutes.
To investigate if some type of paranormal entity was drawing power from the building, Alvis, Wilson and Gatollari used a Tesla speaker, a device capable of transmitting electrical energy without wires, and created a "smorgasbord" of energy in a room at the school using several small battery-operated flashlights.
The trio then heard what they described as a "warming up" sound, or a low hum, and Gatollari left the room to investigate. When Alvis walked toward the door to investigate the noise, too, he noticed on the table that the audio recorder that was placed among the flashlights had powered down, despite it recording earlier with a full battery. Some of the flashlights also turned on and off.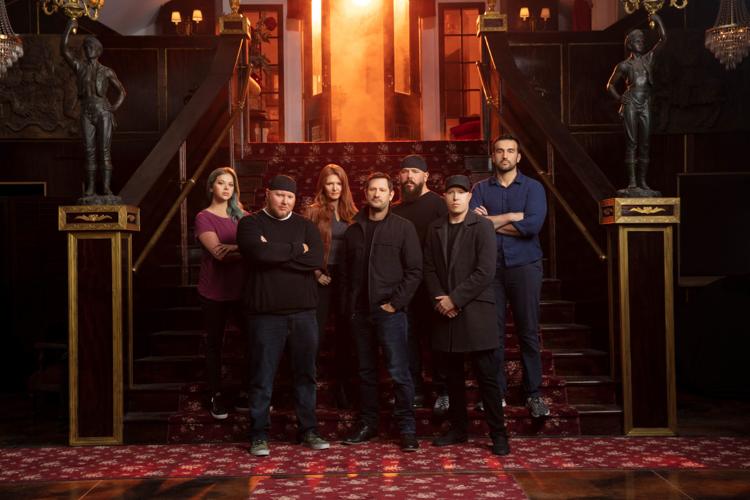 "We had some pretty surprising moments," Alvis said. "You have this whole situation with the lights going off and the electrical disturbances inside the building and we actually couldn't 100 percent explain that. We associated that with a power draw so we tested the theory with the Tesla speaker and the flashlights."
Alvis continued, "To actually have our recorder die with a full battery and to have the flashlights turn on and off on their own, it supported that theory and was actually pretty surprising."
Myths and stories aside, two members of the team actually experienced moments where they felt as if some entity or spirit actually physically touched them. While investigating the school's old gymnasium called "The Pit," Gatollari reported that his vision became blurry before feeling what felt like hands touching his cheeks and his head, something Wilson later described as a touch similar to a grandmother's embrace.
Another "Ghost Hunters" investigator, Richel Stratton, also experienced paranormal activity inside "The Pit." While sitting on the bleachers slightly below where Gatollari was sitting, Stratton said she felt as if someone was hugging her.
"This is the weirdest feeling ever. … I feel like I'm getting a hug," she emotionally said during the episode. "Look at this … like, I'm about to cry. Not in a bad way though, it's like, comforting. I don't want it to stop. Like, definitely whoever's here, I feel is a good person."
Unlike teams who seek to prove that ghosts exist, Alvis said the new "Ghost Hunters" team is really about one mission — seeking the truth about reported paranormal activity by separating fact from fiction.
"Paranormal phenomena is something that has been talked about since the dawn of time," Alvis said. "Our goal is to get out there to help people. Many groups try to collect evidence to prove that this phenomena exists, but that is really not our goal. Our goal is to alleviate fears and anxiety that people are having throughout the country. We want to find out what the truth is and help these people. And Pocatello High School was a great opportunity for that."
Although many of the myths surrounding the school were dispelled in the series premiere of the "Ghost Hunters" reboot, Alvis, the entire team and Delonas herself still believe the school houses paranormal activity, just not the sort that will make you feel anxious or afraid.
"A lot of the stories associated with Pocatello High School may not be true, but there is definitely some type of activity taking place at the high school," Alvis said.
Wilson, in talking with Delonas near the end of the episode, also says, "I really feel like your school spirit is quite literally alive and well. I think you might literally have some school spirit here and it couldn't be in better hands."
And in citing the school's motto with a little extra verbiage, Delonas said, "Pocatello High School is a place where everybody is somebody — even for those who have passed on."
New episodes of A&E's "Ghost Hunters" reboot will air every Wednesday at 7 p.m. Mountain time. Those interested in watching the episode featuring Pocatello High School can tune into A&E at 9 a.m. Friday, Sunday at 9:30 a.m. and Wednesday at 1 a.m. and 6 p.m. Those with cable or satellite subscriptions can access the episode anytime on A&E on demand or online at www.aetv.com/shows/ghost-hunters.