POCATELLO — A rapidly growing Montana-based ramen and sushi restaurant had its Gate City grand opening Thursday, marking the franchise's first location to set up shop in the Gem State.
With the opening of Hokkaido Ramen & Sushi Bar at 231 W. Quinn Road, owner Tom Cai of Helena, Montana, has now opened four Hokkaido-branded restaurants in under three years.
"Our primary goal is to provide a relaxing dining experience in a clean and modern setting," Cai told the Idaho State Journal during a Thursday phone interview. "Ramen and sushi are simple dishes people can make at home, so we set ourselves apart by using only the finest and freshest ingredients. Everything from the pork to the baby bok choy has to be perfect before it hits the plate."
Situated in the former Ketchum Burrito location in the Gate City's Rail Crossings business plaza near Costco, Hokkaido opened Thursday after an extensive remodel, complete with a massive mural stretching the length of the eatery depicting a samurai standing atop a bowl of ramen that transforms into a colorful noodle-dragon. Pocatello artist Cali Ward (caliward.com or caliwardart on Instagram) spent about 45 hours painting the mural over the last three weeks, she told the Journal Thursday.
Exquisite detail of the wall mural mirrors that of the aesthetics of each dish.
A team of chefs create a diverse array of Japanese cuisine, with a menu anchored by the mainstay ramen dish Tonkotsu Shoyu. A ramen that originated in southern Japan, Hokkaido's Tonkotsu, or Hakata, features an ultra-rich broth from pork bones boiled in French sea salt and plenty of garlic for no less than 10 hours and the same wheat noodles used in Japan.
"You may be able to find sushi all over the place, but you will not be able to find this type of ramen anywhere in town," said Pocatello Hokkaido general manager Bing Yang.
Each of the 11 different ramen broth bases range from $10 to $12, veggie toppings such as bamboo shoots, bean sprouts and soft-boiled eggs are $1 each and pork or chicken add-ons are $2 each.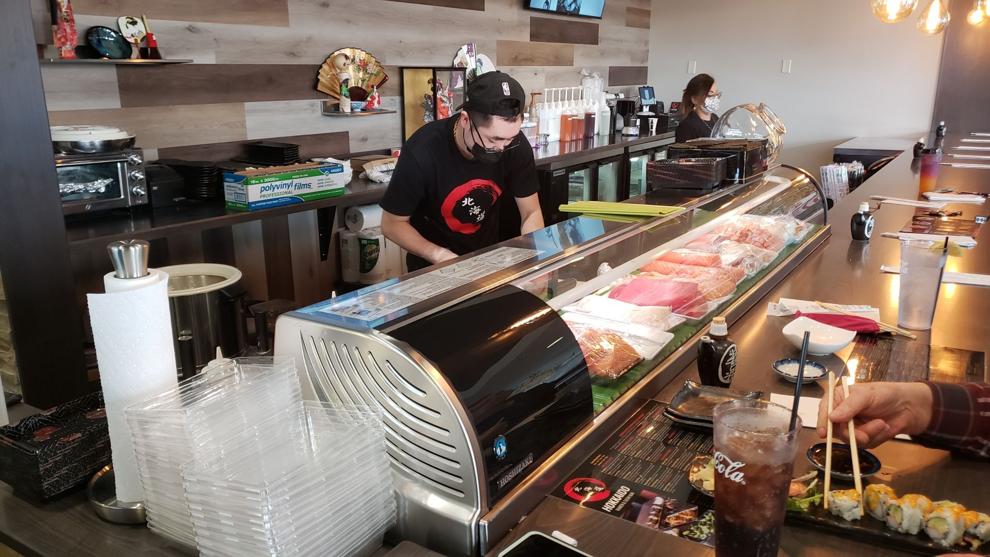 Hokkaido offers a variety of hot and cold appetizers between $4 and $9. Traditional, deep fried and specialty sushi rolls run between $5 and $14. Sandwiches and rice-based entrees including braised pork belly baozi ($4 for one or $7 for two) and beef curry ($8) round out the food items on the menu. Hokkaido also offers several unique specialty drinks including passion fruit boba tea, Hokkaido milk tea and matcha cheese foam tea.
Originally from China, Cai perfected Hokkaido's menu after spending three years cooking in Japan and a year as a chef on a Royal Caribbean International cruise ship, he said. He had been working in a Japanese hibachi steakhouse when he opened his first restaurant, Wasabi Japanese Steak House, in Bozeman, Montana, in 2013. After Wasabi, Cai opened two other steakhouse and sushi spots named Nagoya — one in Helena, Montana, in 2014 and another in Salem, Oregon, in 2015.
Over the past three years, Cai opened three Hokkaido-branded ramen and sushi restaurants in Helena, Bozeman and Great Falls. Pocatello's Hokkaido is No. 4, and three more are on the horizon — two are set to open in Billings in the next two or three weeks and one should open in Idaho Falls this summer, Cai said.
Yang says she employs about 20 staff members and the restaurant has a maximum occupancy of 110 people. Yang said Hokkaido sources its seafood from Ocean Beauty Seafoods, which has distribution hubs in Boise, Salt Lake City, and among others, Helena. Hokkaido in Pocatello is currently offering dine-in, carry-out, curbside delivery and DoorDash, Yang added.
Yang said Cai was considering several locations for the next Hokkaido ramen and sushi bar, ultimately choosing Pocatello because "the right spot caught our eye at the right time."
According to the Hokkaido Sushi restaurants website, Hokkaido is the northernmost island of Japan's main islands, known for its volcanoes, natural hot springs, snow skiing and exceptional cuisine.
Pocatello's Hokkaido is open Monday through Saturday from 11 a.m. to 9 p.m. and from 11 a.m. to 8 p.m. on Sunday.