POCATELLO — A plan hatched by a group of local Realtors and a downtown funeral home owner could result in Pocatello High School acquiring space needed to build a long-awaited athletic field on its campus.
Realtors Frank Nuding and Steve Vigliaturo of Premier Properties Real Estate Co. are working with Downard Funeral Home owner Lance Peck to sell the nearly 1-acre lot on the 200 block of North Garfield Avenue directly behind the landlocked, 80-year-old Pocatello High School to Pocatello/Chubbuck School District 25, with an asking price of $1.1 million.
Once acquired, the district would need to level the existing funeral home building in order to construct a new athletic facility in its place, said Nuding, adding that he has had preliminary discussions with city officials to also close down the section of Garfield Avenue from West Clark Street to West Lander Street that currently separates the school and funeral home.
The demolished funeral home coupled with the vacated street would net just over 1-acre — about 48,000-square-feet — for the district to use, which is just under the size of a full-length, 57,000-square-foot football field.
"Wouldn't it be awesome for Pocatello High School students to step out of their back door and walk onto a state-of-the-art field where football, band, baseball and cheerleaders can practice, or even hold physical education classes?" Nuding asked. "It's great that School District 25 is doing things inside Poky, but most of the population won't see those changes. This is a visible project that athletic families will see and could ultimately affect their decision to build or buy a home in the school's boundaries."
School District 25 officials are reviewing the plan and said they will comment on it at a later time.
Though the initial land acquisition of the funeral home wouldn't net enough space for Pocatello High School to have a permanent home for its freshman and junior varsity football teams to play their games — students currently walk or otherwise find different means of transportation from Pocatello High School to Irving Middle School to use its field for games — Nuding said the owner of the Rosewood Apartments complex would also entertain a future contract to sell his property to School District 25, which would leave the district with over a full city block at its disposal.
While Nuding and Vigliaturo are assisting Peck in putting the funeral home on the market, the local Realtors do not have plans to oversee nor fund the construction of the athletic field.
Alternatively, they are hopeful School District 25 could fund the construction of the field or that a private investor with ties to Pocatello High School would sponsor the project with a large monetary gift.
"The ICCU Practice field at the Papenberg Sports Complex next to Holt Arena is a great example," Vigliaturo said. "I think there is a good chance that a corporate entity would want to come forward and sponsor a project like this."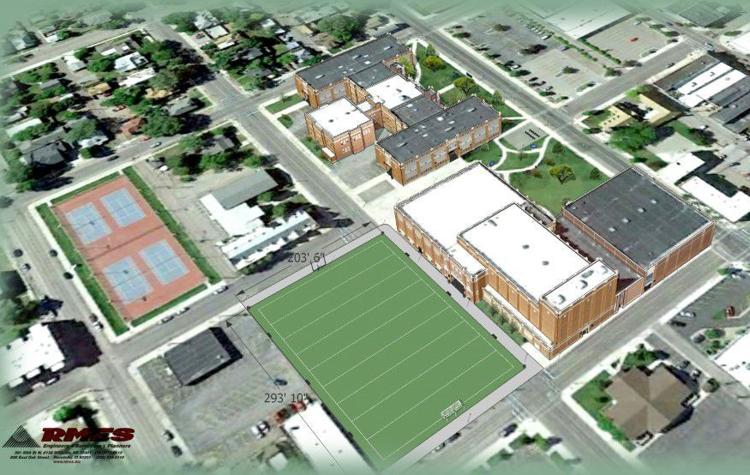 According to Nuding and Vigliaturo, Pocatello High School building an athletic facility that's directly adjacent to the school's two existing buildings would alleviate safety concerns, which is a current top priority of the district, and equal the playing field regarding the amenities offered at each of the three local high schools.
"This alleviates a safety concern with the kids walking or driving to the fields at Irving," Vigliaturo said. "The more time those kids are on the road, the more likely they are to get in an accident."
Nuding added, "In comparison to the other high schools, Pocatello High School does not have the same facilities as the other two schools. It's totally unfair. The district made the commitment to redraw the boundaries, and to invest into Poky High, but for it to be the same as the others we have to have something like this. People in real estate will not buy a home in Poky's boundaries because of the lacking athletic facilities."
Considering School District 25 has recently invested $10 million into building an Americans with Disabilities Act compliant front entrance to the school's main building and a large addition that both connects the two main buildings and provides more math and science classroom space, Nuding said it would behoove the district to thoroughly consider their plan.
"Since they have decided to spend big money at Poky, this opportunity that is in front of them makes a lot of sense," Nuding said. "I think the district would be in favor of something like this, but I don't know if they know how to get the money. They have the potential here to own the entire city block and land is not getting any cheaper. It really boils down to the commitment. When they made a decision to keep Pocatello High School in use, they need to make it equal to the other schools. We understand the district's dilemma, but if all the stars align, this could be a great investment."
Vigliaturo added, "Opportunity is knocking and it's clear Pocatello High School is here to stay. But in real estate, if you get the chance to buy your neighbor's property you do it."
Peck said that School District 25 has been interested in purchasing the Downard Funeral Home property long before he acquired the land and building 13 years ago, but funding has remained a constant issue.
Peck has completed extensive interior renovations to the building and is considering remodeling the exterior next, which could significantly impact the asking price, he said.
"It will only get more expensive to relocate over time, and I may not have that option in the future if I continue to remodel my building," Peck said. "The way I look at it, Downard is basically the oldest original funeral home in town, so I think it's an awesome opportunity to bring tradition and history into the future — both for me and the families we serve, the school, the district and all of its students."