POCATELLO — Police have identified and charged one of two suspects involved in a Monday multi-agency narcotics investigation that ended in an officer-involved shooting outside of a popular Pocatello restaurant.
Pocatello police on Wednesday identified the suspect shot by officers in the parking lot of the Sizzler restaurant along Pocatello Creek Road as Trevor Alan Vanhorn, 29, of Idaho Falls. The name of the other adult male suspect arrested in connection to Monday's incident has not yet been released and authorities have provided no details on his involvement in the case.
Vanhorn remains in Portneuf Medical Center's intensive care unit, where he's listed in critical condition, the hospital reported.
Details about Vanhorn's injuries have not been released but authorities did say on Wednesday that he's expected to survive.
Vanhorn has been charged with four felony crimes in connection to Monday's incident: two counts of illegally possessing a firearm as a convicted felon, one count of trafficking meth and one count of trafficking heroin.
Police said there will be more charges against Vanhorn once the investigation into Monday's incident has been completed.
When Vanhorn is ready to be released from PMC he will be formally arrested by police and transported to the Bannock County Jail in Pocatello, Bannock County Prosecutor Steve Herzog said.
Although Vanhorn remains in the hospital, a warrant has been issued for his arrest and his bond has been set at $100,000.
Once Vanhorn is booked into the Bannock County Jail a date will be set for his initial court appearance, Herzog said.
Many of the details about Monday's incident that ended with police shooting Vanhorn outside Sizzler are not available to the media or public because the court records and police reports related to the charges filed against him have been sealed by authorities.
What is known is that Vanhorn has a lengthy criminal record that includes charges filed against him in several East Idaho counties dating back to 2006.
In addition to previously being charged with aggravated assault and credit card fraud, Vanhorn has been convicted of unlawful entry, possession of drug paraphernalia and in 2017 he was sentenced to serve 18 months in prison for a felony drug possession conviction.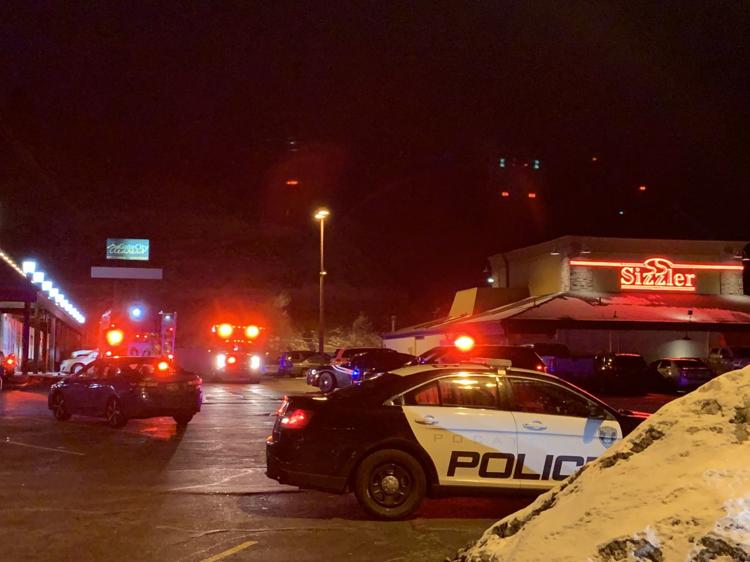 Monday's incident began to unfold around 5:30 p.m. when Vanhorn drove away from the area of the Super 8 hotel on Bench Road in an attempt to escape a narcotics operation involving the U.S. Drug Enforcement Administration, Pocatello police, Bannock County Sheriff's Office and Idaho State Police, authorities said.
Authorities have not yet commented on specifics about the narcotics operation that prefaced police initiating a pursuit of Vanhorn in the area of the Super 8.
After a brief vehicle pursuit, Vanhorn quickly abandoned his vehicle and attempted to flee on foot from pursuing officers, police said. With officers in pursuit, Vanhorn ran past the Chevron convenience store at Pocatello Creek and Bench roads before heading down Pocatello Creek Road to the Sizzler restaurant, authorities said.
Authorities told the Idaho State Journal that Vanhorn fired multiple shots at the pursuing law enforcement officers in the area of the Super 8 and outside of the Chevron convenience store during Monday's incident, but officers did not open fire on him until they confronted him outside Sizzler.
It was in the Sizzler parking lot that law enforcement officers opened fire on Vanhorn, wounded him and took him into custody, according to the Bannock County Sheriff's Office.
No one was wounded by Vanhorn's gunfire, police said.
Vanhorn was transported via Pocatello Fire Department ambulance to PMC after being shot.
The names of the officers involved in the shooting have not yet been released but authorities have confirmed that members of the Bannock County Sheriff's Office, Pocatello Police Department and Idaho State Police were participants.
Authorities said the second adult male suspect was arrested Monday in relation to the incident but his name and further details on his arrest have not yet been released.
Monday's incident is under investigation by the East Idaho Critical Incident Task Force, with the Idaho Falls Police Department serving as the lead agency. The task force, an organization comprised of East Idaho law enforcement agencies, is called in to investigate any time an officer-involved shooting occurs in the region.
Pocatello police said on Wednesday that they do not anticipate releasing any additional details about Monday's incident at this time.