POCATELLO — A local man with outstanding warrants who was driving a vehicle with fictitious license plates when he allegedly struck a motorcyclist and fled the scene on May 1 has been charged with a felony for leaving the scene of an injury accident, court records say.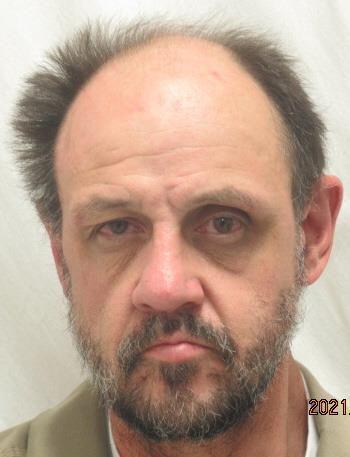 Idaho State Police troopers charged Harvey Paul Guthrie, 51, of Pocatello, with the felony leaving the scene of an accident charge Thursday while he was incarcerated at the Bannock County Jail, having already been arrested on an outstanding warrant.
The warrant pertained to a September incident in which he allegedly evaded police in a stolen pickup truck during a high-speed pursuit on the same road on which the recent collision with the motorcyclist occurred, according to Pocatello police reports.
The May 1 incident left the motorcyclist, Edward Stevens, 53, of Pocatello with severe injuries. Stevens was hospitalized for 11 days before being released, and he said he is still battling to recover.
The crash involving Stevens occurred around 12:45 a.m. at the intersection of U.S. Highway 30 and Philbin Road in Pocatello, according to an affidavit of probable cause report the Idaho State Journal obtained Friday.
Idaho State Police troopers, Pocatello police officers and deputies with the Bannock and Power County sheriff's offices responded to the crash and found Stevens lying in the eastbound lane of travel with serious injuries. Stevens' totaled 2001 Harley Davidson motorcycle was lying near the edge of the roadway and there was no other vehicle in sight, police said.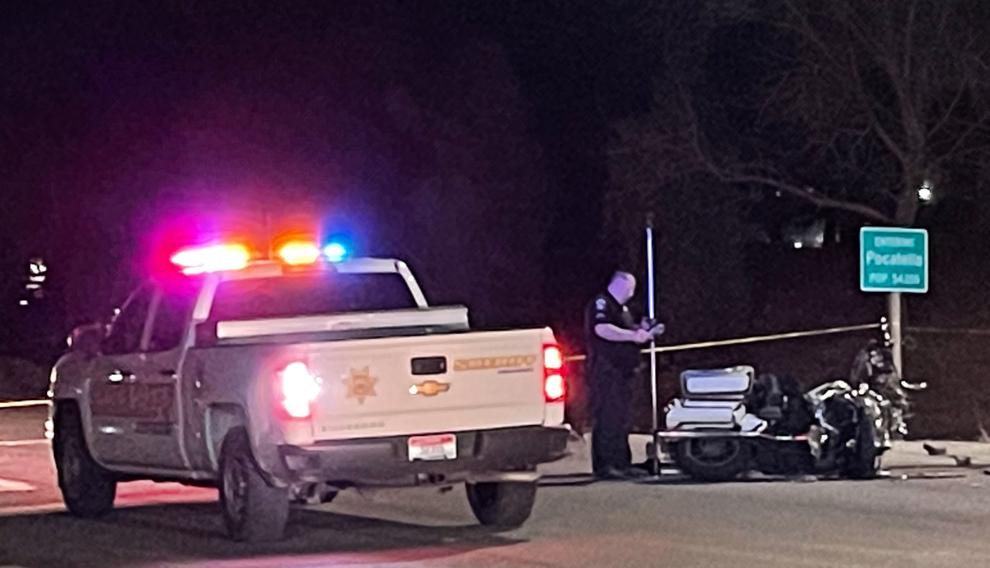 Law enforcement around 2 a.m. located a red 1998 Pontiac Bonneville abandoned near the 9500 block of North Philbin Road that had damage to the passenger side, police said. When state troopers checked the Pontiac's license plates they were registered to a 2005 Honda Odyssey, police said. The vehicle was impounded and a search warrant was executed on the vehicle on May 3, police said.
State troopers located a receipt in the vehicle with Guthrie's name on it that was dated within 12 hours of the crash. State troopers responded to the business the receipt came from and reviewed both interior and exterior surveillance camera footage, observing Guthrie present a state-issued identification card and driving the same red Pontiac that was found about a block away from the crash site, police said.
Troopers also reviewed surveillance camera footage from the intersection of U.S. Highway 30 and Philbin Road. The footage shows the driver of the red Pontiac failing to yield when making a left-hand turn from U.S. Highway 30 to Philbin Road, police said. Stevens is seen striking the passenger side of the vehicle with his motorcycle and flying over the Pontiac, police said.
When state troopers interviewed Guthrie at the Bannock County Jail on Thursday, he denied driving the vehicle, though troopers had enough evidence against him already to file the felony leaving the scene of an accident charge.
The Journal spoke to Stevens on Friday, who said the last thing he remembers is approaching the stoplight at the intersection before he woke up with significant injuries at Portneuf Medical Center.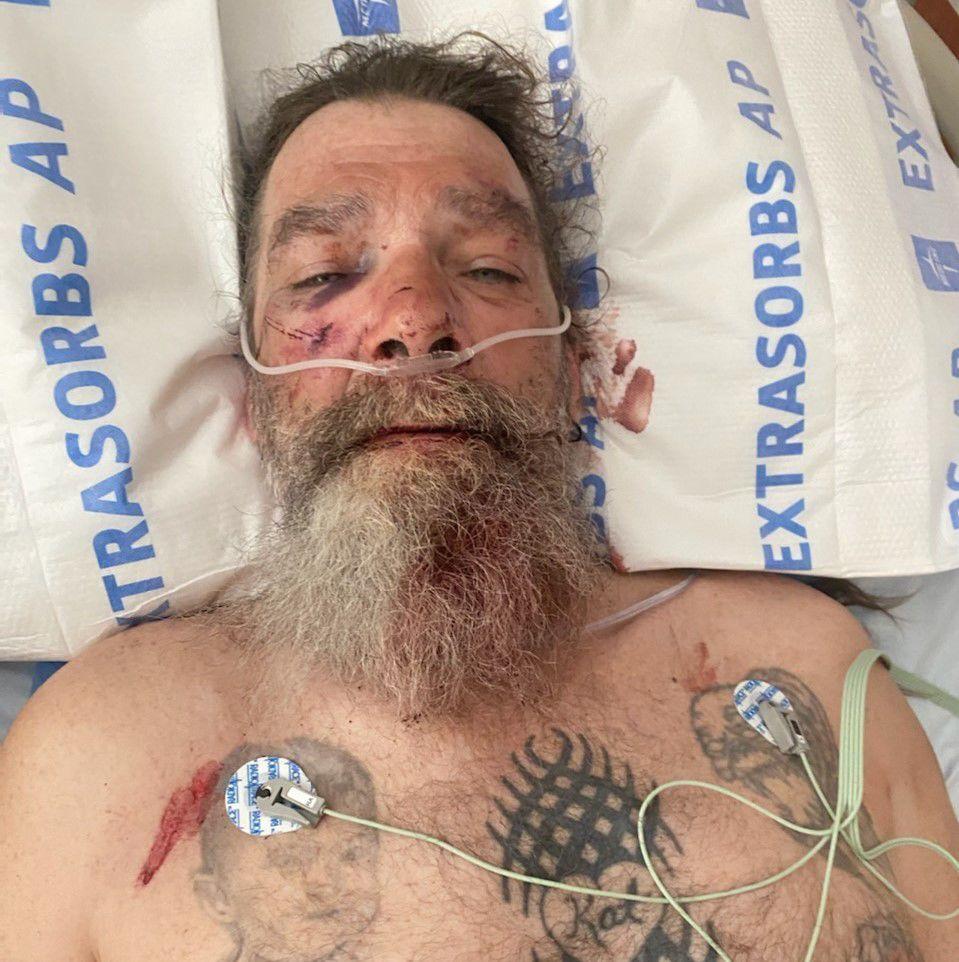 "I have two broken bones in the top of my right foot and my right knee has two plates, four pins and eight screws in it — it's basically shattered," Stevens said. "I have three broken ribs on my back and paralysis from the hyperextension of the muscles on my neck to where my right arm is partially disabled. I have a fractured eye socket, a small fracture to my jaw and a hole in the back of my head that bled for two days."
Stevens said he regularly rides his motorcycle with friends and other bikers on Friday nights in Pocatello and Saturday nights in Idaho Falls. He had just dropped a friend off after the Friday night ride when the collision occurred.
"I came off the highway at Simplot and was coming up to the light, minding my own business doing my thing and went into the intersection at about 60 mph with a green light and that was all I remember," Stevens said. "Next thing I know Iwas being told not to touch my knee while I'm lying in the emergency room."
Stevens said his healing process is daunting, but the expectation is that he'll mostly recover.
"My head injuries are healing and I'm working through the paralysis," Stevens said. "The doctors told me that eventually I should be able to get 99 percent of that function back. My knee, we're not so sure about. It's a toss-up whether or not they'll have to do a few more operations to save it."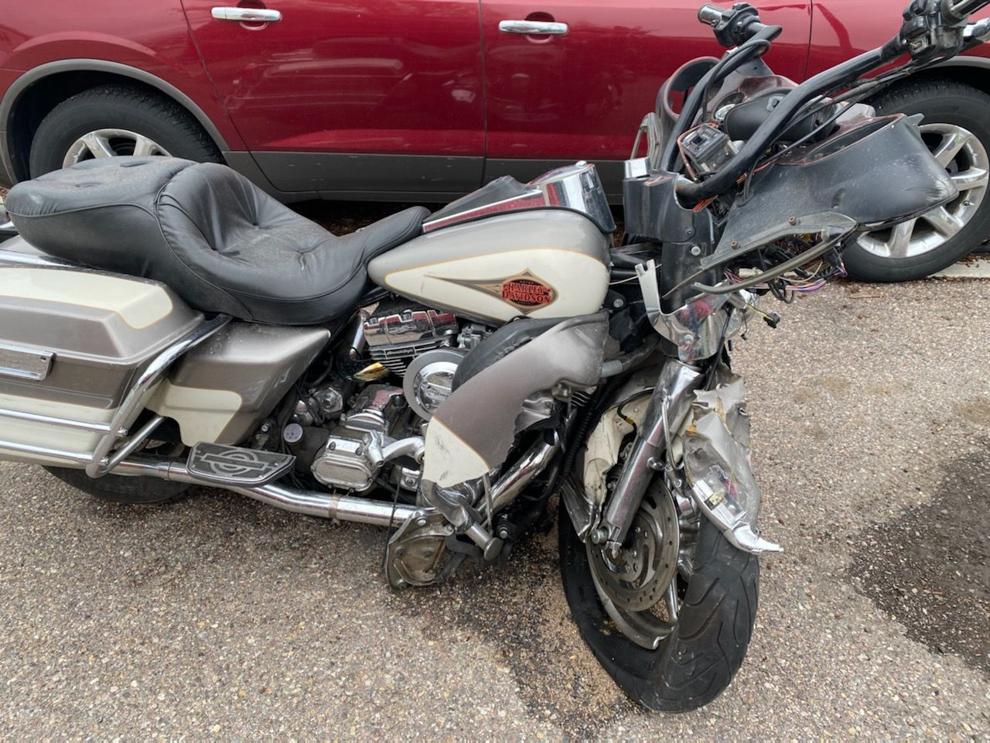 His Harley Davidson, however, is definitely coming back to life, Stevens said of the now-mangled heap of metal.
"Oh yeah I'm going to rebuild it," Stevens said. "It only needs a frame and a front end. The back end is fine and the thing starts right up and runs."
To assist Stevens during this trying time, several fundraisers have been started to provide a bit of financial assistance. A GoFundMe fundraiser is accessible by visiting gofund.me/2b2e8db8, which has raised $450 since May 1. Local contributions can be made at any Idaho Central Credit Union branch by referencing the Edward Stevens account and a raffle fundraiser is scheduled on June 4 at New Pub Harmony on Warren Avenue in Pocatello.
Guthrie remains incarcerated at the Bannock County Jail with a $50,000 bond for the felony leaving the scene of an accident charge and a $5,000 bond on the incident from September in which he was charged with two counts of grand theft, eluding police officers and possession of a controlled substance, all felonies.
Guthrie last month pleaded guilty to the felony eluding charge in connection to the September incident and was released from jail while awaiting his sentencing hearing. That hearing is now scheduled for July 6. The hearing in which prosecutors will present evidence in the case associated with the alleged May 1 collision with Stevens is set for June 2.
State police said it's possible Guthrie faces additional charges for the May 1 hit-and-run crash, but the investigation is still ongoing.
If convicted of the felony leaving the scene of an accident charge, Guthrie faces up to five years in prison and a fine of up to $5,000.