POCATELLO — Police are investigating graffiti messages found spray-painted throughout the length of the Kirkham Trail tunnel that runs underneath the South Valley Connector in south Pocatello.
Around 9 a.m. Tuesday a Pocatello resident who resides in the Indian Hills area, Mamoy Hong, found and reported the graffiti that included racial slurs and political statements such as "TRUMP 2020," "Hilary 4 Prison," and "Libtards can suck my toes."
"There is just so much hate in our nation right now and I am just appalled by it," Hong said. "Here in Pocatello we try to be cohesive and unified and to see this I was very disappointed."
The graffiti also included the statement "Blue Lives Matter," spray-painted fish illustrations, and, among others, the words "Jeepin" and "4Runnin." The graffiti was spray-painted in several different colors including black, blue, red, purple, green and turquoise.
Logan McDougall, the city's public information officer, said the mayor's office first received a call from Hong about the vandalism around 12:30 p.m. Tuesday and she also posted photos of the graffiti to her personal Facebook page.
Hong said one interesting aspect of the graffiti was that in addition to stretching the length of the tunnel, inflammatory spray-painted messages were also located on the tunnel ceiling, which would not be accessible from the ground without a ladder or something to stand on such as a vehicle.
"What floored me was the fact there was graffiti on the ceiling," Hong said. "That's a tall ceiling, so they had to have used a ladder or driven a vehicle inside of there."
The tunnel is no stranger to graffiti, Hong says, though typically the content is artistic, not hate speech, she added.
The Pocatello Police Department confirmed it is investigating the graffiti and that if it is determined the messages were created with the intent to cause harm to another person, those responsible for the graffiti could be criminally charged. Pocatello police said that while they're not ready to call the incident a hate crime, they are taking it seriously.
On Tuesday afternoon, Pocatello Parks and Recreation Department workers painted over the graffiti to permanently remove it from view.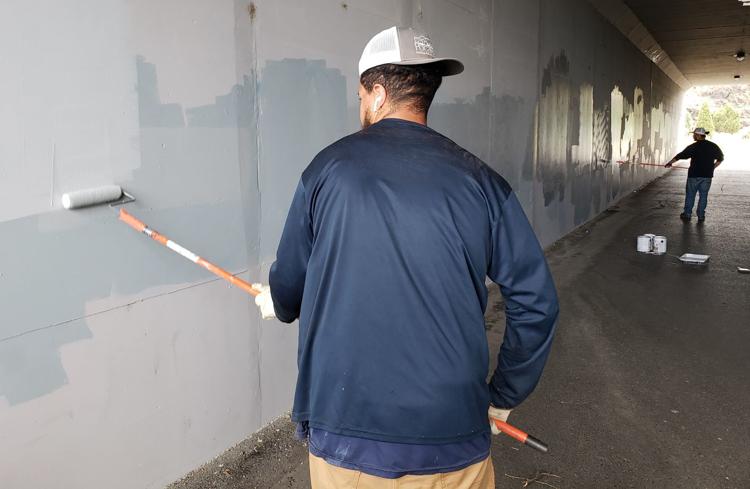 "Something needs to be done about this," Hong said about the graffiti. "We have had many events happen over the last few months with the George Floyd incident and elections coming up, so I think everyone is just on edge. I am just so disappointed to see this in our community."
Anyone who has information about the graffiti is encouraged to call the Pocatello Police Department at 208-234-6100.