IDAHO FALLS — Idaho's outgoing governor used his final appearance in office before the Idaho Falls City Club to defend his record on education and call for more civility in politics.
The event started with a moment of silence for former President George H.W. Bush, who died last week and whose funeral was going on as C.L. "Butch" Otter spoke at Idaho State University's Idaho Falls campus.
"It occurred to me we were having this event on what has become a bit of a national commemoration," said Idaho Falls Mayor Rebecca Casper, who moderated and asked Otter questions submitted by the crowd.
Otter, a Republican who represented the western part of the state in Congress for six years before running for governor, pointed to Bush as a model of civility. Otter talked about his own friendship with former Rep. Dennis Kucinich, D-Ohio, one of the most liberal members of Congress — "I don't even think we voted the same on adjournment," Otter joked.
"We don't have to be vitriolic to get our point across," he said.
Otter has been governor since 2007 and has a month left, after which Brad Little, the current lieutenant governor who won the election to succeed Otter, takes office. Otter defended his own record running the state, including the steep budget cuts during the recession, and said he is leaving the state in good shape for Little.
"We have an opportunity to go forward from here with even more success," Otter said.
Otter spent much of his introduction defending his record on education, including his support for the "Luna laws," a package of three laws making major changes to the state's education system that voters struck down by referendum in 2012. Otter said the laws were good but drafted through "a terrible process," with not enough input from the education community. His decision to put together a task force to come up with recommendations to reform the state's education system came after that failure.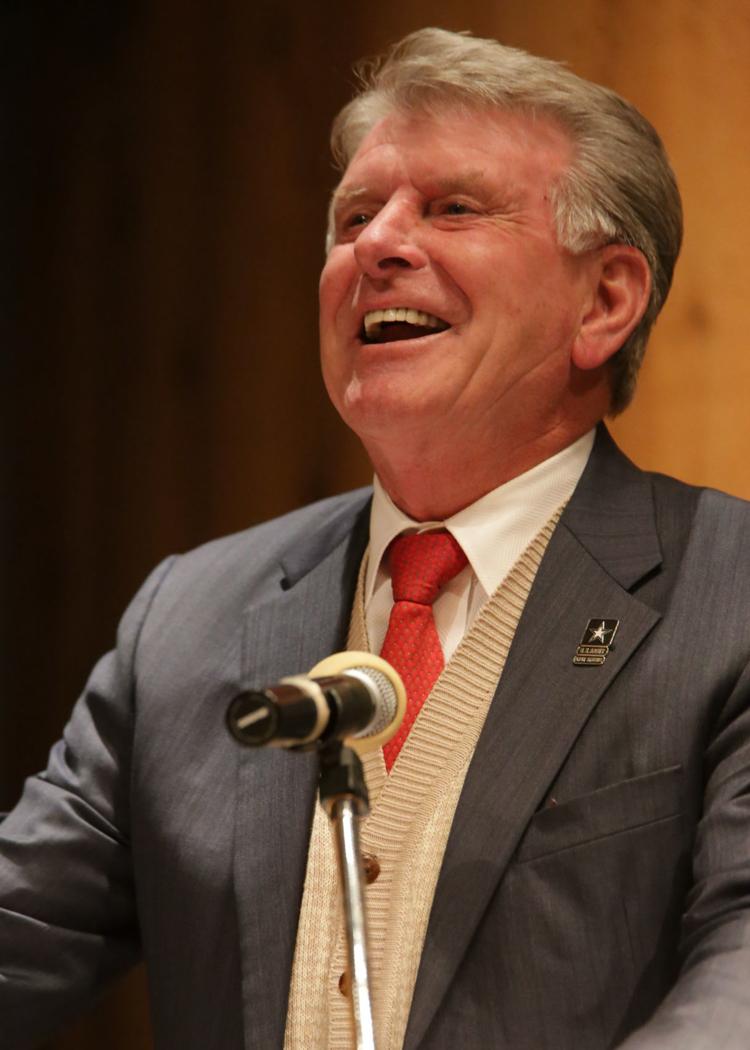 Otter also talked about his support for expanding the state's community college system, saying it helps people learn skills to advance in life and about the value of education in general. He related it to his own background — his father was a union organizer for the International Brotherhood of Electrical Workers and "if you weren't going to become a priest or a nun in our Catholic family, then you were going to be an apprentice."
Otter dropped out of high school at 16 but went back a couple of years later, finishing at age 20 and going on to college. His four children have four bachelor's degrees, two master's degrees and a doctorate between them.
"I wanted something different, so I went back to school," Otter said.
A week before this year's election, Otter came out in support of Proposition 2, the ballot initiative to expand Medicaid to everyone making up to 138 percent of the poverty line that passed a month ago with more than 60 percent support statewide.
Otter said he had expected the U.S. Supreme Court to overturn the Affordable Care Act in 2012 and was surprised when that didn't happen. He said he promised the legislative leadership after that not to act to expand Medicaid unilaterally and defended not doing so. Even if he had, he said, the Legislature could have just declined to fund it.
Otter proposed a state-funded program to provide primary care coverage to some of the uninsured in 2016 and came back in 2018 with a plan to insure many of them through the state exchange, but neither got enough support from lawmakers to pass. Otter said he would have preferred a more state-based approach but he backed Medicaid expansion because it was "the last game in town."
"I had tried everything in the book," he said.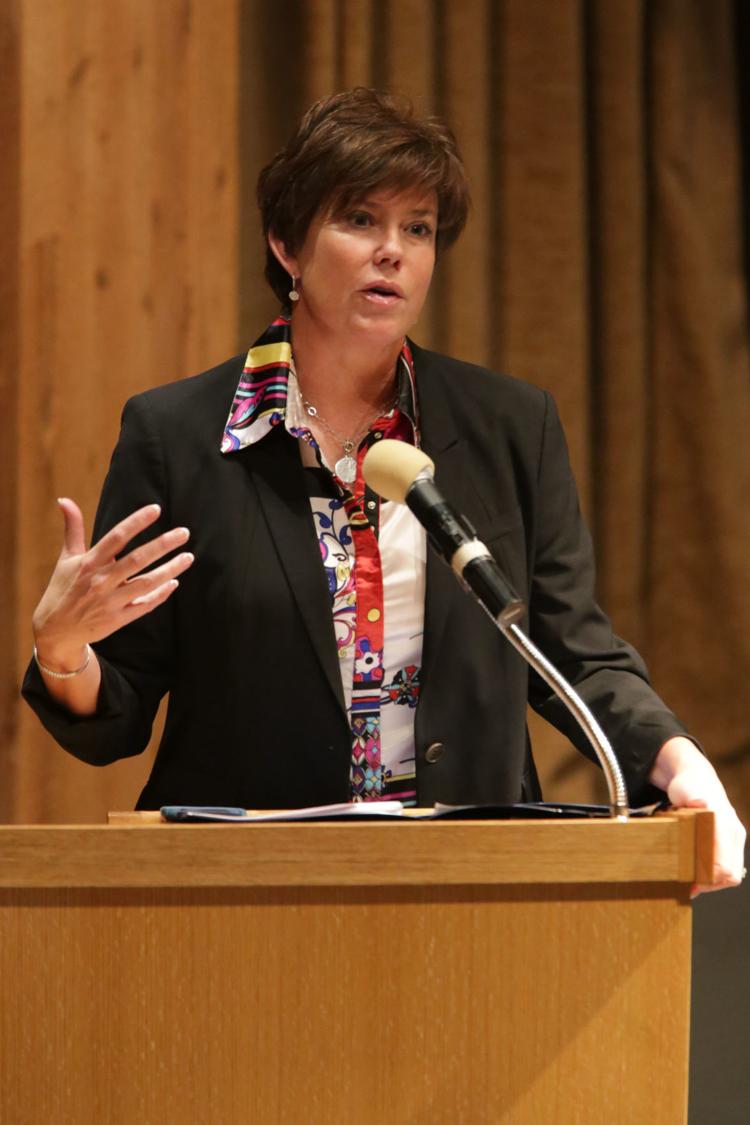 Lori Otter also answered a few questions, reflecting on her 12 years as Idaho's first lady. When she first took office, she said, then-Arkansas first lady Janet Huckabee told her "don't talk about things you don't know and do things you like."
Lori Otter has spent her time, among other things, working with the Idaho Association of Libraries, the Idaho Governor's Cup scholarship fundraiser, the Idaho Meth Project, and "Truth 208," which seeks to drive down prescription drug abuse. She also leads Idaho Women in Leadership, a nonpartisan group that aims to involve more women in business and politics.
"There's a lot to do," she said. "Teresa (Little) will have no shortage, so I hope she finds something that she likes to do."
Butch Otter wouldn't say what his plans are after he steps down, other than spending the first three months at home, citing the advice of two unnamed former governors who told him not to commit to anything until after he's out of office.
"I promised Miss Lori the first three months," he said.