POCATELLO — A Bannock County Commissioner has plans to petition the city of Pocatello to vacate North Sixth Avenue between Clark and Center streets after a second county employee in as many years was struck by an inattentive motorist.
Commissioner Terrel "Ned" Tovey says he would like to address with the other commissioners the safety for pedestrians around the courthouse, with the vacation of North Sixth Avenue as a potential resolution, after a motorist struck and launched Bannock County assistant chief deputy prosecuting attorney JaNiece Price into the air at the intersection of North Sixth Avenue and East Clark Street last month.
"Including the courthouse employees and the general public, there are well over 100 people that are around the courthouse every day," Tovey said.
"It is extremely busy around the courthouse and what we are noticing is it is getting even busier. After this latest incident, we are starting the process right now to petition for the vacation of Sixth Avenue between Clark and Center streets and the courthouse and courthouse annex buildings."
City of Pocatello spokesman Logan McDougall said the city has not yet received a petition to vacate, or close down, the section of North Sixth between Clark and Center streets, but city planning and zoning staff will review the request once it is submitted.
Price, who has been with the Bannock County Prosecutor's Office for 14 years in April, is recovering from a surgically repaired ankle that was broken in two spots on Dec. 17 after an inattentive driver struck her while she was using a crosswalk to cross one of Pocatello's busiest streets.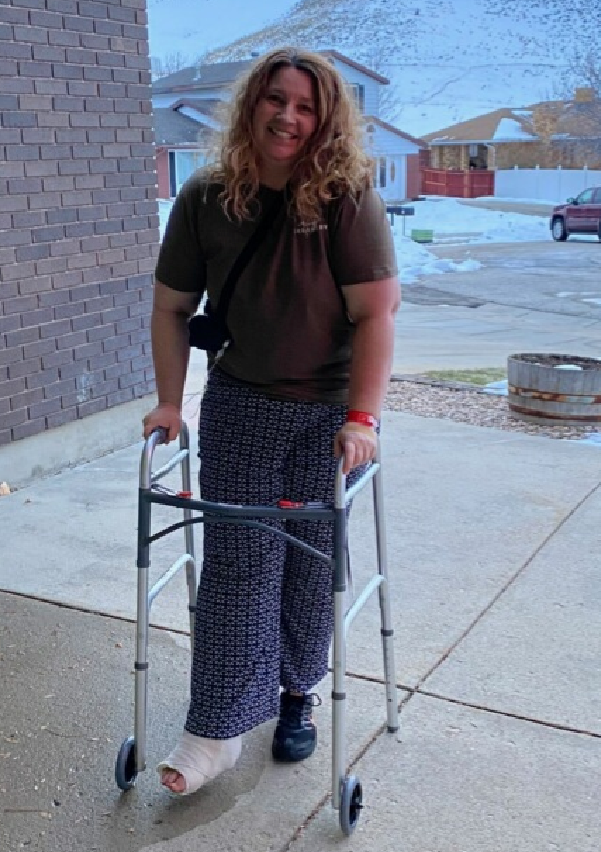 Tovey said that another county employee was struck by a car on East Clark Street coming from the nearby convenience store last summer and it's almost weekly that others have almost been hit near the courthouse.
Price said the Dec. 7 incident occurred so fast that she barely had time to look at the oncoming vehicle before she was tumbling over its top.
"I heard an engine accelerating or revving up and I look over to see this black car that was stopped at the intersection coming at me," Price said. "I turned toward it and shouted, 'No, no, no. Stop,' and proceeded to go up on the hood of the car, over the top and landed in the road on my butt."
Price was struck shortly after noon on Dec. 17 after dropping a package off at the U.S. Postal Service building on East Clark Street, she said. While using the crosswalk to cross East Clark Street, a motorist turning left onto East Clark from North Sixth Avenue struck Price when she was near the middle of the left East Clark Lane.
Price said that although the car that struck her was not travelling rapidly, the force of the collision appeared to toss her about 10 to 12 feet into the air, according to a review of the courthouse security camera surveillance footage.
"I crawled out of the road and onto the sidewalk and my ankle did not feel right," Price said. "A witness had called the police and when the officers and an ambulance showed up I tried to put weight on my ankle and could not."
Price was transported to Portneuf Medical Center in Pocatello via ambulance where she underwent X-rays and CT scans. Doctors determined her ankle was broken in two places that needed surgery to repair, so Price was ultimately transferred to the University of Utah Hospital in Salt Lake for surgery, she said.
Price spent a few days in Utah with family and underwent ankle surgery on Dec. 20. She has spent the new year adjusting to using crutches or a walker to get around.
"It's been an adventure for sure," Price said. "I kept getting messages that said stuff like, 'Walk proudly or stand tall into the new year,' and it's like, 'All I'm doing is hopping on crutches or a walker.' But really, this is an accident and those happen sometimes."
The driver of the car that struck Price was cited for failing to yield at a crosswalk and fined $90. According to the City of Pocatello Legal Department, Price is not entitled to seek restitution for an incident involving a traffic violation, but can file a civil suit or seek reimbursement for medical bills via insurance.
Price said she has contacted her auto and medical insurance companies following the collision.
Though Price has remained in high spirits since the crash and doesn't harbor any ill feelings toward the motorist who struck her, she is advocating for more vigilant drivers near the courthouse, considering the hundred-plus people who frequent the area every day.
"I can't say that there has to be something done about this but in working at that courthouse for so many years, it's clear that people don't pay attention to the crosswalks on Clark and Center Streets in that area," Price said. "In the past year I have almost been hit twice and was just recently hit."
Price continued, "Drivers and pedestrians need to be paying more attention — I don't know, maybe we need to close the street or put up orange flags at the intersections or something."