When Idaho began taxing beer with high alcohol content more than three decades ago, there was virtually no market for the product across the entire state.
But today, craft beer is one of the fastest-growing industries throughout the nation, Idaho included, and the Gem State now boasts nearly 70 different breweries, taprooms or brewpubs.
While Idaho continues to receive recognition for its many microbreweries and the beers they craft, those in the industry believe it's time they organize and have some representation on the macro level.
One effort afoot to promote Idaho's growing craft beer market includes creating an Idaho beer commission, with backers advocating for the redirection of approximately $140,000 in craft beer excise taxes that the Idaho Wine Commission currently receives, according to an Idaho Farm Bureau Federation press release issued Tuesday.
The Idaho Beer Alliance, a 501(c)(6) nonprofit corporation organized to protect and promote the economic and regulatory interests of brewers and retailers of Idaho craft beer, is one such advocate. David Arkoosh, a Boise attorney, is the group's executive director and president.
"What we are looking to do is take a portion of the excise tax collected by the tax commission and use it for economic development in the craft beer industry," Arkoosh told the Journal on Thursday. "We think the wine commission has done an admirable job promoting wine made here in Idaho over the last few decades, and the industry would like an opportunity to find a way to put a portion of beer excise tax money to work in collaboration with state government."
Idaho first started collecting excise taxes — an indirect tax the government works into the sale-price of a particular good or service — on beer in 1935 at a rate of 5 cents per gallon, according to the State Tax Commission. That rate changed to 10 cents in 1949 and has remained at 15 cents per gallon since 1961.
The exception, however, is beer that contains more than 5 percent of alcohol by volume, which the state considers "strong beer" and taxes as wine. The excise tax for wine or beer above 5 percent and below 14 percent ABV is 45 cents per gallon and has been collected since 1971. Strong beer was not considered wine for excise tax purposes until 1988, however.
As of last year, Idaho's excise taxes collected on wine and beer in general were the 37th and 38th highest in the country respectively, according to the Tax Foundation.
Comparatively, Idaho's taxation on strong beer, with over 5 percent ABV, at 45 cents per gallon is the 11th highest in the country. Most other states tax beers of all strengths at the same rate.
Of the money raised from excise taxes on wine and strong beer in Idaho, first, an amount is set aside equal to any reimbursements the state must payout to those who overpay, the substance abuse treatment fund then receives 12 percent, the wine commission receives 5 percent and any remainder hits the state's general reserve account.
The wine commission's 5 percent piece of the pie equaled approximately $140,000 last year, according to the Farm Bureau Federation press release.
The owners of Pocatello's two breweries — Hailee and Davis Gove of Jim Dandy Brewing on East Lander Street, and Penny Pink of Portneuf Valley Brewing on South First Avenue — say they support dedicating the money their customers already pay for their product in order to stimulate further growth for the industry.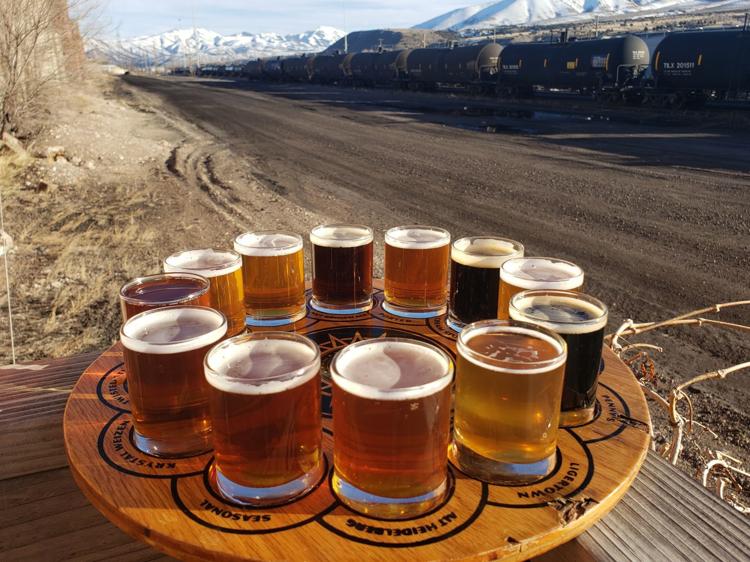 Almost every beer sold at each establishment exceeds the 5 percent ABV threshold for state excise taxes.
"I was involved in the early efforts working with the tax commission to parcel those funds out several years ago so that we could use them to promote craft beer in Idaho, which is now a growing industry," Pink said. "I think this is long overdue and is something that many people have been working behind the scenes for a while now."
Davis Gove added, "The creation of a commission would help people in this area realize beer's economic impact, but also give us a little bit more pride in Idaho in general. There is so much that comes out of this state and so much work that goes into what we produce that people should be more proud of what we are doing."
Another nonprofit dedicated to advancing the market for craft beer in the state is Idaho Brewers United, which also supports forming a beer commission, executive director Sheila Francis told the Journal Friday.
Francis said nobody faults the wine commission for receiving the $140,000 collected from strong beer excise taxes, because for decades, there was no craft brewing industry in Idaho; plus, the wine commission has put the money to good use in helping to promote Idaho's wine industry, she added.
According to the Farm Bureau Federation, there were 10 wineries in Idaho in 1997. Today, there are more than 50.
"It's not their fault they have the money," Francis said about the wine commission receiving the portion of money collected on strong beer. "But part of the money they receive comes from beer, and we would like to use the money to promote Idaho beer."
Arkoosh added, "We would like to use a portion of the money that consumers of craft beer already pay to improve the craft beer industry in Idaho. There is a multitude of ways to do that and we are confident there are opportunities to get that done, which will require capital."
If the $140,000 in funds that comes from the strong beer excise tax is used to promote beer, that would result in a substantial hit to the wine commission's annual budget of $700,000, which includes $300,000 that comes from specialty crop grants the commission has received, according to the Farm Bureau Federation.
Despite the loss potential, Idaho Wine Commission Executive Director Moya Shatz-Dolsby told the Farm Bureau Federation she has no problem with the beer industry getting that $140,000 to promote their product.
"We fully support the beer industry and want to see them have success," she said. "I really think that money needs to go to support them."
But she also said her goal is to keep the wine commission funded at its current level because if it's not, it would result in a significant reduction in the commission's marketing, education and research funds, and could result in staff reduction.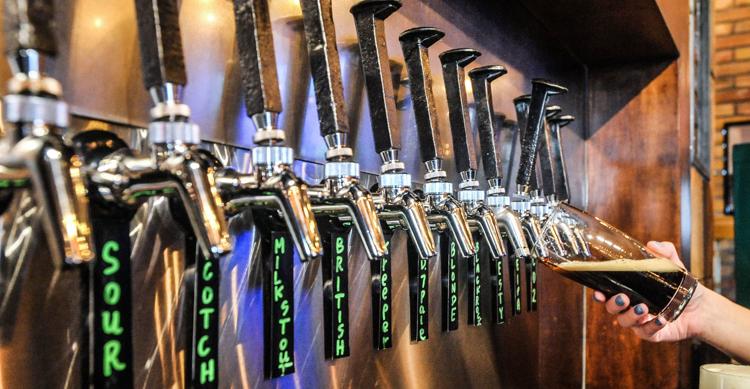 Besides forming a beer commission, the Farm Bureau Federation says other ideas to promote Idaho beer include directing the money to an existing commission, such as the hops or barley commission, or having an existing state agency use the money to promote craft beer in Idaho.
Idaho currently leads the nation in malt barley production and is No. 2 in hops production. This is largely a product of the national and regional explosion of craft beers — considering the ingredients are two of four vertebrae in the backbone of every beer, outside of yeast and water.
"The public would be amazed by how much collaboration there is between beer wholesalers and the agricultural industry in the state," said Hailee Gove, adding that she acquires almost 95 percent of Jim Dandy's product from Great Western Malting in Pocatello and Mill 95 in Parma. "The more that we can build up these industries and make people think, 'Wow! Beer, its ingredients and raw ingredient processing are huge aspects of Idaho's economy,' then the better off everyone will be."
One existing state agency that could further promote Idaho beer is the Department of Commerce's Tourism development division — an agency that coordinated Idaho's month-long celebration of craft beer this April with the Idaho Barley Commission and Idaho Brewers United.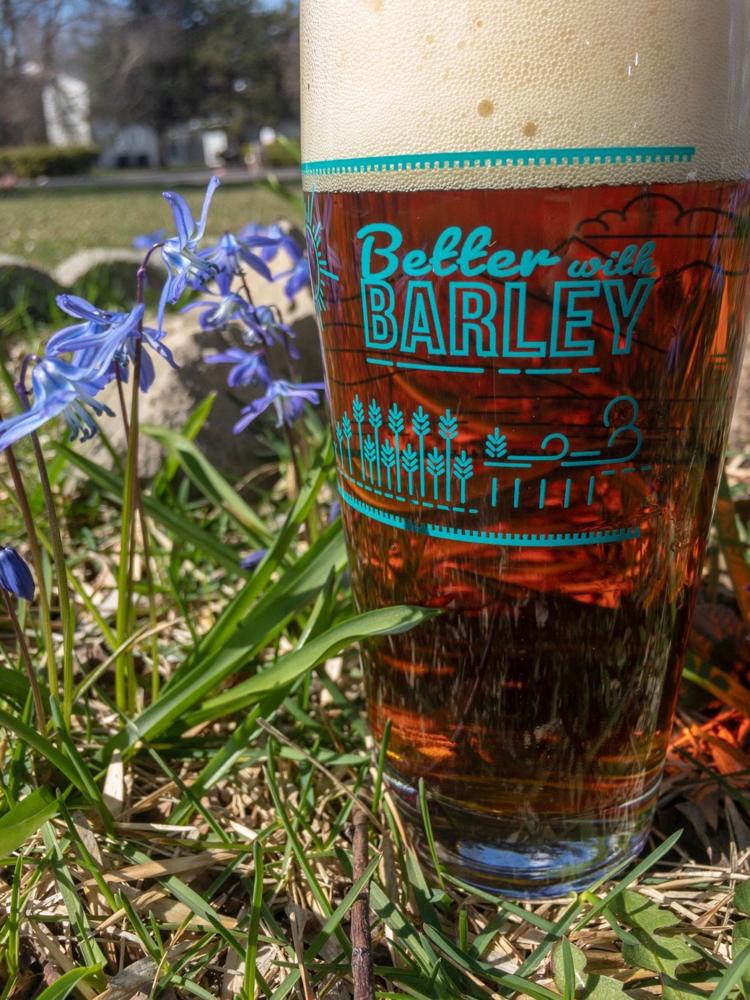 Pints Up Idaho, the official statewide Idaho pint day, kicked off Idaho Craft Beer Month on Thursday. Consumers throughout the state who dropped into a participating brewery to enjoy a pint of Idaho beer received a commemorative pint glass designed in honor of the pivotal beer ingredient.
Throughout April, craft beer fanatics can find more events at their local breweries, restaurants and retailers.
Events include beer pairing dinners, tap takeovers and new specialty brews — such as Jim Dandy's "Old Gregg," a British lager, or Portneuf Valley's extra special bitter, a beer not as "hoppy as an India Pale Ale so it's more approachable for people that aren't into chewing on spruce trees," Pink said.
Closing out the month, Idaho Brewers United is hosting the Beer and Friends Fest on April 27 at Mother Earth Brew Co. in Nampa.
Regardless of how the money to promote Idaho beer gets distributed, Arkoosh thinks Idaho would be remiss to skip out on an opportunity to take advantage of such a vibrant product.
Across the country in 2018, small and independent brewers collectively produced 25.9 million barrels — or over 800 million gallons — of beer and realized 4 percent total growth while the overall beer market dropped 1 percent, according to the Brewers Association. Since 2014, the number of breweries across the country has nearly doubled, up to from 3,814 to 7,346.
According to Boise Beer Culture, a blog dedicated to craft beers in Idaho, more than half of the states' breweries have sprouted in that same time frame. Francis said she works closely with the blog's publisher to ensure the accuracy of new and closed breweries throughout the state.
"I attribute the growth of craft beer in Idaho to the independent and entrepreneurial spirit of Idaho business people," Arkoosh said. "In Idaho, we engender a very independent spirit that I think is common out west, and that has really pushed the industry to expand and driven people to cast out on their own, start new brewing operations and create interesting products that excite consumers' palates.
"Idaho is really unique when it comes to the production of craft beer, and that is something where we can definitely put our money where our mouth is."