POCATELLO — Lisa Villano, co-owner of Old Town Pocatello's Villano's Italian restaurant, was clinically dead by the time she arrived to Portneuf Medical Center after suffering a heart attack on Memorial Day.
"The first half of the trip she was conscious but she was gone by the time we got to the hospital," said Aaron Villano, Lisa's husband and business partner. "There was no stopping for red lights — nothing."
It's been more than two weeks since Lisa, a mother of two children, underwent emergency triple-bypass heart surgery at PMC. She is now recovering in the comfort of her Pocatello home and on Wednesday, Lisa and Aaron sat down with the Journal to talk about the moments leading up to her heart attack, the subsequent outpouring of support from the community and the future of Villano's Italian, the North Main Street eatery they've owned since 2013.
Though Lisa's life-threatening heart attack occurred on Memorial Day, May 27, her first scare happened five days prior. While working at the restaurant, Lisa said she experienced some pain in her right wrist and a slight warm sensation in her chest. Soon afterward her right arm felt heavy and Lisa thought she was experiencing a stroke.
Lisa and Aaron immediately drove to PMC where doctors told her she had experienced a minor heart attack and admitted her until Friday, May 24. Three days later, Lisa was sleeping when an artery in her heart suddenly tore open in what doctors have described as a Spontaneous Coronary Artery Dissection, or SCAD.
The pain from the torn artery was strong enough to stir Lisa awake and she instantly knew something serious was happening.
"I don't remember anything really," Lisa said. "I remember telling Aaron he didn't have time to put socks on and to call 911. That's it, that's all I remember."
SCAD occurs when a tear forms in one of the blood vessels in the heart, which can slow or block blood flow, causing a heart attack, abnormalities in heart rhythm or sudden death, according to the Mayo Clinic. SCAD most commonly affects women in their 40s and 50s, though it can occur at any age and can also strike men, says the Mayo Clinic. People who develop SCAD are often healthy and most don't have risk factors for heart disease, such as high blood pressure or diabetes.
"The name says it all, it was absolutely spontaneous," Aaron said about Lisa's SCAD. "There is no forewarning. She felt chest pains, a certain warmth in her chest and her arms got weak. She self-diagnosed herself twice."
Lisa, who is 47 years old, has no recollection of her heart stopping before arriving at PMC's emergency room, where doctors revived her. She also doesn't remember anything about the six hours she spent undergoing open heart surgery performed by PMC doctors Jacob DeLaRosa and Fernando Grigera.
Lisa awoke to an eight-inch incision on her chest and another incision that ran along the inside of her right leg from the ankle to the upper thigh where doctors had removed a vein to replace her torn heart artery.
"It was scary, really scary," Lisa said. "When I woke up I couldn't believe that all of it happened."
As frightening as the situation was, Lisa said the staff at PMC went above and beyond to ensure she felt comfortable.
"Every doctor that we had, I have never felt so much care," she said. "Every one of them sat down and explained things from beginning to end, how I was going to feel after, how long I was going to take to recover and that basically I need to get rid of some of my stress. The nurses, the doctors, clear to the ladies that cleaned my room, everybody up there was there for my needs. It was amazing."
Aaron added, "DeLaRosa and Grigera were absolutely phenomenal throughout the whole thing, as were the nurses. We couldn't be more pleased with how we were treated and how all the events fell into place that day. It was a miracle and a blessing. Without those guys I don't know where we would be at right now."
Aaron also told the Journal that Lisa will participate in a Mayo Clinic study to better understand SCAD.
"We certainly hope what she has gone through can potentially save somebody in the future," he said.
In the aftermath of Lisa's heart attack, the citizens of Pocatello have rallied around the Villano family.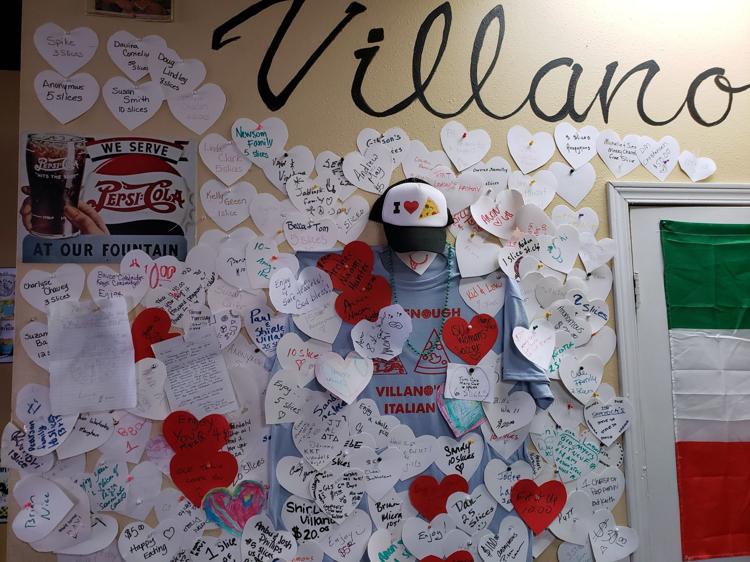 Aaron said, "Trystan Villano, our son, decided that he really wanted to pitch in and do something. He felt helpless as you do in those scenarios. He jumped on Gofundme and started that up, which ended up just exploding really. To see those donations and well wishes pour in was absolutely overwhelming."
Aaron continued, "You can't put into words how you feel about people that come to you in a time of need … It is just unbelievable."
In addition to the online fundraiser, Sue Byington, who owns the Poky Dot Boutique on North Main Street near Villano's Italian, raised a few hundred dollars by donating a portion of the proceeds from her store. And Pocatello Raceway hosted a 50-50 raffle that also raised a few hundred dollars for the Villanos.
A benefit auction had also been planned but it has been temporarily placed on hold so that Lisa can recover enough to be in attendance of the event.
One of the most thoughtful acts of kindness, however, came from the employees of Villano's Italian, who on their own accord decided to open the restaurant the day after Lisa's heart attack.
"The employees had that helpless feeling because they couldn't come see her and they wanted to do something to help us out," Aaron said. "Their thought process was to give the community some closure if Villano's was to close indefinitely, to sell as much of the food we had purchased for that week and to give us a monetary boost before we closed."
Lisa added, "It was just amazing. Mayor (Brian) Blad was there busing tables and there were people coming from everywhere to come and help. There was like a two-hour wait for one pizza and I remember getting messages from people saying, 'I would wait forever.' That was when we knew we had a really good crew."
Rather than provide closure, the employees actually showed the Villanos how capable they were and have proven to Lisa and Aaron that the restaurant can operate successfully without Lisa dedicating as much time as she previously had been.
As it currently stands, Villano's Italian is here to stay, Aaron said.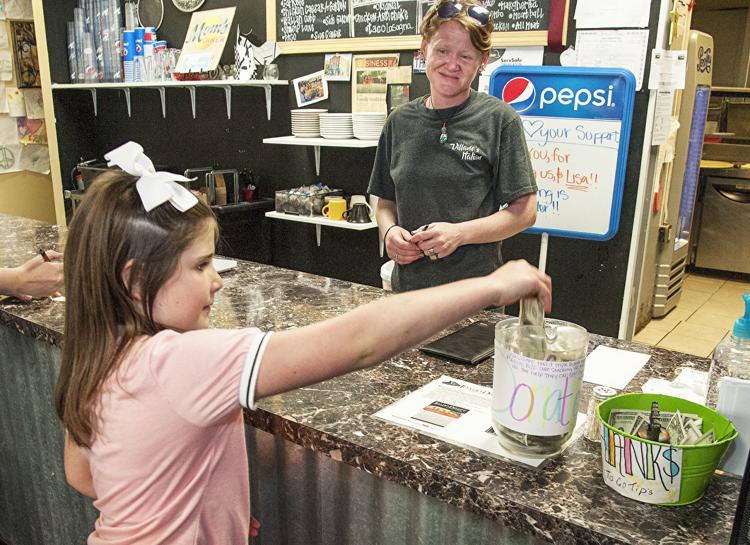 "Basically what we have done is a restructure," Aaron added. "We have put in place three of our most-tenured employees to take over much of the responsibility that Lisa had. We will operate in the background as consultants for them. They have really stepped up to the plate to show us what they can do."
Though Lisa's role at the restaurant must change for the better of her health, neither she nor Aaron has plans to let her heart attack get the best of them. Life's too short to live in fear, Aaron said.
If anything, dying and coming back has given Lisa a refreshed perspective.
"It has definitely made me take every moment in and not take life for granted," she said. "I never thought this was going to happen to me. I look at my kids, my husband and am so thankful that I am still here for them."
Aaron added, "At this point there is no question that we have to live our lives to the fullest. We never know when our time comes. It could happen right now or in 20 years, so there is no question we are going to try and be the people we always have been. We want to go and live a long happy life and not let anything hold us back. And if we can make it through this, then Villano's Italian will be here for a very long time."