POCATELLO — A Jerome man who allegedly raped one of his ex-wife's first-grade students in 2008 has agreed to plead guilty to a reduced charge and was released from jail.
David James McGarry, 52, on Tuesday appeared in front of 6th District Judge Robert C. Naftz via video conference from the Bannock County Jail, where McGarry had been incarcerated since January 2019.
McGarry was arrested over two years ago after a grand jury in Bannock County indicted him on charges of rape and lewd conduct stemming from allegations that he sexually abused a then-7-year-old male student of his ex-wife, Tiffany Marie Petersen, inside her Washington Elementary School classroom between August and December 2008.
Both McGarry and Petersen allegedly engaged in sexual intercourse and other sexual acts with the first-grade student starting in August 2008 while Petersen was the boy's teacher at Washington Elementary School in Pocatello, according to the indictment.
McGarry, who was Petersen's boyfriend at the time of the alleged incidents, was apparently allowed into Petersen's classroom, according to a civil lawsuit filed by the victim against Petersen and School District 25 in August 2018.
The suit, which has been placed in a pending status until McGarry's criminal cases are resolved, states the family of the first-grade boy has experienced extensive pain and suffering and will encounter future medical and counseling costs in the amount of $500,000.
Petersen's criminal case was resolved in February 2020 when she pleaded guilty to a misdemeanor charge that didn't require her to register as a sex offender or serve any jail time.
Bannock County prosecutors filed a superseding indictment against McGarry on Monday, which is a legal document that will replace the felony rape and lewd conduct charges filed as part of the initial indictment with a new charge of felony injury to a child. McGarry signed a written agreement pleading guilty to the felony injury to a child charge on Monday and officially pleaded guilty to the charge via an Alford plea during the hearing Tuesday.
An Alford plea like the one McGarry entered allows a defendant to maintain his or her innocence while facing the consequences of a guilty verdict. In this case, it involved McGarry admitting that the prosecution's evidence would likely have resulted in a guilty verdict had the case been brought to trial.
"If the case had gone to trial the evidence would have shown that Mr. McGarry subjected the victim to sexual abuse which resulted in physical pain and mental anguish," Bannock County Deputy Prosecutor Alan Boehme told Naftz during the hearing.
The terms of the plea agreement were not binding, meaning at sentencing Naftz is not bound or required to impose the specific terms, though they did include several recommendations. One recommendation stated both state prosecutors and McGarry's Pocatello attorney, Bradley Willis, will request Naftz to commute, which means to reduce or dismiss entirely, a previous case in which McGarry was accused of sexually abusing a 15-year-old female relative in 2017. In that case, McGarry agreed to plead guilty to a reduced charge of felony injury to a child and in 2018 received a sentence of four years of felony probation.
In February 2020, 6th District Judge Stephen Dunn sentenced McGarry to serve six years in prison for violating the terms of that probation when he was charged with the felony rape and lewd conduct charges in January 2019 allegedly involving Petersen's student, but Dunn retained jurisdiction in the case for up to one year.
Known commonly as a "rider," Dunn retaining jurisdiction on the 2017 case allowed McGarry to receive sexual conduct treatment and programming while in the custody of the Idaho Department of Correction for up to one year. Dunn indicated McGarry would not begin serving the "rider," however, until the case filed in 2019 involving the first-grade student was resolved.
"You're not going anywhere until the other case is resolved," Dunn told McGarry in court in February 2020. "I know some things need to happen for that case to get resolved, but you're going to sit (in the Bannock County Jail) and this 'rider' will continuously get pushed out until the other case is taken care of."
McGarry never left the Bannock County Jail to attend the "rider" treatment program and the retained jurisdiction expired in February 2021. Without the extenuating circumstances created by the COVID-19 pandemic, Naftz on Tuesday would have had to impose the underlying prison sentence of six years, but instead he ordered McGarry be placed back on felony probation with the same terms and conditions that were originally implemented in the 2017 case.
McGarry also agreed to take a polygraph exam regarding the victim in the the 2019 case, and, if he passes, would not be required to register as a sex offender. If he does not pass or shows signs of deception, the plea agreement recommends McGarry be placed on the sex offender registry. Naftz, however, was concerned that McGarry pleading guilty to a reduced charge of felony injury to a child that is not sexual in nature would bar him from being forced to register as a sex offender.
"Even if you fail or are deceptive during the polygraph, I'm not sure the sex offender board can require you to be a registered sex offender," Naftz said to McGarry at Tuesday's hearing. "I don't think they can."
Willis noted during the hearing Tuesday that had Naftz commuted the case first filed in 2017, there would have been no mechanism to supervise McGarry while he awaits being sentenced on the case that arose in 2019, which is scheduled to occur during a hearing at the Bannock County Courthouse on Aug. 12. Also, the plea agreement stated that in the event Naftz does not follow the included recommendations, McGarry reserved the right to reopen discussions regarding the plea agreement and potentially withdraw his guilty plea.
Boehme noted that the victims associated with both the 2017 and 2019 cases participated in the mediation processes and were aware of the plea agreement details.
Ultimately, Naftz will be tasked with reviewing a pre-sentencing investigation report on McGarry and imposing a sentence of no more than 10 years in prison and a fine of up to $50,000 in connection to him pleading guilty to the felony injury to a child charge. The plea agreement recommends a sentence of probation with a suspended underlying prison term of six years.
Naftz ordered that McGarry be released from jail on his own recognizance at Boehme's recommendation Tuesday.
While McGarry agreed to plead guilty to a felony Tuesday, the expected resolution in this case closely resembles that of Petersen, McGarry's former co-defendant. In February 2020, Petersen agreed to plead guilty via an Alford plea to one count of misdemeanor injury to a child.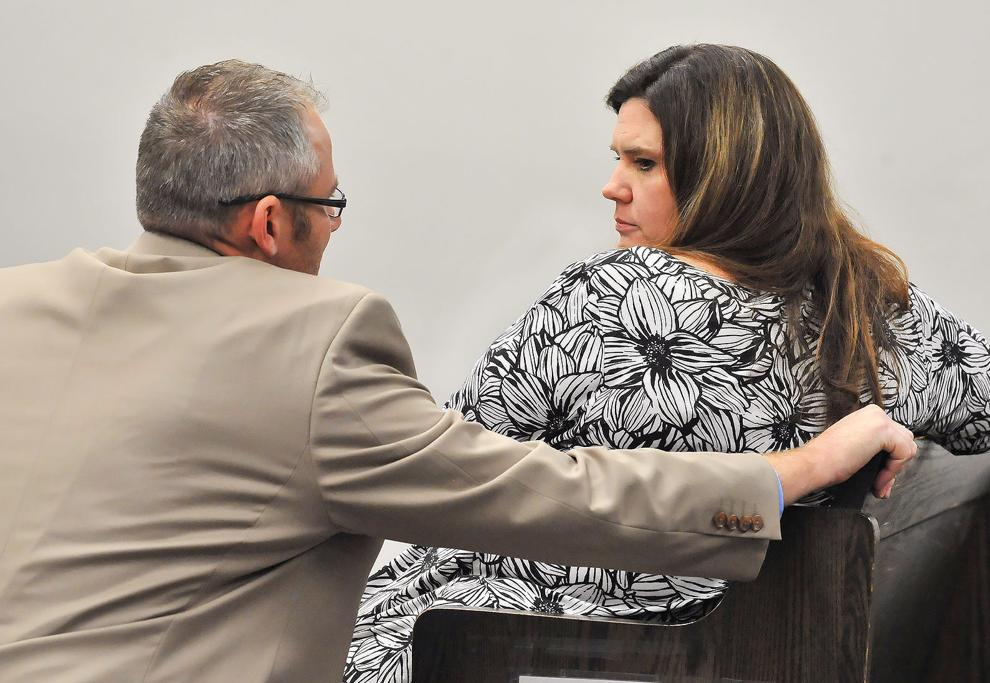 The attorney who represented Petersen, Shane Reichert of Pocatello, said the expected outcome for McGarry is very comparable to her case and fears similar allegations could be raised against anyone in the community.
"Similar to Mrs. Petersen's case, the state had absolutely no physical evidence in either of these cases other than a complaining witness," Reichert said. "The only evidence in these cases were contradictory statements made by the complaining witness. These accusations stem from alleged incidents to have occurred approximately 13 years ago. It's important to note that these allegations were made in conjunction with a civil lawsuit in which the family was seeking (a large sum of money) from (Pocatello-Chubbuck) School District 25 and Tiffany Petersen."
Reichert continued, "These allegations were to have occurred on school property during school hours yet there was not a single eyewitness. Citizens should be concerned that these allegations can be made and pursued without a single piece of physical evidence. No one is safe from this type of accusation."
Bannock County Prosecutor Steve Herzog when contacted Tuesday evening declined to respond to Reichert's statements until McGarry has been officially sentenced in August.