POCATELLO — Local survival expert and reality television star Jeff Zausch has set his sights on another extreme endurance challenge, only this time he'd be ill-advised to attempt the frigid undertaking without wearing any clothing.
Swedish winter apparel company Fjällräven hosts the annual journey to not only provide average citizens with a chance to experience an arctic dog-sledding adventure, but to also test and market its latest line of arctic gear and clothing, something Zausch said he is definitely excited about following his nude challenges.
"One of the best things about this challenge is that I get to wear clothes," Zausch said Monday. "It has always been a dream of mine to do an expedition in the Arctic. For all of the television shows I've done, I always get sent to jungles, African deserts or tropical rainforests. I never get to go to an Arctic landscape. Being raised here in Idaho, I love the cold and the snow so much that something like this has always been a bucket-list item for me."
To get a chance to cross an Arctic adventure off his bucket-list, Zausch is in need of some help from the public, he said. Fjällräven picks two people from each continent on the planet to participate in the expedition, the first of whom is chosen via an online voting selection process. A Fjällräven jury selects the other adventurer.
As of Wednesday evening, Zausch had received 2,077 votes, the third most in North America. Online voting for the Fjällräven Polar ends Friday. Those interested in voting for Zausch can do so by visiting the following case-sensitive link: bit.ly/34PUwhq.
A graduate of Century High School and Idaho State University, Zausch grew up in Southeast Idaho.
As someone who has recreated throughout the entire Gem State during the thick of winter, Zausch says he is well-equipped to handle whatever weather conditions the Arctic throws at him, if he's selected.
"It may surprise people but there are many areas in Idaho that during the winter experiences conditions that are very similar to that of the Arctic," Zausch said. "I have climbed all 12,000-foot mountain peaks in Idaho. And the majority of them I have climbed during the winter season. On the tops of Idaho's highest peaks in January or February it is not uncommon to get winds in excess of 70 mph or wind chills greater than 70 degrees below zero. Idaho is so diverse that I am not only able to get training in desert and sagebrush steppe ecosystems, but also truly Arctic-like ecosystems."
Moreover, Zausch prides himself on being a person who thrives in life-threatening situations, as evidenced by his near-death experience during the tail-end of his challenge to spend 60 days in the Philippine jungle while participating on Discovery Channel's "Naked and Afraid XL."
"I feel as if the majority of people applying for Fjällräven are explorers and adventure enthusiasts," Zausch said. "What makes me unique is that I am a survival expert. In the Arctic regions, storms can hit completely out of the blue. They're unpredictable and oftentimes severe. I feel like in those conditions, that is where I am going to thrive. I am very comfortable in situations that are life-threatening. I think that gives me an edge over any other competitors."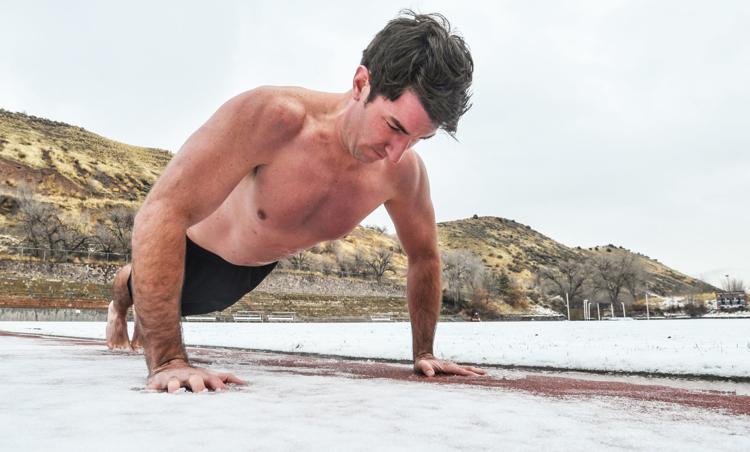 Nonetheless, Zausch has been training every day of the week to prepare for the journey, operating with the optimistic attitude he will either secure the most North American votes or have the Fjällräven jury select him based on his skills and abilities. In addition to subjecting his body to the frigid cold weather, Zausch is incorporating a regime of positive dietary habits and exercise to ensure he is in the best physical and mental shape possible.
"I have been jogging every single day, seven days of the week at the ISU track in nothing but shorts to try and acclimate my body to the cold and discomfort," Zausch said. "It's training my body, but more importantly my mind to overcome the pain and discomfort with your skin freezing.
"It's a little bit different than 'Naked and Afraid' where I put on as much weight and fat as I can. In this case, I actually want to be light with a lean muscle mass."
If chosen for the Fjällräven Polar, Zausch will first spend time in Sweden learning how to mush and familiarizing himself with his canine companions. The excursion begins March 30, 2020, and ends on April 5, 2020. The expedition is not televised, but is shown on the internet.
Zausch is looking forward to the opportunity to connect with his mushing dogs, primarily because he would like to reach the finish line without freezing to death. His girlfriend on the other hand, who is also the person who pushed Zausch to apply, has other motivations for telling him to compete, Zausch said.
"It's funny because my girlfriend is the one who encouraged me to apply in the first place," Zausch said. "She is the world's biggest dog-lover ever, so once I got to thinking about it I realized she probably only recommended this because she thinks there might be a chance I bring an Arctic husky home with me."
Zausch said he likely won't be bringing home a new dog, but if selected, he will depart from the Swedish Arctic with an experience he'll likely never forget.