POCATELLO — A federal judge last month threw out a breach-of-contract lawsuit from a former contracted appraiser for Bannock County, citing a lack of jurisdiction in federal court.
However, Kevin Franck, an Idaho Falls-based licensed tax appraiser who had been contracted by the county to conduct commercial and residential property appraisals, has since refiled the suit in state court.
Franck filed the federal suit in July against Bannock County and several county officials, including each of the three commissioners and the county assessor.
The suit claimed that the county breached its contract with Franck regarding property appraisals, according to court records. Federal Judge B. Lynn Winmill dismissed the lawsuit on Oct. 24.
Winmill reasoned Franck's constitutional rights were not violated as he asserted in his lawsuit when Bannock County wrongfully terminated his contract in January, falsely contending Franck did not hold a specific license associated with home assessments. Due to the lack of a constitutional issue, Winmill determined he did not have jurisdiction to hear the complaint, court records say.
Winmill dismissed the lawsuit without prejudice, a legal term that means the lawsuit is not permanently dismissed and that Franck could still file a claim against the county at the state level, which he did on Nov. 5.
"In short, this is a garden variety breach-of-contract claim, not a violation of the Constitution," Winmill wrote in his dismissal order. "Franck has not alleged any action by the county that impairs his ability to seek redress through a breach-of-contract claim in state court."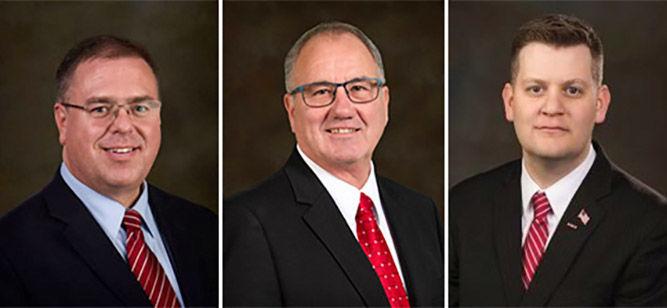 Franck's civil lawsuit in state court is nearly identical to his federal suit. Summonses have been issued for Bannock County Commissioners Terrel "Ned" Tovey, Steve Brown, and Ernie Moser; as well as for Bannock County Assessor Sheri Davies.
"I just want the county to be honest," Franck said about refiling his suit in state court. "I want them to be honest with me and to be honest with the people of Bannock County. They need to take responsibility for their actions — to have some ownership for the way they've handled things, not only with my situation, but with how they handled the assessments for county residents, too."
Franck's lawsuit against the county and the subsequent announcement from the county regarding the Attorney General investigation into Franck came at a time when the Bannock County Assessor's Office was in the midst of a firestorm regarding a county-wide reassessment of home values that caught most of Bannock County by surprise.
The Bannock County Prosecutor's Office and the Bannock County Commission declined to comment on Franck's suit against the county when contacted on Monday, citing a county policy not to comment on pending litigation.
Meanwhile, the Idaho Attorney General's Office confirmed last week that its investigation of Franck remains active and ongoing. Attorney General Spokesman Scott Graf declined to comment on the investigation when contacted on Nov. 14, citing an agency policy not to comment on pending litigation or investigations.
Franck said Monday he has no idea what the Attorney General's Office could be investigating him for. Officials with the Idaho Attorney General's Office and in Bannock County have not commented on the specifics of the investigation, other than to confirm that it exists.
According to the federal and state lawsuits, Franck has been a property tax appraiser, certified and authorized by the Idaho State Tax Commission since February 2010.
Franck entered into a contract agreement with Bannock County on Oct. 1, 2018 to which he was to complete 20 percent, or 1,100 assessments of county properties by April 15, 2019. On Oct. 4, 2018, the County Commission including current commissioners Tovey and Brown, and former commissioner Ken Bullock approved the contract.
Pursuant to the agreement, Franck was to complete a minimum of 250 assessments per quarter at the contract rate of $125 per parcel for commercial assessments and $100 per parcel for multi-unit residential assessments, with a total contract amount not to exceed $125,000.
The contract included a 90-day notice of termination clause, which meant that even upon a proper end to the contract, Franck was required to complete and receive payment for approximately 250 assessments before the county relinquished his role, the suits read.
On Nov. 6, 2018, Davies was elected Bannock County Assessor and was sworn in on Jan. 14, 2019. The next day, Davies requested that Franck return all county files used to complete his appraisals, according to the suits.
Franck told the Journal on Monday that he was in possession of nearly 800 county files, or less than 2 percent of the entire county property database.
On Jan. 24, the County Commission sent Franck's Idaho Falls attorney, Lance J. Schuster, a letter that said it determined Franck violated his contract because, although certified by the State Tax Commission, he did hold an appraiser license from the Idaho Bureau of Occupational Licensing.
Franck's termination was effective immediately following his attorney's receipt of the letter.
Franck told the Journal in July that he was bewildered at the county's explanation, considering he, for nearly the last decade, has held the same license that every county-paid appraiser holds.
Franck says the county still owes him approximately $70,000 for work he performed before he was fired, although he did not indicate in the state nor federal suit the amount of damages he is seeking.
Bannock County — along with Davies, Tovey, Brown and Moser — have three weeks from Nov. 6 to respond to Franck's state lawsuit before a judge can rule in Franck's favor without a hearing.
"It's interesting the county has never taken responsibility for anything, including the assessor or commissioners, regarding my situation or the assessment debacle," Franck said. "Instead, they tried to blame me."