POCATELLO — Idaho State University President Kevin Satterlee outlined his priorities to be addressed by a new strategic plan during a Monday meeting with staff, students and community members.
While speaking at the Pond Student Union Building, Satterlee highlighted four themes to be focal points of the new 10-year plan: preparing students for career readiness, conducting relevant research, demonstration of the university being more student-centered and becoming a campus of choice.
Satterlee stressed that though he has a broad vision of the plan, no specifics have been decided yet. Rather, the plan will be refined over the next 18 months.
"We are going to shape our future," Satterlee said. "It is going to be great."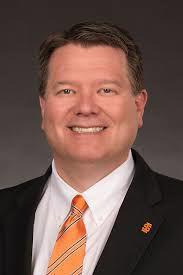 Satterlee described the strategic plan as a continual self-introspection and self-improvement process that will allow ISU members, staff and leadership to become "the best version of ourselves."
Idaho State Board of Education President Debbie Critchfield opened the meeting with a welcome address. Wearing a T-shirt emblazoned with the new ISU Bengal logo, Critchfield expressed her appreciation for and support of the university. She also outlined the importance of creating a practical strategic plan that will be implemented and won't "sit on the shelf."
"We believe in support and want to be able to celebrate education in our state," Critchfield said. "Your success is our success."
Following Satterlee's address, Sonny Ramaswamy, who is the president of ISU's accrediting body, the Northwest Commission on Colleges and Universities, spoke to the audience.
Ramaswamy spoke at length on how the changing economy and social landscape have changed student needs and challenges, and the subsequent responsibilities of universities to their students beyond simply providing them with an education.
"The raison d'etre of a university is to change the human condition," Ramaswamy said.
He also outlined in detail the accreditation and re-certification process, which the NWCCU provides to dozens of colleges and universities in seven western states.
Following a break, the meeting concluded with a panel discussion with various experts who answered questions on a variety of topics as they relate to ISU and the strategic plan going forward.
The strategic plan unveiling was only the beginning of an eventful week for ISU, which also held its annual Celebrate Idaho State event Wednesday evening at the Pond Student Union. The event drew hundreds of attendees and included a variety of family friendly activities put on by more than 50 different ISU groups.