POCATELLO — For the first time in over a decade, Idaho State University broke ground on a new facility.
ISU has officially entered the construction phase for its $11.5 million alumni center after a groundbreaking ceremony held at the future site on the corner of Bonneville Street and Memorial Avenue near the Holt Arena in Pocatello on Thursday morning.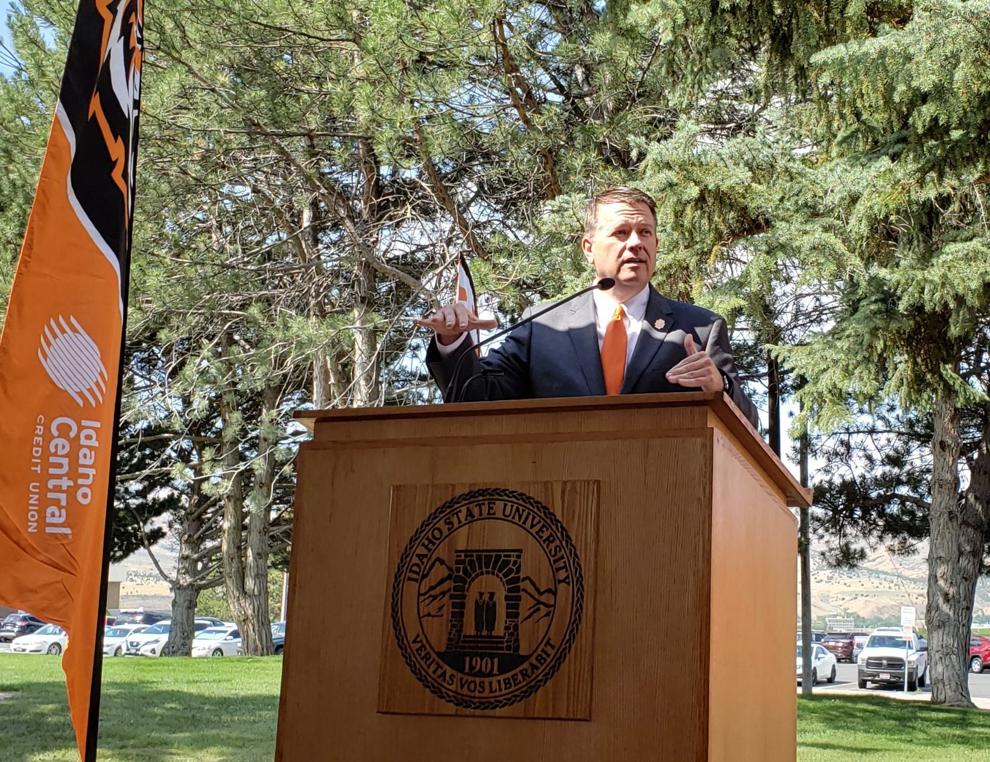 "Today, this event right here, right now will mark the first official groundbreaking ceremony for a brand new building on this campus in more than a decade," said ISU President Kevin Satterlee. "We're here together celebrating in person with each other, with our fellow Bengals for the groundbreaking of the Idaho Central Credit Union Bengal Alumni Center. This is a quintessential, forward-looking occasion at ISU. This alumni center will serve as a new hub on this campus where we will be greeting Bengals as they come home, we'll be providing a place for our alumni to gather, we'll be hosting our community to bring them to our campus for events and functions. It will serve as a home for many key operations and will be a new greeting place for all of the new Bengals who come and join our family. That is what this facility means for the future of Idaho State University."
Original plans for an alumni center began over two decades ago. Over the years, hundreds of Bengal alumni, donors and friends have worked together to raise the private funds needed to construct the building.
The effort was reenergized in 2017 when the late alumnus Jack R. Wheatley committed $2 million to the project. Since then, an additional $6 million have been raised including a $1.5 million gift from Idaho Central Credit Union, of which the center is eponymously named.
Kent Oram, the Chief Executive Office of Idaho Central Credit Union, attended the groundbreaking ceremony and spoke during the event.
"We owe a ton of gratitude to ISU for everything you do for us. As Kevin (Satterlee) mentioned, we do a ton of things all across the state, but this is our home — this is where we all grew up," Oram said, fighting back emotion. "What's really important is the people this will take care of. That is what ISU is about is the people, changing lives of the students who go here and providing employment and wonderful opportunities for faculty, staff and administrators of ISU. What a wonderful place and what a wonderful thing for our community. We're just happy to be a part of this."
In addition to providing any person who enters the ISU Pocatello campus with a positive first impression of the school with a modern, state-of-the-art building, the alumni center will boast a large open courtyard, a massive event hall and an executive boardroom where the Alumni Relations and ISU Foundation boards can regularly meet.
ISU Associate Vice President for Facilities Services Cheryl Hanson said the outdoor space will include terraced gardens and the indoor event center can be cordoned off and split into two distinct spaces.
Further, the center will include some smaller meeting rooms, a beautiful atrium and welcome area and a dedicated space to house the school's athletic hall of fame, which is named after Sylvia and the late Don "Pappy" Papenburg, said Ryan Sargent, ISU director of alumni relations.
ISU head football coach Rob Phenicie also attended the groundbreaking Thursday. The dedicated ISU sports hall of fame was a feature the coach was most excited about.
"She's awesome and is one of the best supporters of our program," Phenicie said about Sylvia Papenburg. "Every day our guys walk under her name heading to the practice field and she is at every basketball game with a big smile on her face. I think this space is very important. I am a big proponent of sharing the history of the school to our current players so that they understand what they are playing for. A beautiful new facility right next to our football complex is just awesome."
The alumni center will replace the school's current alumni facility, a 3,000-square-foot single-family home on South Seventh Avenue known as the Magnuson Alumni House, which ISU plans to retain and repurpose, Sargent said.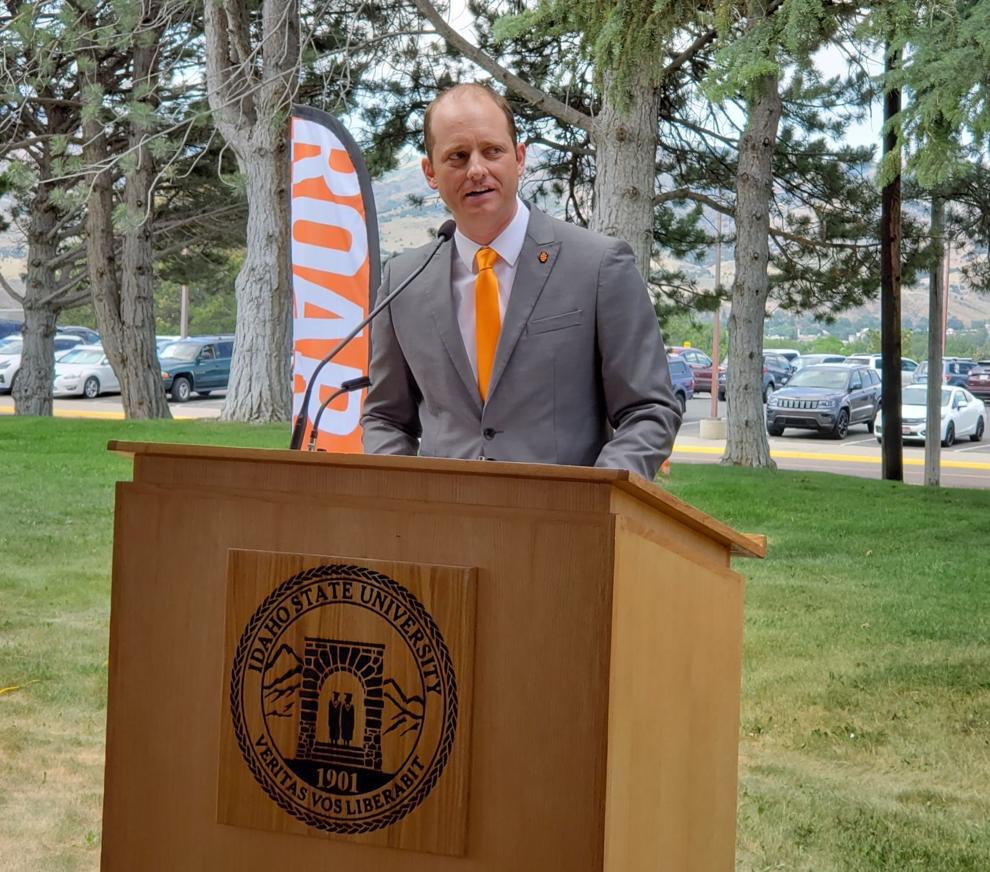 "The Magnuson Alumni House has been a wonderful facility for ISU alumni since the 1970s," Sargent said. "It's a beautiful house and the university will continue using it to serve Bengals and we are excited for that. Really, we just outgrew the space. We are a bigger, more dynamic university than we were in the 1970s and this new building will reflect that growth and excitement. For the first time we will have a real dedicated event space to welcome friends and alumni back to campus and a space for operational services where alumni can reconnect with students in ways they have never been able to do in the past."
The architect of the project is Myers Anderson of Pocatello, Keller Associates Inc. of Pocatello is the lead civil engineering team, and Ormond Buildings Inc. of Idaho Falls is the general contractor for the project.
"We have an incredible university and we're excited to advance its mission by bringing students and alumni together like never before in this building to teach and learn together, to bring real world experience into the classroom and to take the skills that we learned at this university and give back to future Bengal students," Sargent said. "This morning the vision that began over 20 years ago is coming to fruition. It's certainly a great time to be an Idaho State Bengal. Welcome to your new home and roar, Bengals, roar."