BOISE — After a decade of legislative inaction, a citizens group is launching an initiative drive to raise Idaho's $7.25 an hour minimum wage.
Opponents to raising the minimum wage often cite what they say would be adverse impacts on employers and the economy, along with ideological opposition to government mandates.
But major economic studies all around the country for the past 25 years have shown that state minimum wage increases actually don't result in fewer jobs; they instead reduce turnover costs for employers, create more spending power, reduce poverty and, often, raise both wages and employment.
"It's very counterintuitive," said Michael Reich, professor of economics at the University of California-Berkeley and co-chair of the university's Center on Wage and Employment Dynamics.
That's because, Reich said, the labor market "is not perfectly competitive."
A landmark 1994 study by Princeton economists examined wages and employment in border communities in Pennsylvania and New Jersey when New Jersey raised its minimum wage but Pennsylvania didn't. The study found jobs grew more in New Jersey than in Pennsylvania.
"I think it's a definitive study," Reich said.
While Idaho hasn't changed its minimum wage in a decade, 26 states around the country have increased theirs in the last five years, 17 by legislation and nine by voter initiative. Many states where it happened by ballot measure were red states with GOP-dominated legislatures, including Missouri and Arkansas in 2018. In 2016, Arizona and Maine voters both backed President Trump and passed minimum wage increases in the same November election.
"It's not an entirely partisan issue when it comes to the voters," said Jackson Brainerd, a policy specialist for the National Conference of State Legislatures.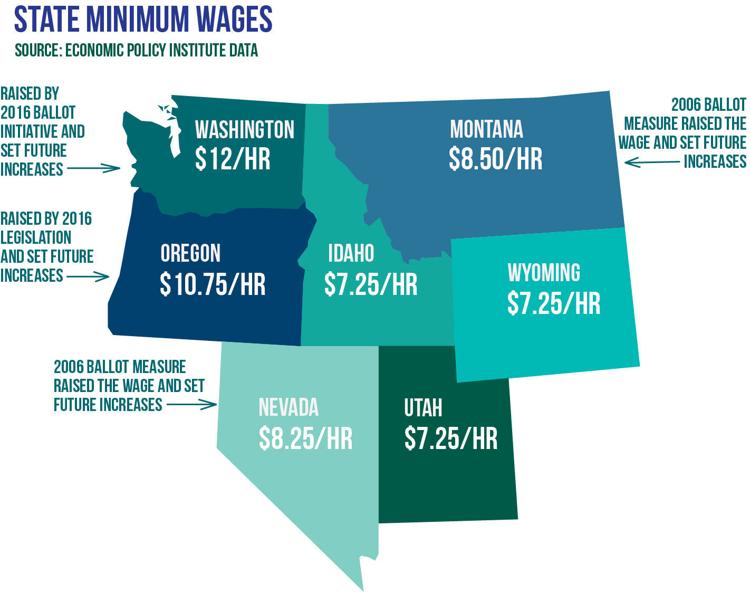 A group of Idaho citizens headed by volunteer Rod Couch — who personally gathered more than 1,000 signatures for the successful Medicaid expansion initiative — is organizing a drive to get a minimum wage initiative on Idaho's ballot. It would raise Idaho's minimum wage to $8.75 right away, then raise it another dollar a year for the next two years, and then hit $12 an hour after four years, after which increases would be tied to the consumer price index. It would eliminate the current "training wage" that allows people under age 20 to be paid just $4.25 an hour for their first 90 days on the job.
Couch, head of Idahoans for a Fair Wage, said there shouldn't be a sub-minimum training wage. "You start out at minimum wage and then you go up from there," he said. "I think this would stimulate the economy, and our goal really is to help lift working Idahoans out of poverty."
Idaho is a low-wage state overall; its average weekly wage in 2018 was lower than all but two other states.
Couch is a retired postal worker; he's been drawing volunteers of all political stripes, but they've mostly been older folks.
"We've found that a lot of the people that this would really help would be people pretty much 35 and under," Couch said. "They're very enthusiastic and they support that, but a lot of them are working two or three jobs, so they don't have the time to help us get signatures. We're glad to do it on their behalf."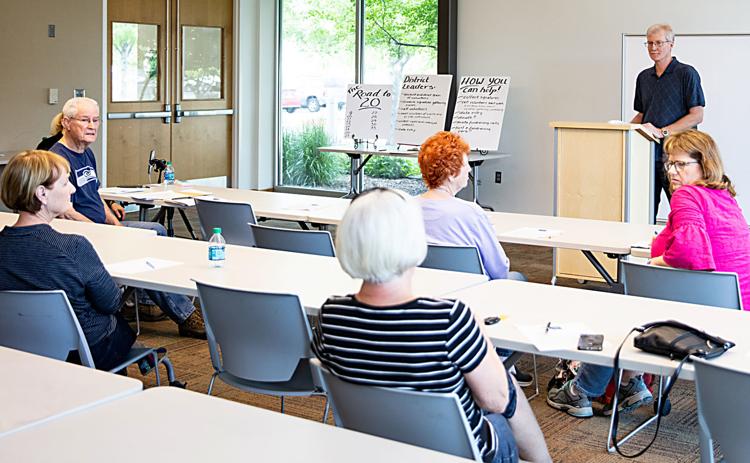 According to federal and state estimates, 16,000 Idahoans made $7.25 an hour or less in 2017, while 58,000 made less than $8.75 in 2018. More than 200,000 Idahoans earn less than $12 an hour. An employee working full time at $7.25 an hour earns $15,080 a year. The federal poverty level for a one-person household is $12,140; for a two-person household, it's $16,460.
A full-time worker earning $7.25 per hour earns a gross weekly salary of $290; monthly, it's $1,257. The average rent for a one-bedroom apartment in Boise, according to a March study from Colliers International, is $1,062.
"So many people are at the lower end of our earning scale, and they work really hard," said state Rep. Sue Chew, D-Boise. "It's not livable, even in Idaho."
Minority Democrats in the Idaho Legislature have proposed phased-in minimum wage increases, but the bills have faced strong opposition from majority Republicans, and none have gotten a hearing. Chew, who introduced her proposal as a personal bill this year, said she couldn't get a House committee chairman to put it on an agenda.
"There wasn't an interest there at all," she said. "It's like diametrically opposed."
Many Idaho Republican officials have long said they'd rather have no minimum wage at all.
"I am more comfortable in that camp than I am mandating an employer," said House Speaker Scott Bedke, R-Oakley.
Polls, however, have consistently shown around 70 percent support for minimum wage increases in Idaho, similar to polls in other states.
"I've seen a lot of these polls; they almost always are 70% to 80% in support," Reich said. "And when these issues have been on the state ballot, they usually get between 60% and 70% support."
Gov. Brad Little said, "My goal is to have everybody's wages going up, based on market conditions." He added, "I view it as a starting wage with the goal of trying to get people off of it as fast as we can. When I go out and talk to businesses and talk about the minimum wage, they all just scoff at me, and say, 'I haven't been able to hire anybody at minimum wage for a long, long time.'"
Sen. Jim Rice, R-Caldwell, chairman of the Senate Local Government & Taxation Committee, sponsored successful legislation in 2016 to forbid local cities or counties from raising their minimum wages above the state level.
"It's poor economic policy to do minimum wages," he said. "It's a type of price control."
Asked about the economic studies, Rice said, "Economists disagree with each other, and frankly, I disagree with the ones that go that direction. … I tend to have the view that the economy will actually make those adjustments, and it'll do it far more efficiently than government can."
Idaho's first state minimum wage was set in 1963 at just $1 an hour. The Legislature raised it to $2.30 in 1977; $4.25 in 1991; $5.15 in 1997; and $7.25 in July 2009, where it's remained since.
More than a decade ago, Idaho lawmakers agreed to peg Idaho's minimum wage to the federal level, ending years of fights about whether to even go along with federal minimum wage increases.
"If the feds raise the minimum wage, we will obviously comply with it — we did last time," Little said. "We have to, and it'd be the right thing to do. I do know that we've got some facilities in Idaho that are moving into Idaho because of minimum wage laws in other states. I don't get much solace in that, because I don't want us to be a place where people migrate to because of our minimum wage."
But he said he believes minimum wages in general can't account for differences between communities, like the differing cost of housing in Ketchum, Kendrick or Kamiah.
"The economy's doing so good, we're going to have to pay higher wages anyway," Little said.
The percentage of Idaho's hourly workers earning just the minimum wage peaked in 2012 at 7.7% — the highest in the nation — but has since dropped to just 2.3% in 2018. In 2016, Idaho's percentage was the fifth-highest among the 50 states and the District of Columbia, but in 2018, it dropped to 20th.
Reich said the restaurant industry is the largest employer of minimum wage workers. In his studies, he's found that minimum wage increases prompt restaurants not to cut jobs, but to raise their prices by 3% to 5%. That's not enough to deter diners, who continue to eat out.
"Restaurants would much rather raise prices than lay off workers," Reich said. "If they lay off workers, they can't sell as many hamburgers."
"Ahead of time, they're very afraid; small businesses especially are very afraid they won't be able to raise their prices, because if they raise their prices and nobody else does, it will cause them a lot of pain," he said. "A cost increase across the board is going to affect all restaurants similarly, so ultimately, the market will produce higher prices and they'll do just fine. And there are so many studies that have found that."
While some argue that Idaho's current booming economy means there's no need to raise the minimum wage, Reich said, "Minimum wage laws or initiatives are more likely to be passed during boom times than during recessions. However, there's no evidence that the effects vary. … We find the exact same results, whether we're in boom times or in recession times."