The Community Food Basket – Idaho Falls learned last Thursday that it would be receiving a new item in its federal food assistance boxes: a letter from President Donald Trump addressed to recipient families.
"This is mind blowing and yet not surprising at the same time. We WILL NOT be distributing this letter with our Farmers to Families food boxes. We WILL be removing the letter before distribution. It will be incredibly time consuming to remove them before giving the food to families but it is also the right thing to do," Community Food Basket Director Ariel Jackson wrote in a statement on social media.
The letter will be part of the Farmers to Families food boxes the Food Basket receives though the federal government's Coronavirus Food Assistance Program. The program buys surplus produce, dairy and meat from farmers then gives the items to food banks for distribution.
The Community Food Basket receives 200 30-pound boxes to give to 200 families each week. Once a month, a semi truck arrives in Idaho Falls with 1,000 boxes to hand out to 1,000 families in a mass distribution event. The next mass distribution is set to take place Oct. 16 in the Grand Teton Mall parking lot.
Each box contains one letter written in English and one in Spanish. Signed by Trump on White House letterhead, it begins by addressing the receiving family:
As President, safeguarding the health and well-being of our citizens is one of my highest priorities. As part of our response to the coronavirus, I prioritized sending nutritious food from our farmers to families in need throughout America. We are partnering with local organizations, farms, and ranches to ensure that you receive locally-sourced fresh fruits and vegetables as well as dairy and meat products.
Over the last four weeks, we have delivered 50 million Farmers to Families Food Boxes to American families, and we will continue to serve those most in need during this challenging time."
The complete letter goes on to detail a list of recommended health practices. It can be read in full here.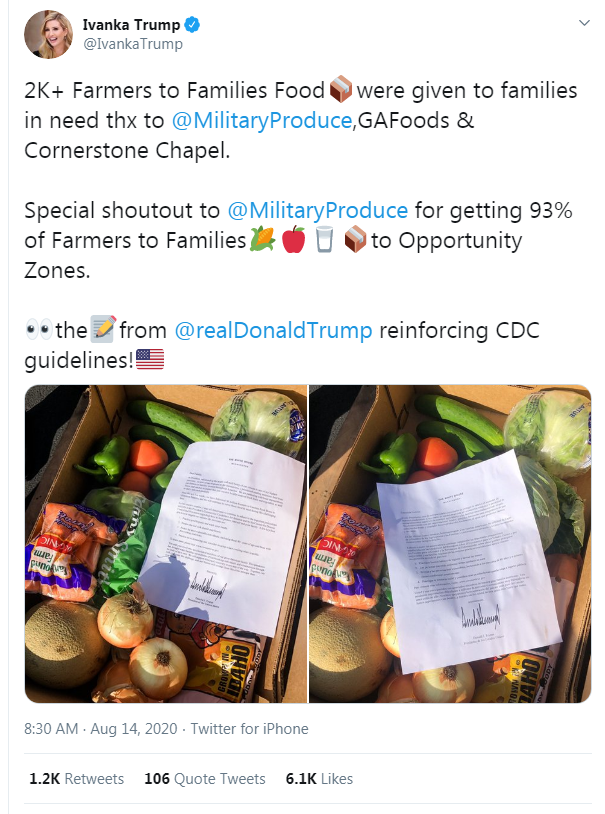 Leaders at food banks across the country have expressed their outrage. Like many of them, The Community Food Basket — Idaho Falls has said it is not a political organization and, as such, finds the letter inappropriate.
"Sometimes people who are struggling are so grateful for the help that they have received that they feel indebted or beholden to someone who has provided assistance," Jackson told the Post Register. "And we don't want to in any way imply that something is owed for receiving these food boxes. We do not want to sway politically, one way or the other, any one vote. … We would never want someone to feel they owe a political candidate for being given food. That's just not who we are."
Some, including dozens of Congress members, say the letter violates the Hatch Act.
"The Hatch Act prohibits executive branch employees from using their official authority or influence for the purposes of affecting the result of an election. Additionally, federal law prohibits any person from commanding, or coercing, any employee of the federal government to engage in, or not to engage in, any political activity," read a letter from those Congress members to the Secretary of Agriculture.
Jackson said her volunteers showed up two hours early on Monday to open the 200 boxes received this week, remove the letter and tape the boxes back up. At the mass distribution, the food bank will need 10 extra volunteers on hand to open each box and remove the letter in time to distribute the food before it begins going bad.
"We have never tried to sway a hungry person or family's political belief system and we won't start now," Jackson concluded her statement.