BOISE — Just a month before the start of the legislative session, Idaho House Minority Leader Mat Erpelding, D-Boise, has resigned from the Legislature.
Erpelding's resignation is effective Friday. He's taking a job as the new vice president of government and community relations with the Boise Metro Chamber of Commerce.
"It's relatively sudden, but I've been in discussions with the chamber for several months," said Erpelding, a retired high-altitude climbing guide who's been the House's top Democrat since 2012.
In his resignation letter, he called his service in the Legislature "the most significant professional honor of my life."
Idaho House Assistant Minority Leader Ilana Rubel, D-Boise, announced that she'll run for House minority leader; and Rep. Melissa Wintrow, D-Boise, announced she'll run for the No. 2 spot. Caucus elections are set for Dec. 10.
Filling Erpelding's District 19 House seat will be up to the Democratic legislative district committee, which will submit three nominees to Gov. Brad Little, who will make the appointment. The committee is made up of party precinct captains for the district.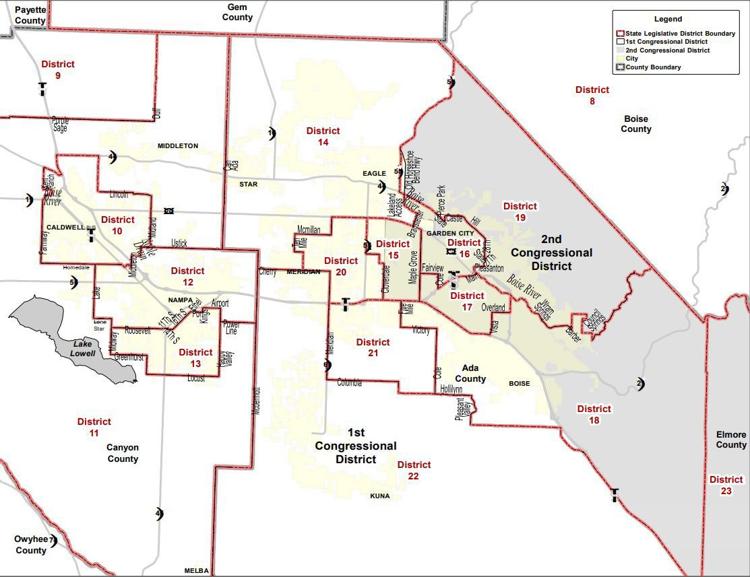 Erpelding will replace Ray Stark, the chamber's longtime government and community relations chief. The two will work together for several months through the transition.
"Rep. Erpelding is one of the most respected lawmakers in the Idaho Legislature, and we are extremely excited to announce such a monumental hiring," Bill Connors, chamber president and CEO, said in a statement.
"While no one will ever be able to replace the iconic career of Ray Stark, Erpelding will help the Boise Metro Chamber chart an exciting new course for its local, state and national agenda," Connors continued. "He created a legacy of working with both sides of the aisle, and listening to multiple voices during his political career. We trust he'll create that same legacy at our organization."
Erpelding said in his resignation letter that he's excited about continuing to advocate "for Idaho's core economic needs" at the chamber, but he also said in an interview that he welcomes the opportunity to spend more time with his young family, including wife Elizabeth and daughter Louise, 2.
He said he plans to donate all his remaining campaign funds to Next Generation Leadership Idaho, a group he founded that's aimed at empowering young progressive leaders and improving Idaho's political landscape.
"We best honor the wishes of our diverse state when we collaborate, merge ideas, and compromise," Erpelding wrote in his resignation letter. "Unfortunately, Idaho's political polarization is deeply disconcerting. I encourage my legislative colleagues to increase bipartisan efforts rather than kowtow to the extreme views being advocated on both ends of the spectrum."
In a statement Wednesday, Speaker of the House Scott Bedke, R-Oakley, congratulated Erpelding on his chamber appointment.
"While I am personally happy that he has been afforded this new opportunity, I am also sorry he is leaving the House of Representatives," Bedke wrote. "In his position as Minority Leader, he has proven to be an insightful and collaborative legislator. We will miss him, but we wish him every success in his new position."
Asked about his proudest accomplishments in his legislative career, Erpelding said, "Last year I just had an incredible year, honestly, to be able to pass three pieces of legislation that had substantial impact on people's lives and on my district."
That included legislation to allow firefighters to get workers compensation coverage for post-traumatic stress injury; a bill protecting Idahoans from wage theft; and "the simple small-business stuff, making it so that historic theaters are able to have beer and wine at their shows without worrying about problems. That just was a big deal for The Egyptian (Theatre), and an even bigger deal for theaters around the state that I didn't even realize about," Erpelding said.
He also mentioned his legislation encouraging the Outdoor Retailer Show to come to Idaho, which helped spark a national conversation about the show's location in Salt Lake City at a time when Utah was pushing for state takeover of federal public lands. The show ended up moving to Denver.
Erpelding said he considers his House seat in District 19, in Boise's North End, to be a key seat for Idaho Democrats, as it's the Democrats' strongest district in the state. "They should be looking at somebody who really understands policy, and also understands the politics of this state and can present a plan to advance us."
Erpelding said lawmakers will face many challenges in the upcoming legislative session, which starts Jan. 6.
"I think the biggest challenge for legislators this year is not to confuse their power with what is best for Idahoans," he said.
"I believe that the polarization of our parties has led us to this place where something that we are proud of as a state — like the fact that we're not gerrymandered because we've created an independent commission that makes it difficult to gerrymander, the fact that our legislators have lost sight of that history and that value and are dead-set on moving forward with tools that would marginalize minority communities in Idaho — is disturbing to me," he said. "I think that bleeds into their treatment of Medicaid, their treatment of the public education system.
"That worries me," he said. "Because the truth is no one side, Democrat or Republican, has a corner on the solutions market. When we compromise and when we work together and actually respect one another's ideas in a publicly civil way, in a structurally civil way, and in a privately civil way, that's when we make really good policy. Our Legislature right now is very good at public civility. But there are all kinds of structural incivilities … that are disturbing."
He noted, "Prior to being in the Legislature, I did some amazing things. I climbed all over the world, I got to raft the Grand Canyon. I did some amazing things, and none of that compares to the incredible experience that is the Legislature. … That isn't to say it's not without frustration and aggravation."
I am saddened we are losing Mat Erpelding's voice in the legislature. Not only has his been a voice of reason but also one to call out the unpleasant facts on an issue. We need leaders like Mat. Best wishes Mat for the future! #idleg #idpol https://t.co/P8jo6Nr2BS

— Senator David Nelson (@DavidNForIdaho) December 4, 2019
Thank you for you're passionate service! Wishing you all the best.

— Maryanne Jordan (@jordansen17) December 4, 2019