POCATELLO — "For one Pocatello couple, strong, the force of love is."
That's what Yoda might have said had he been at the wedding ceremony hosted at the Assemble Learning and Event Center in Pocatello on Saturday afternoon.
Well, Yoda was present for the wedding of Pocatello residents Carrie and Allen Gresick. Yoda, or Ella Jackson, was the flower girl and she was one of hundreds of participants in the Gresick's "Star Wars" themed wedding, which the couple intentionally hosted on May 4.
Known as the unofficial holiday celebrating the "Star Wars" film franchise, May 4 became popular with "Star Wars" fanatics who created the pun catchphrase, "May the fourth be with you," which was modeled after a popular line in the "Star Wars" films, "May the force be with you."
"I always wanted my daughter to have a theme wedding and she didn't want to," said Carrie, whose maiden name is Noble. "This was the opportunity that we had, so we jumped on it."
Allen added, "As soon as I proposed, I started looking at dates and we were shooting for sometime in June. As soon as I saw that May 4 was a Saturday it was just too perfect not to host it then."
Carrie, who portrayed Princess Leia during the wedding, and Allen, who portrayed scoundrel Han Solo, met via Match.com, an online dating website. They had their first date in January 2017. Though Allen is more of a "Star Wars" fan than Carrie, it was surprisingly her idea to host the themed wedding.
"Everybody was very amazed when I told them it wasn't my idea," Allen said.
Since the moment Allen proposed 16 months ago, it was a frenzy to coordinate all of the "Star Wars" themed centerpieces, flower arrangements and various props. On top of that, Carrie underwent shoulder surgery and was unable to craft any items for about seven months.
"I designed the whole wedding," Carrie said. "I made all the flower setups, the centerpieces, my bouquet, the cake-base and toppers. (Allen) designed the invitations, save-the-dates and all the signage."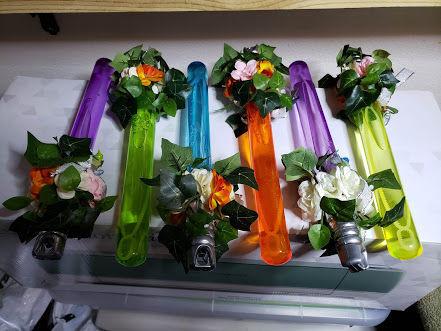 The flower arrangements were wrapped around mini light sabers and Jabba the Hut's Tatooine tiki bar included a red punch known as Vader-ade, a green punch called Yoda Soda and water, which they called Luke Skywater.
The wedding cake was molded into the shape of the Millennium Falcon and the toppers were Princess Leia and Han Solo Funko Pop! dolls.
Carrie painted the hair on the dolls gray to more closely resemble her and Allen's hair.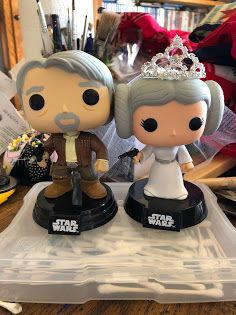 Allen said that about 300 people attended the wedding and close to 50 percent of those in attendance were dressed in "Star Wars" costumes.
"I would say there was a least a couple dozen different characters from the 'Star Wars' universe," Allen said.
Allen, who works as computer security engineer, and Carrie also exchanged their "Star Wars" themed wedding vows in front of multiple "Star Wars" reenactment groups — the 501st Legion of the Timberline Garrison, local members of the international costuming organization known as the Rebel Legion, and the Idaho Mandalorian Mercs Costume Club.
The couple's vows, read by none other than Chewbacca himself, or Caleb Bossert — a coworker of Carrie's at Allstate Insurance in Chubbuck — began something like this:
"Welcome, my brother and sister Jedi. Today we have a great honor to celebrate the coming together of Allen and Carrie whose bond with one another was forged through the force and strengthened by it so that their efforts together could be stronger than the efforts of any two other Jedi. Their relationship began a long time ago in a galaxy far, far away during a daring rescue attempt aboard the dreaded Death Star."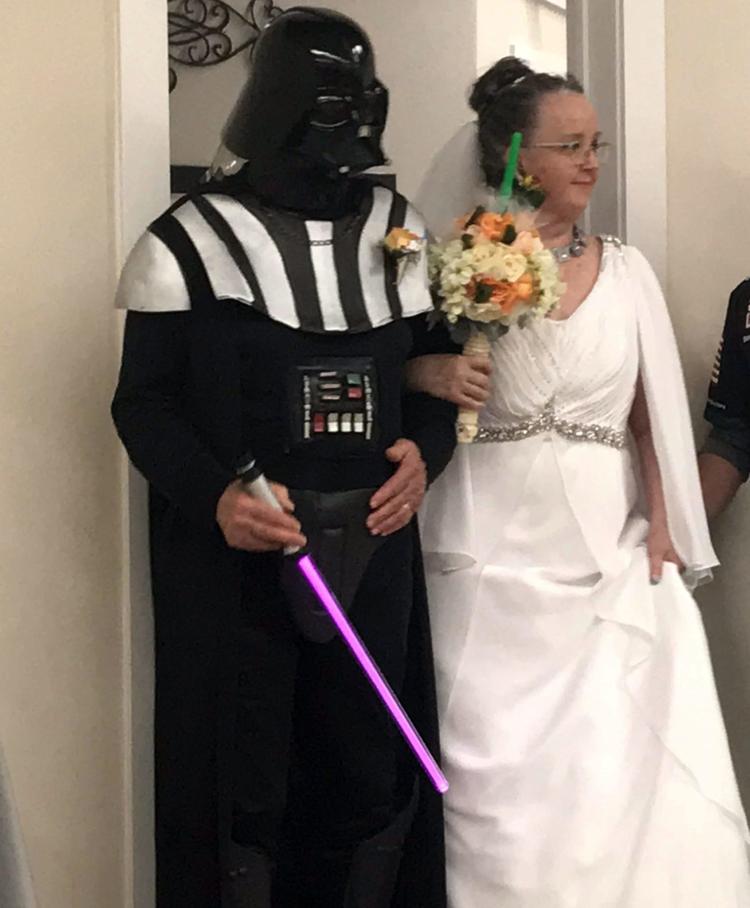 Other wedding guests included Carrie's great-niece Cora Salmon dressed as a child version of Princess Leia, Carrie's 83-year-old father Jim Clinton dressed as Darth Vader and, among many stormtroopers, Sith Lords, Jedis and Rebels, Carrie's daughter Meagen Ranburger dressed as a Twi'lek Rebel fighter. The youngest person dressed in a costume was the 3-month-old son of Chewbacca (Bossert) who was wearing a yellow onesie that read, "Wookie hair, don't care."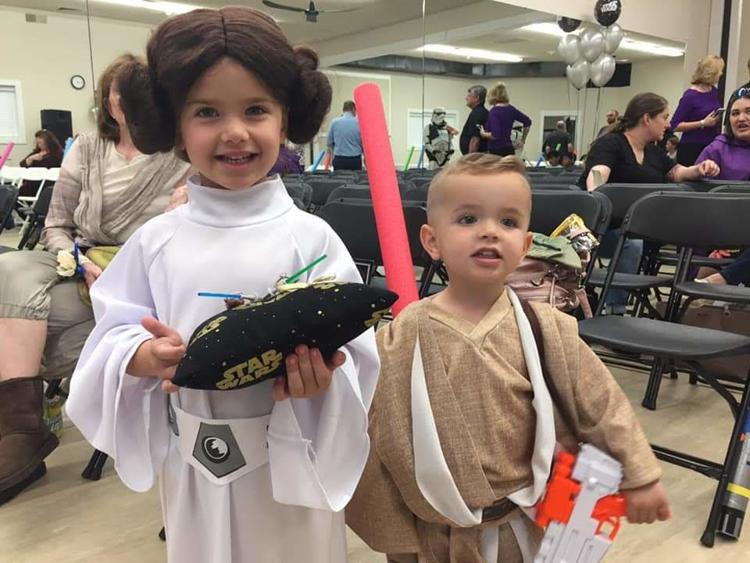 The original "Star Wars" movie hit theaters across the country 42 years ago this month and both Allen and Carrie can vividly remember the time they first watched the iconic film.
"I was living in Coronado, California," Carrie said. "I was a senior in high school when it came out and I remember standing in line at the Point Loma movie theater for 4 1/2 hours to watch this movie. As a matter of fact, I do believe I went back a week later and watched it again."
Allen added, "Mine isn't that dramatic. I was living in Pennsylvania at the time. I was in seventh grade and my sister took me to the Beaver Falls Mall to go and see it. I fell in love with it and have seen and own every version that has come out, both VHS and DVD. I have been infatuated ever since."