POCATELLO — Ef Fin isn't just a man; he's a legend in his own right. When Shakespeare wrote, "He that hath a beard is more than a youth, and he that hath no beard is less than a man," it was with Ef Fin in mind.
With a full and bountiful beard, the freshest pompadour and the tightest mustache this side of the Mississippi, Ef Fin is the coolest guy you've never met. And if that isn't reason enough for local entrepreneur Ben Bosworth to name his brand new barbershop after Ef Fin, nothing will be.
Located at 518 E. Center St. in the loft-like space above Bosworth's first business, Outlaw Vapor, the Ef.Fin Barbershop is more than just a place to get a haircut. It's a one-stop-shop for almost anything a man's heart may desire, said Bosworth, adding that Ef Fin may or may not be a real person, but you'll still wish you're as cool as he was.
"The vibe that this place puts off is second to none," Bosworth said. "The second you walk in here, you know you are stepping foot in a proper, old-time barbershop."
The Ef.Fin Barbershop, in just a few short years, went from something Bosworth thought would be a sweet idea into a reality. After Bosworth purchased the building on Center Street he knew it was time to open up shop. Though he knew he wanted the barbershop to have that classic hot-towel and straight-razor feel, providing customers with a hip joint to hang out in before or after a cut or shave was equally important, he said.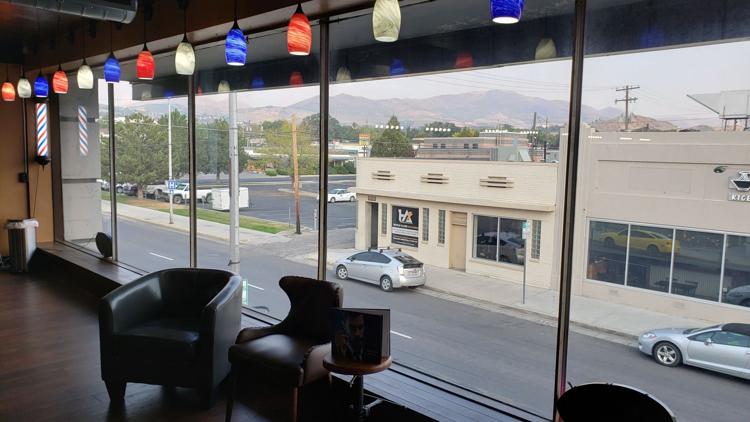 "I've always had a dream to open a really cool space for a barbershop and mercantile where people could get a haircut or a shave and purchase men's gifts," Bosworth said. "I'm talking about a place where a dad can bring his son and they can enjoy a root beer and spend a Saturday afternoon together. We decided to turn this space into a place where people could come, not necessarily to get a haircut, but come hang out with good conversation, bring some good friends and enjoy a beer overlooking East Center Street."
The barbershop boasts eight individual stations, equipped with fully reclining vinyl barber chairs, vanity-style lighting, overhead LED lighting and full-length mirrors. Because of the COVID-19 pandemic, Bosworth said only four of the eight chairs will be in use for now.
"The two different lighting styles eliminate all shadows so you get a seamless haircut every time, the full-length mirror allows customers to communicate with their barber throughout the cut and the vinyl chairs make for a quick and easy sanitation between guests," Bosworth said.
Understanding that not every barbershop customer would want to walk past a store that sells electronic cigarette and nicotine products, Bosworth built a foyer inside the main level of the building, complete with a frosted glass doorway partition that separates the entrances for both businesses.
"We realize there will be folks who bring their children in for a haircut and won't want to see the Outlaw Vapor side of things," Bosworth said. "And we want everyone to feel welcome here."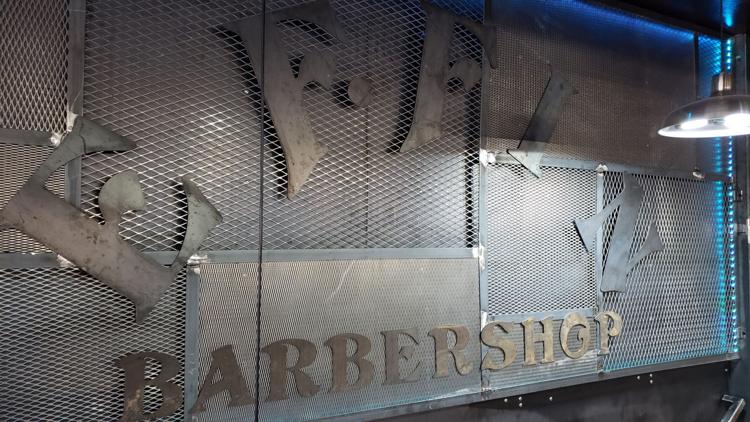 Hardwood floors and custom metalwork throughout the barbershop create a very steampunk feel, with a more modern, state-of-the-art twist on things. Bosworth also made sure to incorporate local contractors every step of the way.
"Through this build-out we wanted to support some local businesses because of the impacts of COVID-19," Bosworth said. "Fusion Fabrication owned by Scott Webb did all our metalwork in here and spent hundreds of hours on it.
Justin Pyne at Install It All did our beautiful hardwood flooring. B & G Plumbing did all of the water connections for our sinks. And then countless hours from my wife and kids. Greg 'Smitty' Smith is also doing some really amazing painting for our walls and definitely deserves a shout-out."
Bosworth didn't just keep it local when hiring contractors, he also stocked the bar inside the barbershop with Idaho-sourced craft beers, root beers, ginger ale and water.
"At one end of the barbershop we have seating for folks to gather and enjoy the view and drink one of our many Idaho-sourced beverages with a great view overlooking East Center Street and Fifth Avenue," Bosworth said. "Our goal was to stock as many Idaho products as possible."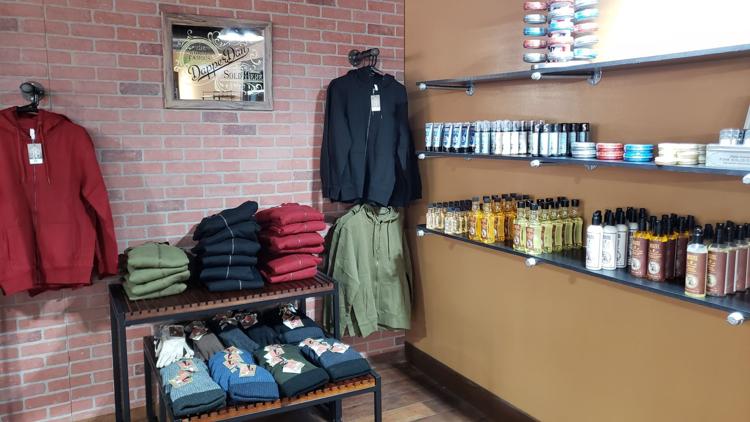 On the other end of the space sits a full men's mercantile shop stocked with handcrafted leather goods, tactical knives, a full line of custom hair products, solid colognes and aftershaves and the highest quality hoodies, beanies and jackets, Bosworth said.
"We have some products from Holland, hair and beard oil and a tattoo salve from England, colognes from England, specialty razors from Canada and we worked with a company in Los Angeles to develop our own Ef.Fin and Co. line of products — pomades, a beard and body hydrating mist and various balms," Bosworth said. "I would say that if your wife, daughter or mother was looking to get you something for your birthday or a holiday, send her our way because we got it covered."
The full menu of products and services offered at the Ef.Fin Barbershop is available on their website, effinbarbershop.com. People can schedule appointments via phone, walk-in and online at vagaro.com/effinbarbershopllc.
The shop is open from 9 a.m. to 5 p.m. Monday through Friday and noon to 3 p.m. Saturday.
"Do yourself a favor and come in and treat yourself to next level service with our professionally trained and licensed barbers," Bosworth said. "We promise you'll leave more than satisfied."