POCATELLO — As part of a plea agreement, a judge has dismissed felony rape and lewd conduct charges filed against a Pocatello elementary school teacher accused of engaging in sexual acts with one of her first-grade students inside a School District 25 school in 2008.
Tiffany Marie Petersen, 47, of Pocatello, appeared with her local attorney Shane Reichert in front of Judge Eric Hunn at the Bannock County Courthouse on Tuesday for an arraignment hearing, during which Petersen, formerly known as Tiffany Hallinan, pleaded guilty via an Alford plea to a charge of misdemeanor injury to a child.
The plea deal approved by the court saw Petersen enter the courtroom on Tuesday facing life in prison on the rape and lewd conduct charges but leave free on probation, despite emotional testimony from the victim in the case and his parents.
The Bannock County Prosecutor's Office is expected to provide additional information on the case including the reasons behind the plea deal in the near future.
An Alford plea like the one entered by Petersen allows a defendant to maintain their innocence while carrying the consequences of a guilty verdict. Under an Alford plea, Petersen admitted to no wrongdoing and did not concede she would have likely been convicted by a jury if the case went to trial.
In exchange for Petersen pleading guilty via the Alford plea to the misdemeanor injury to a child charge, Bannock County prosecutors agreed to dismiss the felony rape and lewd conduct charges filed against her by way of a Bannock County grand jury indictment in January 2019.
"My client used the Alford plea to take advantage of the state's offer during the criminal mediation process," Reichert told the Journal in a phone interview after Tuesday's hearing. "During the mediation, Petersen was able to convey her innocence in the multiple discrepancies, not just in the delay of disclosure, but in the many contradictions that were made by (the victim) and quite frankly his family. The reality is there was no corroborating information whatsoever. Her goal was to take advantage of this offer and hopefully move forward with her life and career, which has been on hold because of these false allegations."
The Bannock County Prosecutor's Office provided the Journal with a prepared statement following the hearing that said the outcome of this case was the result of a joint mediation between prosecutors, the victim and his family as well as Petersen and Reichert.
"Cases that involve sexual abuse are extremely difficult for everyone involved," the Prosecutor's Office statement read. "This is especially true in a case where the family does not find out the truth of the abuse until nearly a decade after it occurred. Our office appreciates the courage it took for the (victim and his) family to come forward and help our office in this case."
Petersen and her former husband, David James McGarry, 51, of Jerome, were both charged with felony rape as well as lewd conduct against a child under age 16 in January 2019 via a Bannock County grand jury indictment.
Both McGarry and Petersen allegedly engaged in sexual intercourse and other sexual acts with a first-grade student starting in August 2008 while Petersen was the boy's teacher at Washington Elementary School in Pocatello, according to the indictment. McGarry, who was Petersen's boyfriend at the time of the alleged incidents, was apparently allowed into Petersen's classroom, according to a civil lawsuit filed by the victim against Petersen and School District 25 in August 2018.
During the emotional two-hour hearing on Tuesday, the victim, a 7-year-old boy at the time of the alleged abuse who is now age 18, and his parents provided the court with statements about how Petersen's alleged actions impacted them.
The victim started his remarks to the court by thanking his parents, educators, counselors and Bannock County prosecutors for listening to his story. He said while he was a student in Petersen's first-grade class at Washington Elementary School she repeatedly called him names, physically struck him and raped him several times.
Further, the victim said Petersen's alleged abuse left him with severe post traumatic stress disorder, eating and sleeping irregularities, difficulty starting and keeping relationships, anxiety and depression.
"Mrs. (Petersen) violated one of the most basic relationships of trust someone should have in their life," the victim said. "She was my first-grade teacher and she degraded me and hurt me in ways that are even hard for me to imagine still."
Moreover, the victim said he did not disclose the alleged abuse for about a decade because Petersen had threatened to kill him or a member of his family if he ever revealed the alleged abuse.
The victim's mother elaborated on the alleged abuse, stating that Petersen repeatedly struck her son with pencils and rulers and slapped him across the face. She said her son began seeing a regular counselor beginning in second grade because he was preoccupied with the thought of death and was terrified of going to school, adding that her son would cry every morning when she dropped him off for school while he was enrolled in Petersen's class.
"As a mother, even though everyone says you did the best you could with the information you had at the time, the fact that I sent a crying little boy into that school where those things happened haunts me," the victim's mother said. "I don't know if that sadness will ever leave me."
The victim's father spoke about how he and his wife have already lost a child, who died at age 5 from chronic health issues in 1999. The father spoke about being asked if he would prefer to know in advance about a child who might die or whether it would be better to have a child leave home and not return, never learning of their fate.
"I always thought to myself knowing and being prepared was better and I was always glad I never had to experience the opposite," the victim's father said. "I've come to understand that I have experienced the child who never came home. My first-grader who loved school and couldn't wait to go in during kindergarten walked into Tiffany's class and never came back."
Petersen did not address the court in her defense on Tuesday, but Reichert provided the court with a recitation of the facts in the case and spoke about why his client was pleading guilty but not admitting to any wrongdoing via the Alford plea.
Reichert said this case was initially investigated beginning in January 2018 and ending in December 2018, when prosecutors authored an email to the investigating police officer stating there was not enough corroborating evidence to pursue criminal charges against Petersen.
Six weeks later, Reichert said he fielded frantic phone calls from Petersen's family on Jan. 15, 2019, and learned his client had been arrested and charged with rape and lewd conduct after a deputy county prosecutor not involved in the original investigation presented the case to a grand jury that criminally indicted Petersen.
Additionally, Reichert said there was an overwhelming amount of evidence that suggested his client was innocent, including Petersen volunteering for and passing a polygraph lie detector test in which she was directly asked if she sexually assaulted the victim in this case. Moreover, Reichert said the victim's statement during an interview at a counseling center that specializes in handling sexual incidents and what he said to the grand jury when Petersen was indicted had eight different inconsistencies.
Reichert said there were questions about how the sexual acts transpired, with the victim stating the abuse occurred while all parties were standing up — something Reichert said would be impossible considering the size difference between a 7-year-old boy and two grown adults.
In addition, the victim said the alleged abuse occurred while all parties were completely naked during a 25-minute lunch period and 10-minute recess periods, sometimes twice a day, and up to three times per week from August 2008 until April 2009. Reichert noted that not only would it have been nearly impossible for the alleged conduct to occur during such short time frames but Petersen stopped teaching at Washington Elementary School in December 2008 and therefore had zero contact with the victim for approximately four months while he was still being allegedly abused by her in the classroom.
Reichert said there are no medical records of the victim ever being diagnosed or treated for PTSD, anxiety or depression after the alleged abuse occurred and before Petersen was criminally charged.
The location of Petersen's classroom was three and a half steps away from the school's main office that has a window that provided a direct line-of-sight into her classroom, said Reichert, adding that a Washington Elementary School teacher had planned to testify that she and Petersen ate lunch in the teacher's lounge or in Petersen's classroom virtually every day during the time frame of the alleged abuse.
Lastly, Reichert said that McGarry was also offered a chance to testify against Petersen in exchange for a lesser sentence in his case and he refused, adding that McGarry declined to testify against his former wife because she was innocent of the alleged crimes and there was nothing to testify about.
"Petersen is a mother of four children with no prior criminal history, no allegations and no complaints," Reichert said. "She's married, she has two step-children … and has been unwavering in her innocence. I am asking you to allow her to move on with her life, to allow the (victim and his family) to move on with their lives and to let everyone have time to heal."
Petersen remains on administrative leave from Pocatello/Chubbuck School District 25, according to a School District 25 prepared statement provided via email to the Journal after Tuesday's hearing
"At this time, it is worth repeating that any and all incidents, alleged or confirmed, are subject to very strict confidentiality laws protecting both students and staff members," School District 25 stated. "Just like any other employer or business, district employees have legal protections in place, especially in light of any workplace investigation, and more so, in a criminal investigation.… With today's arraignment, there has clearly been a change in circumstances, and the district is in the process of evaluating its next steps moving forward."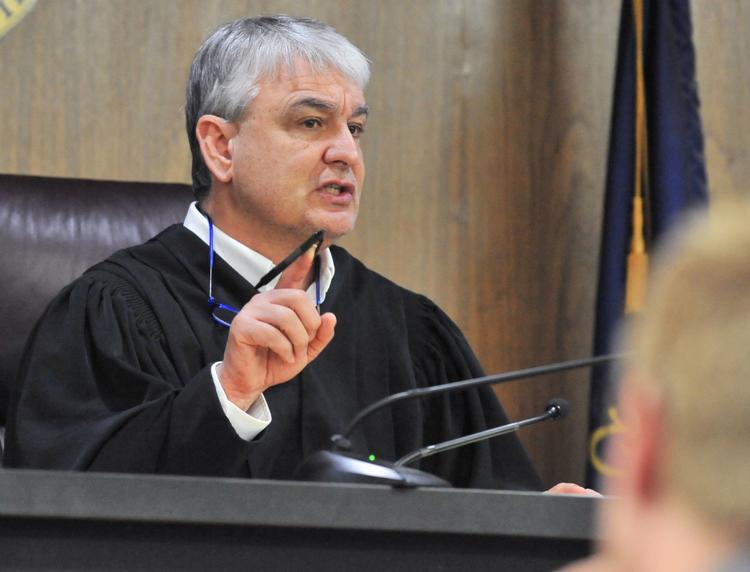 Before delivering Petersen's sentence on Tuesday, Hunn addressed both the victim and Petersen about the difficulties in this case. Hunn did not discount the victim's statements, but said false allegations do occur and he has been on the receiving end of being accused of something he had not done.
In addressing the victim, Hunn said, "Your version of how this made you feel checks all the boxes for someone who has gone through what you have gone through, if it were true. But on the flipside, when I hear some of the stuff you said, some of it I would attribute to you being a young child. I am not sentencing in this case out of sympathy for you or for your parents.… But no matter what happens or what has happened, you can have a brighter tomorrow."
Hunn sentenced Petersen to serve two years of probation, ordered her to pay $1,000 in fines and provided her probation officer with the authority to send her to jail for up to 180 days if she violates her probation. Hunn noted that Petersen can still resume her career as a teacher though she cannot be around children unless "those individuals are aware of her situation and her history."
"So that will not prevent her from teaching or doing anything else if these people were made aware," Hunn said. "If those people were willing to take her on, they can take her on."
In terms of McGarry's case, Bannock County prosecutors filed a motion on Tuesday to revoke his bond and incarcerate him at the Bannock County Jail, which lists his charge as injury to a child. This suggests prosecutors could mirror the process they followed in Petersen's case, dropping the rape and lewd conduct charges in exchange for a guilty plea to a misdemeanor, when handling McGarry's case. But county prosecutors declined to comment on the matter when contacted on Tuesday evening.
If McGarry is convicted of the rape and lewd conduct charges against him, he faces up to life in prison.