BOISE — Husband and wife Valence Iradukunda and Amina Kamengele hadn't seen each other since January 2020, separated by continents and an ocean.
Then on Tuesday night, Iradukunda landed in Boise to reunite with Kamengele.
He walked toward her, wearing a white shirt and a reusable mask. Kamengele, in a black dress, dropped the red flowers she was holding and hugged him. The couple stumbled backward in their embrace. Iradukunda rubbed his wife's back. The embrace brought closure to the uncertainty they faced.
"It's a miracle," Kamengele said. "I didn't know he was going to come this year."Their reunion was made possible by a family reunification petition, which is an I-130 form or petition for alien relative, according to U.S. Citizenship and Information Services. Submitting the form is the first step in helping an eligible relative apply to immigrate to the United States and get green card, according to the agency.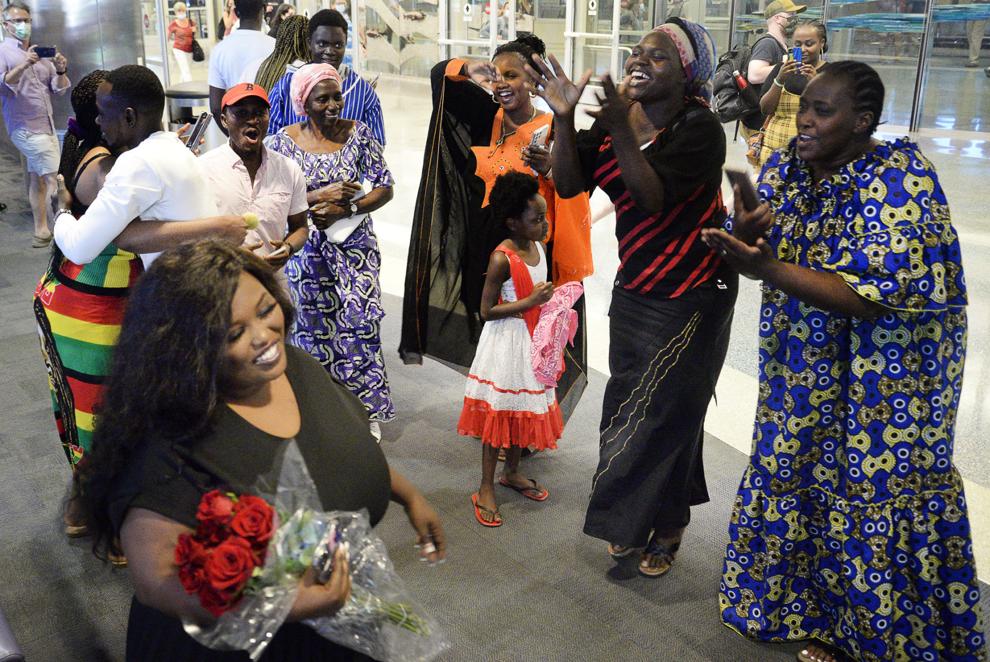 In front of the doors to the terminal, a crowd of families and friends cheered the couple's reunion.
Iradukunda took off the mask he had been wearing before. Kamengele buried her face in his chest.
The couple met in Kigali, Rwanda, in 2012, she said. Kamengele is from Bukavu, Democratic Republic of the Congo but fled the Congo to go live in another country.
"There were a lot of things going on in Congo, poverty, no food, a lot of things," she said. "There is no peace … life was really hard, to find water, to find food, everything was really hard."
In Kigali, they were neighbors. On their first date, she recalled, he climbed a tree to get her mangos and the two sat and talked.
In 2014, Kamengele came as a refugee to New York, she said, but she and Iradukunda still talked all the time on the phone and on Facebook Messenger.
"Life was hard. My mom, she doesn't know how to speak English. So, just me and my sister, we (took) care of everything," she said.
Then, Kamengele's aunt in Idaho told her this was a better place to live than where they lived, in Bridgeport, Connecticut. She moved to Idaho and made friends through church. In 2018, she went back to get married.
"He was like 'I can't believe you came back for me.' It was a lot of emotions … he cried and he was so happy," she said. "I stayed with him for two months. I had to leave him and come back. So sad."
She missed Iradukunda, so she visited again in October 2019, but he couldn't just pack his belongings and follow his wife to America. Immigration laws wouldn't allow it.Kamengele said her husband had been trying to come to the United States for three years. As he watched the reunion, Jay Kakuru, a friend of Kamengele's from church, said he was happy for her.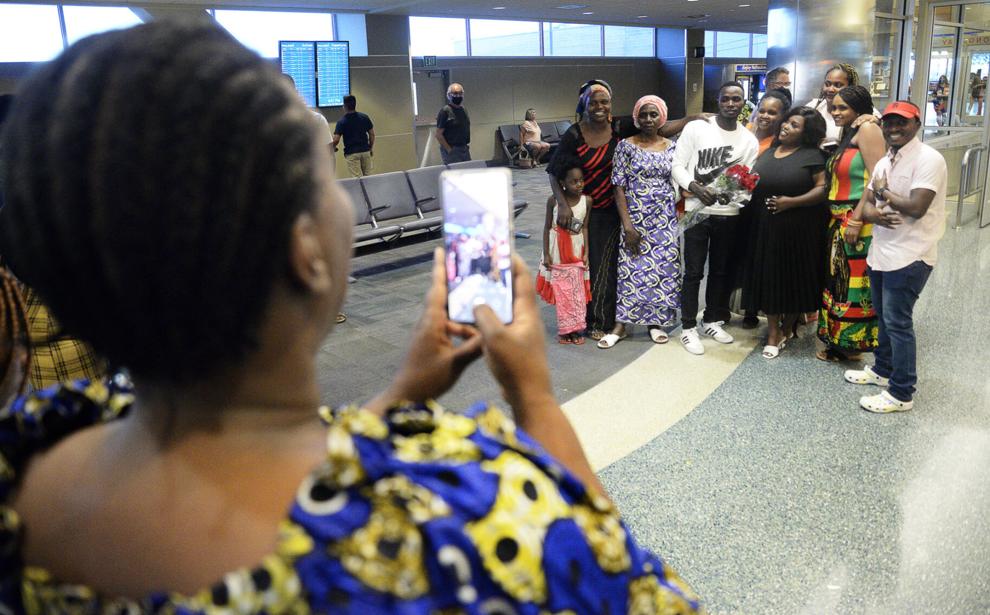 "She is very, very excited and me too, because coming here is kind of something good," Kakuru said. "The single life is away now."
Kakuru was one of around a dozen supporters who showed up at the airport, waiting with Kamengele on a few rows of purple chairs. The airport was close to empty and the group's conversations and laughter filled the room. Kamengele was nervous.
"She is good to everybody," Kakuru said, which is why so many came.
After Iradukunda arrived, Kamengele's friends and family danced and sang and took photos. She danced and he hugged the people who had come to greet him. She wiped tears from her eyes. They posed for photos and she laid her head on her husband's shoulder, smiling. Now that her husband is returned, Kamengele said she'll have time to go to school. Her dream is to become a surgeon.
"I'm happy," Iradukunda told the Idaho Press.
"I'm very happy," he said. "I feel like I'm going to start a new beginning."