POCATELLO — Zach Hansen tossed his bat aside and admired his towering blast to left field.
He didn't have time for all that on his second home run.
Hansen went yard twice and piled up six RBIs Friday at Halliwell Park, helping the Smithfield Blue Sox beat the Gate City Grays 10-7 in a Northern Utah League showdown. Hansen followed his three-run, no-doubt-about-it first-inning bomb with a solo laser to left in the third.
He collected two more RBIs in the fourth when he reached on an error and closed the Grays out from the mound in the seventh.
The Blue Sox (12-8, 10-7 NUL) scored three times in the first, fourth and fifth frames, steadily increasing their lead over the Grays. They took advantage of five Gate City errors and did their best to keep Grays hitters off balance by using four pitchers.
With the win, the Blue Sox draw even with the Grays at second place in the league standings. Gate City (10-8, 8-5 NUL) entered Friday a half-game back of league leader Providence.
And early on, it looked like the Grays might match their counterparts blow for blow.
Braden Palmer answered Hansen's home run with a two-run shot to left in the home half of the first. After Smithfield scored a run in the third to make the score 4-2, Anthony Pannullo responded with a two-RBI single to knot the score at 4-all.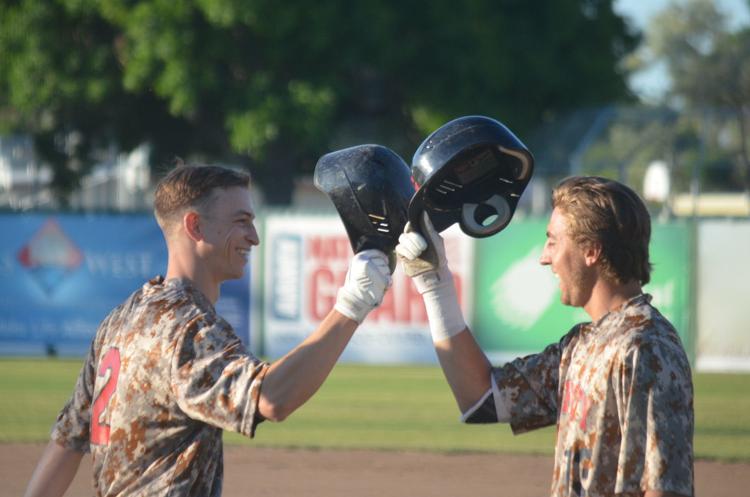 But the Grays cooled off after that. At least one batter reached base in the fourth-sixth innings, but each time, they were stranded. The Grays finished the game with nine runners hanging.
Gate City mounted a brief rally in the seventh, when Geo Sebena singled home Hayden Foltz and Nick Winters knocked in two runs to cut the gap to 10-7. Hansen was called upon to record the final two outs, which he did to seal the Smithfield win.
The Grays play a doubleheader Saturday at Providence. Their next home series is a doubleheader July 13 against Logan.
SMITHFIELD 10, GATE CITY 7
Smithfield 301 330 0 — 10 11 3
Gate City 202 000 3 — 7 9 5
Smithfield — WP: Caldera. 2B: Lundahl, J. Hansen. HR: Z. Hansen (2).
Gate City — LP: Persky. HR: Palmer.