POCATELLO — When Ryan Looney was in his early 20s, long before he was ever a veteran college basketball coach, he was asked a question that had one simple answer.
"What are you going to do when you grow up," asked Looney's wife, Julianna.
"I'm going to be a head Division I basketball coach," Looney replied. "And she has believed in me from the very first day."
Looney's wife and two children watched Friday as Looney's decades-old promise came to pass. The 43-year-old was formally introduced as the next head coach of the men's basketball team at Idaho State University — his first Division I gig — at ISU's Pond Student Union Building in front of the school's faculty, staff and supporters, and the players Looney hopes to lead to success.
"I'm humbled and honored to be the next basketball coach at Idaho State University," Looney said Friday. "On my visit here just a short few days ago, I learned really quickly that this can be a special place.
"There is a vision right now and I'm excited for our men's basketball program to be an extension of that."
Looney was announced as the 22nd head coach in Bengals men's basketball history Wednesday, two days after visiting Pocatello and ISU's campus. The longtime Division II head basketball coach beat out 12 other interviewees and two other finalists for the job at Idaho State, where building a winner has proven a tall task for past coaches.
But Looney isn't afraid of the challenge. His 15-year track record as a head coach is as sparkling as they come, featuring 12 seasons with 20-plus wins and 11 seasons that ended in national championship tournaments. This past season, he took Point Loma Nazarene University (San Diego) to the Division II national championship game.
He's also turned bad programs and mediocre programs alike into contenders — and quickly. His first season at NAIA Eastern Oregon, Looney's team went 4-22. The next season, they went 17-11. By his fourth year on campus, Looney took EOU to its first national postseason tournament since the 1940s.
At Seattle Pacific University, which has sustained success since the mid-1990s, Looney went to seven consecutive Division II national tournaments — the longest streak ever by an SPU coach.
And during his most recent stint at Point Loma, Looney transformed a program mired in inconsistency into a Division II powerhouse, led by NBA prospect and Division II player of the year Daulton Hommes. The team's 31 wins this past season tied the program record that was set in the 1950s.
Looney won conference championships at all three locations.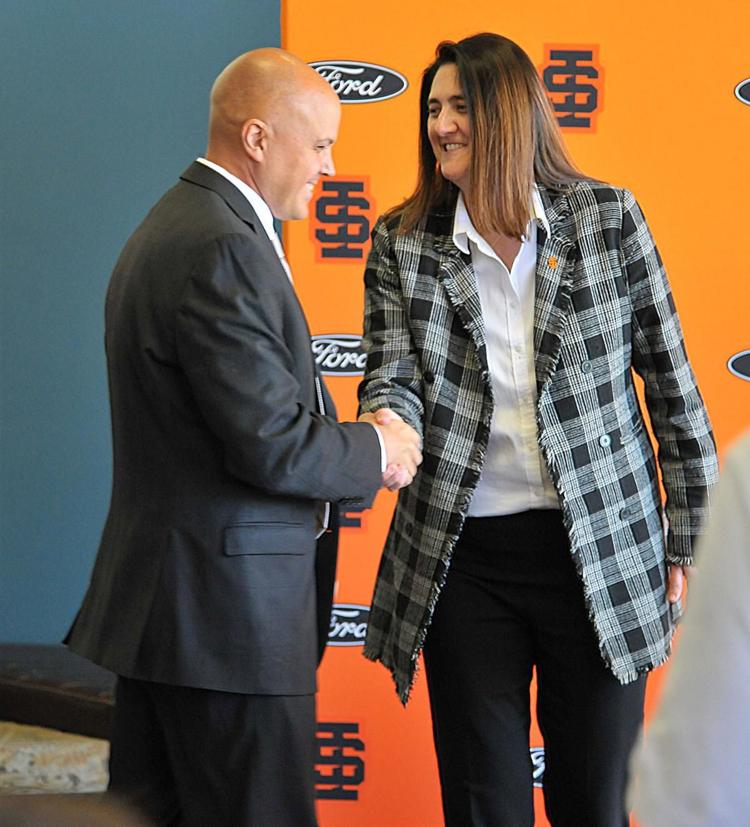 "We were looking for a person of high integrity, high values, high character to continue our program in the positive trajectory that it's been following on those lines," ISU Athletic Director Pauline Semons Thiros said Friday. "Someone with a strong recruiting network in our recruiting footprint that had a strong history of recruiting and developing players. … Someone good at developing that talent and somebody who had demonstrated success.
"We were looking for somebody who has that championship blueprint, and it was very clear in our first meeting with Ryan and during his visit to campus … He was the guy. He checked all of those boxes."
Looney said some keys to building a program and cultivating success involve engaging the program's fans and alumni, as well as the university faculty, fundraising and being visible to the public.
But really, Looney said, the master plan is anchored by one thing: recruiting. He circled back to his renovation projects at Eastern Oregon and Point Loma, crediting his success at those schools to recruiting "a bunch of guys that believed in the vision that our coaching staff had for our program and its part of the university." The programs' prior win-loss records became irrelevant at that point.
"We're going to have to do a really good job continuing to recruit really good players," Looney said. "That part anywhere is the single most important thing."
ISU can be another successful and remarkable rebuild for Looney. The Bengals have two plus-.500 seasons since the turn of the century, haven't won a postseason game since 2009 and are decades removed from their glory years. ISU's last Big Sky Conference championship came in 1987.
Looney said that with the returning talent ISU has, success isn't unreachable in the near future. The Bengals are due to return eight seniors from last year's team, including all five starters and the top nine scorers from a season ago.
Some players may leave and play at another school next season, a normal occurrence anywhere there's a coaching change. At least two of them — Brandon Boyd and Gary Chivichyan — are in the NCAA transfer portal, though they have not announced a decision on where they'll play next season. Looney's message to his players at Friday's press conference was simple: "Let's do this."
"There is enough talent here to get this thing started in the right direction," Looney said. "I'm not coming in here trying to blow this thing all up. I'm trying to build a team with the guys that are sitting in this room right now."
Looney's teams, he said, are efficient offensively and play at "mid-tempo." Last season's Point Loma squad that finished as the D-2 runner-up averaged 79.4 points per game on 51.8 percent shooting and a 41.3 percent hit rate from 3-point range.
His best squads, though, the ones that make deep postseason runs, have two shining strengths.
"The ones that have made runs into national tournament play have hung their hat on defense and rebounding," Looney said. "Rebounding is a staple. Three of the last (five) teams I've coached have led Division II in rebound margin."
Looney didn't give a status on his soon-to-be coaching staff, nor did he say whether any of ISU's assistant coaches will be retained. His first order of business, he said, is to build a rapport with his new players. Then, he can fill out a staff and catch up in recruiting.
Three players who were either signed or committed to join ISU next season backed out after former coach Bill Evans was fired. This year's national signing period began Wednesday.
Looney signed off with a message to those in attendance Friday. He's ready to work, and he knows ISU fans are ready to root for a winner.
"I'm excited to be here. Don't ever tell us we can't do it," Looney said. "We're going to do it, OK? Go Bengals."