POCATELLO — When Pauline Semons Thiros was named Idaho State University's interim athletic director in August 2018, the school made it clear that she wouldn't be a candidate for the permanent role.
But after impressing the public and ISU President Kevin Satterlee, serving more than six months under the interim tag and beating out four other finalists found via a national search, Semons Thiros won the permanent gig. She held her first press conference as the new leader of the school's athletic department Friday, after Satterlee announced her as ISU's next athletic director.
"We have chosen the right leader who will take Bengal athletics to the next level," Satterlee said in an ISU-issued news release. "I have been impressed with Pauline's ability to enact change and build a culture of excellence. The future vision of Idaho State athletics will be one that places an utmost value on integrity, always striving for excellence, and a constant focus on creating a positive and inclusive community."
Semons Thiros is the first female athletic director in ISU history. She replaces Jeff Tingey, who was ISU's athletic director from July 2009-August 2018.
"It's an exciting time here at our institution," Semons Thiros said Friday at Holt Arena. "There is a lot of change happening. There is a great amount of opportunity and enthusiasm. The community is certainly rising to the occasion of showing support for Idaho State, and we are poised to enter a whole new time of excitement and high performance and excellence, and it's so great to be part of a team where everyone is very, very committed to those ideals."
She continued, "I couldn't be more proud to be a Bengal. I've always been proud to be a Bengal. But to have the opportunity to work with the staff to impact the lives and futures of our student-athletes is probably the greatest honor that I've ever had. I feel a great responsibility to be successful at it. I'm excited today. I'm happy and I'm really ready to go to work."
Semons Thiros played volleyball at ISU in the early 1990s and has worn many titles as an employee of the university ever since. Before being elevated to athletic director, Semons Thiros was ISU's vice president for development.
During her time as interim athletic director, Semons Thiros hired a new soccer coach, investigated allegations made against ISU's football coaches, and secured approval from the State Board of Education to renovate Davis Field — the home of ISU's soccer and track and field teams — among other accomplishments. Semons Thiros routinely posted about ISU athletics on social media and made sure to make herself seen at a variety of ISU sporting events.
As the school's athletic director, Semons Thiros is tasked with creating a culture of excellence within ISU's athletic department — which she and Satterlee hope will benefit the university on a grand scale. Budget constraints, outdated facilities and negative results on the scoreboard have propped up a perception that ISU is second class when it comes to athletics. Semons Thiros plans to fix that.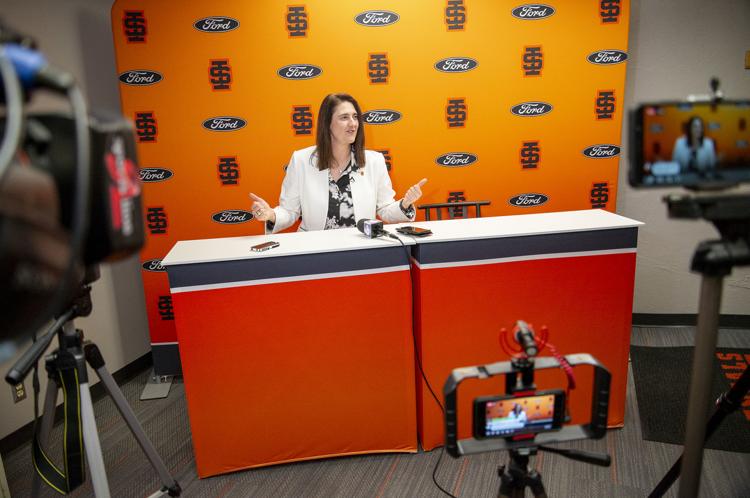 "Oftentimes over the years, with budget constraints what they have been, and with opportunities maybe being perceived as limited, that we have tried to stay within a certain expectation or maybe have placed ourselves in a certain role that I don't think matches our potential at all," Semons Thiros said. "I'm most excited about just saying, 'Hey, let's reject that, let's reject those limitations, let's figure out where we have to go, where we want to be, and let's get there with a careful plan.'"
She continued, "Let's realize our potential because I think it's crackin' and I'm pretty excited to get there."
Semons Thiros spoke Friday of finally being able to plan the long-term future of ISU athletics, rather than hoping to survive from one game, one week, one season to the next. She pinpointed a master plan to improve the school's athletic facilities as a top priority, with the planned renovations to Davis Field being the starting point.
Holt Arena is an iconic symbol of ISU, but hosts many non-ISU athletic and non-athletic events year-round, creating scheduling conflicts for ISU's football, men's basketball and track teams. As a result, Reed Gym often gets shared between ISU's men's basketball, women's basketball and volleyball teams, and provides a dry practice surface for ISU's softball and soccer teams when fall and winter weather conditions muck up their fields.
"Facilities are an arms race in NCAA athletics," Semons Thiros said. "They're a tremendous importance in recruiting student-athletes and in recruiting coaches, and they make a difference in the student-athlete experience, and we have some shortcomings."
She continued, "We have to put together a facilities master plan for this department that makes sense and that we can begin moving toward."
According to research by Higher Education Publications Inc., 39 of 339 Division I athletic directors were women — or 11.5 percent — as of last August. Semons Thiros adds to that total.
But she said being ISU's first female athletic director, though not lost on her, is not as important as the fact she is the new leader of the ISU athletic department. 
"Until today when I actually saw that in black and white, I didn't think about the fact that I would be (ISU's) first woman AD," Semons Thiros said Friday. "I've just been thinking how proud I would be to be the athletic director at Idaho State and how proud I am to be a Bengal."