POCATELLO – With its largest contingent this decade, Idaho State's offensive line is finally built for the present and future.
The Bengals' fall camp roster features 17 offensive linemen – up from 13 during last season. The group carries one senior and added seven freshmen this offseason.
The improved depth, coupled with an eager and relatable first-year position coach, brings excitement and a renewed energy to ISU's front.
"The attitude of the offensive line has changed dramatically," junior center Dallen Collins said after Thursday's practice at the ICCU Practice Field.
Collins is one of four veteran linemen who has played at least 20 games, and Dakota Wilson isn't far behind with 16 career appearances. Collins has started at center in all but two games the last two seasons, and has fellow established linemen Jacob Molenaar and Brian Fineanganofo to his left respectively at guard and tackle – both of whom have at least 20 Division-I games on their resumes.
Collins and Molenaar were thrown into ISU's starting rotation as first-year freshmen two seasons ago, when seemingly endless injuries forced consistent shuffling along the line.
With the influx of newcomers this fall – plus returning reserves – Collins said there won't be any scrambling to find necessary replacements.
"If someone – heaven forbid – unties their shoe or has to go out because a helmet strap breaks off, we have a guy that's been playing in that position and can just go," Collins said.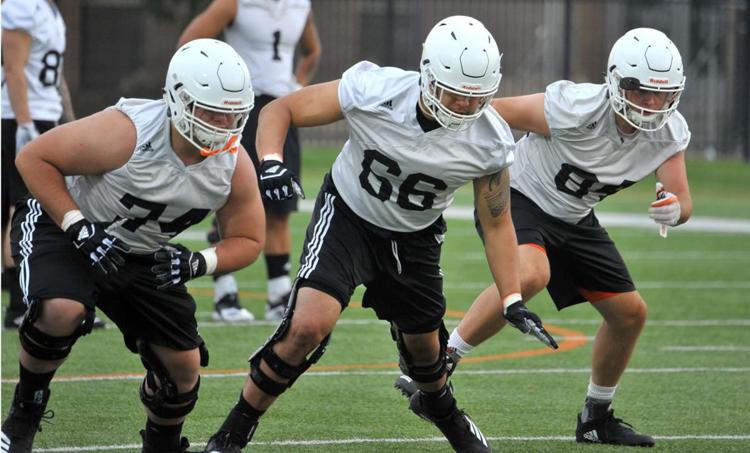 Collins, Molenaar and Wilson have taken first-team reps this fall at center, left guard and right tackle, respectively. Snow College transfer Preston Holfeltz, who practiced with the team this spring, is at right guard. Fineanganofo, who is the group's lone senior and leads the unit with 27 career games, has been supplanted as the first-team left tackle this fall by redshirt freshman Jack Tufono.
Plenty of backups have been in the program at least one year, as well. Redshirt junior Garrett Smith has made 20 career appearances, redshirt sophomore Carson Sutherland played two games last year, and three other linemen are in at least year No. 2 of their college careers.
Smith and Sutherland have been sidelined this fall, allowing freshmen Jon Herrin and John Perko to take ample second-team reps.
"A lot of guys have played a lot of football here for Idaho State, and it's definitely shown," said first-year offensive line coach Roman Sapolu, who also highlighted freshman center Terron Carey. "They've taken the younger guys under their wings. We had a good (freshman) class, and a lot of those guys are standing out right now, getting some good reps."
As for Tufono, who mostly played tight end and defensive line in high school, Sapolu said his starting job is not secure.
"We're just trying to find different matches here, see what group gives us the chance to win with chemistry, and Jack's been good," Sapolu said. "Had a good summer, can still improve a lot. Nothing is final yet."
Sapolu, who was hired to replace Dorian Keller, is ISU's first O-line coach who played the position collegiately since 2011. Collins said it helps Bengals linemen relate to their coach, who is also close to his players in age at 26.
This summer, Sapolu coached with the San Francisco 49ers at the Bill Walsh Diversity Coaching Fellowship. Sapolu's father, Jesse Sapolu, won four Super Bowls as a 49ers offensive lineman in the 1980s and 90s.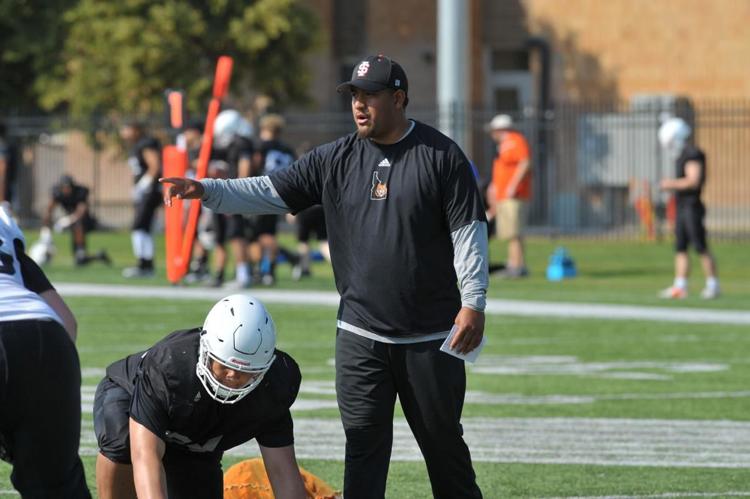 "It was a good chance to go and shadow some coaches out in the NFL," Roman said. "Just see how their process went, what they taught and what can apply here at Idaho State."
Collins said Sapolu's connections, experience and knowledge have helped him learn more about his position since the spring than he did combined in his first two years at Idaho State.
"He's getting everything down from his dad," Collins said. "He's getting stuff from all these different coaches, and he's bringing it here."