POCATELLO – It's been a long time since Idaho State played a game of this magnitude.
There have been games with conference titles and playoff berths at stake, but this one is different.
Saturday marks the return of a hibernating rivalry, one that, for ISU, is linked to more embarrassment than triumph. History is hardly ever on ISU's side, and it won't be Saturday, either.
But these Bengals have proven that the past doesn't always dictate the present. Idaho State is 3-1 overall, 2-0 in the Big Sky Conference and on the verge of the type of breakout only they could predict. When in-state rival Idaho trots into town this weekend, ISU is playing for more than institutional bragging rights – but those are just as much on the line.
The Vandals have landed a lot of punches on ISU over the years. Saturday is ISU's chance to blow back and keep rewriting its story.
"In its own way, it's no different than Michigan-Ohio State, Alabama-Auburn, Kentucky-Louisville," longtime Bengals radio voice Mark Liptak said.
"It's Idaho-Idaho State."
A lot has happened since the last time the Vandals and Bengals faced off 10 years ago, in 2008.
Back then, Idaho was firmly an FBS program, but has since struggled to call any conference its permanent home. The program has reclassified from the Western Athletic Conference, which dropped football as a league-sponsored sport after the 2012 season, and the Sun Belt Conference, which did not renew UI's membership following the 2017 football season. Idaho was even a one-year FBS independent.
Through the alignment turnover, the Vandals had up-and-down results on the field. From 2008 on, they went 2-0 in bowl games and produced seven NFL Draft picks, but also weathered three one-win campaigns.
This season is Idaho's first as a full member of the FCS Big Sky since the 1995-96 academic year, a move that carries substantial logistical and financial benefits for UI. It also lowers scholarship limits and erases the prestige attached to playing and coaching at the highest level of college football – a win-lose scenario Vandals fans are averse to embrace.
Idaho State, meanwhile, has floundered near the bottom of the Big Sky barrel. The Bengals have one winning season and no playoff appearances since 2008, and have struggled to keep pace with the recruiting and facilities of their conference counterparts, resulting in yearly irrelevance across the FCS landscape.
While both programs' recent pasts are forgettable, each has a remarkable history.
Idaho State won six Rocky Mountain Athletic Conference/Big Sky titles from 1952 to 1963 and reached the pinnacle of success by winning the FCS national title in 1981. Idaho dominated the Big Sky in the mid-1980s and made 10 trips to the FCS playoffs from 1985 to 1995.
"Both programs are trying to get back on the upswing," said Chris Frost, an Idaho football alumnus and former multi-sport coach at Highland High School. "I think (Saturday's game) will add to that."
While the Bengals and Vandals haven't played each other since 2008, it's been much longer since ISU was on the winning side of the matchup.
And it hasn't happened often.
Idaho owns a 28-11 record all-time against the Bengals, including wins in 11 of the last 12 meetings. ISU's last win against the Vandals came in 1995, when both teams were ranked and the Bengals were undefeated.
But Idaho State has been on the wrong end of several blowouts.
Idaho scored at least 40 points in seven consecutive matchups from 1988 to 1994, when UI won by an average score of 50-21. The worst of the losses was a 70-21 Vandals rout in Moscow in 1994, when Idaho was amid its process of leaving the Big Sky for the FBS.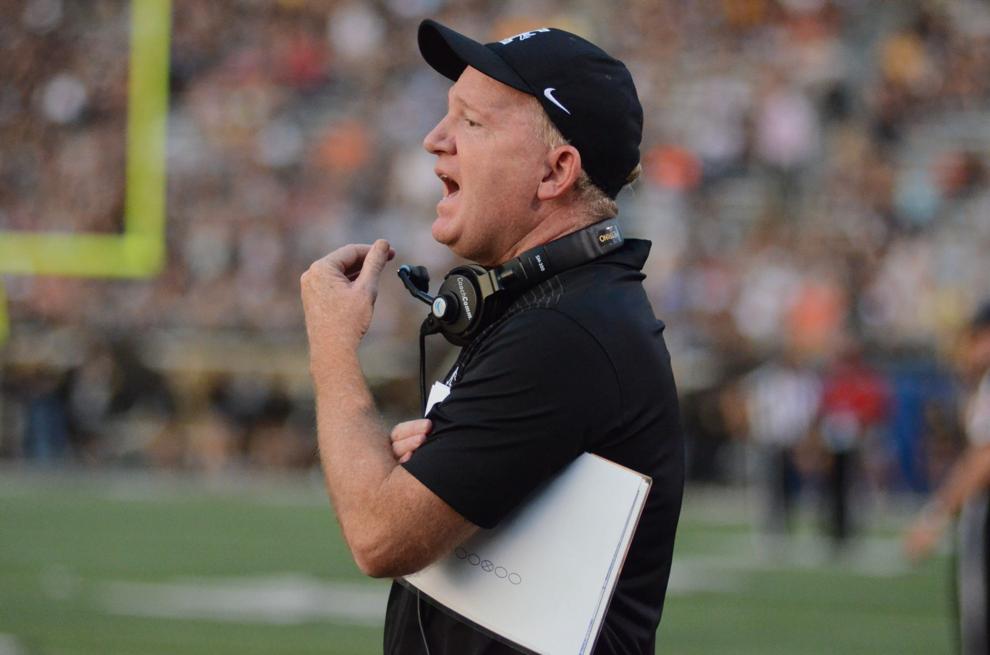 Liptak recalls that game as a revenge win of sorts for the Vandals. ISU's president at the time, Richard Bowen, urged the State Board of Education to deny requests made by Idaho and Boise State to leave the Big Sky. His efforts were for not, and Vandals coach John L. Smith took notice.
Liptak cites the postgame handshake between Smith and ISU coach Brian McNeely as evidence.
"John L. looks at Brian and says, quote: 'That's for your president,'" Liptak recalls. "It's never been determined if Idaho was deliberately running up the score, or if the fact of the matter is ISU was that bad. … Certain people did not like the idea that the ISU president was trying to tell the state board no, don't let these guys leave."
ISU also has one forfeit on its record against the Vandals.
It was in 1978, when the rivals had split the prior four meetings – the midway point of a 20-year stretch that saw the teams win 10 games apiece. ISU was supposed to take two planes to Moscow, but one had a mechanical issue and never made the trip.
The plane carrying ISU's offense got to Moscow on Saturday afternoon. With the defense stranded in Pocatello, ISU's players considered playing both ways.
"The athletic directors and the coaches met, and they were never able to get that plane fixed, so we turned around and came home," said Warren Whitaker, ISU football alumnus and another former Highland coach. "It was never rescheduled."
As one of few true rivals for Idaho State, the Vandals were always a circled opponent.
Highland varsity football coach Gino Mariani was on the 1985 Bengals squad that upset the Vandals at Holt Arena. Idaho was led by legendary head coach Dennis Erickson and eventually won the league title that year with a 6-1 record.
The one loss was to Idaho State.
"It was a huge win," Mariani said. "That dome went nuts. It was a pretty exciting time. That was one of those that you just don't forget."
The renewed rivalry, which plays in Pocatello for the first time since 1997, has generated plenty of buzz around town. The city's mayor, Brian Blad, committed to wearing a Vandals tie if Idaho wins. Moscow Mayor Bill Lambert will return the favor if ISU wins.
The squads combine to roster 51 Idaho natives, including a Pocatello native on the Vandals (Talon Haskett) and an Idaho transfer on the Bengals (Gunnar Amos).
"Basically, this is a state championship," Idaho coach Paul Petrino said.
The rivalry's return, combined with ISU's 3-1 start, has also prompted what is expected to be ISU's first sellout crowd since 1984. As of Thursday evening, ticket sales were close to 10,500, including nearly 800 tickets purchased by Idaho fans. Holt Arena's maximum capacity is 11,700.
Liptak said he's only seen Holt Arena sold out for non-ISU athletic events, the most recent being the 1995-96 high school boys basketball state tournament.
"I've never seen it sold out for anything since," Liptak said.
Bengals fever is an uncommon condition in Pocatello. ISU's 3-1 record is the program's best since 2005, and a 2-0 mark in Big Sky play hadn't been done since 1995.
A win Saturday would vanquish more droughts: first 4-1 start since 2000, first win over Idaho since '95, first 3-0 conference record since '81.
"It would be a great step toward winning a Big Sky Conference championship," Whitaker said. "People are starting to believe. I believe that (a win) would make believers out of most everybody."