POCATELLO — The Idaho State men's basketball team will no longer be splitting its home games between two campus venues.
Reed Gym will host all Bengals home basketball games this season and beyond, ISU Athletic Director Pauline Thiros confirmed to the Journal. Holt Arena – the team's primary home venue since it opened in 1970 – will still be utilized by the team for practices and additional training. But after serving as an auxiliary home court for years, Reed Gym is the Bengals' new home.
Thiros said the decision to move all men's basketball games into Reed Gym was multi-faceted and will benefit several ISU sports teams. Men's basketball coaches and players have also "long expressed" their desire to play all home games at Reed Gym, Thiros said.
"The venue provides a strong home-court advantage, and student-athletes frequently express what a positive difference the intimate playing environment makes," Thiros said of Reed Gym. "It's a better shooting environment, and they love the noise and excitement afforded by Reed Gym. Above anyone, they are extremely excited about this change."
First-year ISU men's basketball coach Ryan Looney said, "We believe that with the support of our fans and community it can create a fantastic home-court advantage for our student-athletes. Our desire is to develop a fantastic experience for everyone."
While Holt Arena provides plenty of history and nostalgia for longtime ISU fans, the men's basketball team's lack of success in recent years has resulted in lackluster atmospheres and attendance at games hosted in Holt.
The arena hosted NCAA Tournament games in 1972, 1974 and during ISU's run to the Elite Eight in 1977. But it has waned in esteem as the glory days of ISU men's basketball have fallen further into the past. The average attendance for ISU men's basketball games at Holt Arena over the last five seasons is 1,619 – 20.2% of the venue's 8,000-seat capacity – while the average attendance for the team's games at Reed Gym during that time is 1,649, 51.3% of the venue's 3,214-seat capacity.
Holt Arena can also be difficult to heat in the winter, and games have been delayed and postponed in recent years because of precipitation leaking from Holt's louvered ventilation system onto the basketball court.
ISU has moved men's basketball games into Reed Gym on a full-time basis before. The team played all but one home game in Reed Gym during the 2002-03 season, and moved into Reed full time from the 2003-04 through 2005-06 seasons due to the preference of then-head coach Doug Oliver. When Joe O'Brien replaced Oliver as head coach in 2006, Holt Arena became ISU's primary home venue again.
Thiros said the plan going forward is to keep all basketball games in Reed Gym until a new basketball venue is built.
"The move to Reed Gym is for the primary purpose of providing a better experience to student-athletes across sports, to place them in a better training situation and a better competitive situation," Thiros said. "That being said, I believe strongly that the right long-term solution for the athletic program, the university and the community is a new facility. We are working on many fronts toward that end, and it will take some time. For now, Reed is the best option to help elevate the program."
Thiros added, "While many factors were involved in this decision, at its core it is a reflection of our commitment to addressing the needs of our student-athletes."
The move also helps ISU's other sports teams.
Thiros noted that moving men's basketball games out of Holt Arena allows the venue to be used as an indoor practice facility for other ISU teams during Pocatello's bad-weather months.
"When Holt Arena is occupied as a men's basketball venue, it displaces several other sports and eliminates Holt Arena as an indoor practice facility for soccer, softball, football and golf," Thiros said. "Track and field has been sacrificing a significant number of training days for setup and takedown (of ISU's wooden indoor track) for games and other community events. We need to give our student-athletes the best opportunity to be successful, and failing to provide them a practice and training venue is not acceptable."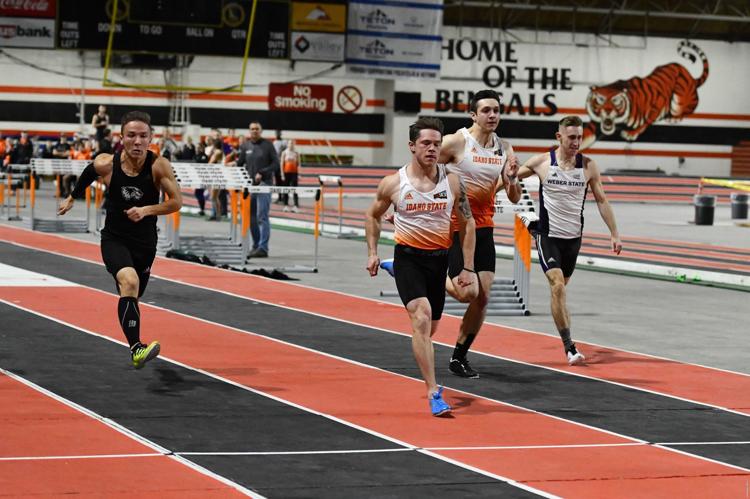 Additionally, Thiros said moving men's basketball games out of Holt Arena will eliminate the "significant" costs associated with moving temporary bleachers in and out of the arena for home games. It will also save ISU's wooden track from suffering wear and tear it endures when it is put up and taken back down.
"Setup and takedown of the track is the most significant source of damage and wear to that asset," Thiros said.
The upcoming move didn't come without scheduling difficulties, and Reed Gym needs some immediate upgrades, Thiros said.
Reed Gym is already the home venue for ISU's volleyball and women's basketball teams. The building is also the school's student rec center and houses some ISU classes. Thiros said a schedule has been created that "minimizes the impact on classes in Reed Gym and still serves the needs of intercollegiate men's and women's basketball and volleyball."
To help, the Bengals men's basketball team will still sometimes practice at Holt Arena and the Mountain View Event Center, a non-university facility on Pocatello's north side. The team previously used the MEC and Reed Gym as backup practice facilities and played home games in Reed Gym when displaced by scheduling conflicts at Holt Arena, which is the ISU football team's home stadium and is used throughout the year for non-ISU events, like the high school wrestling state tournament, the Eastern Idaho Ag Expo, Simplot Games and the Chrome in the Dome car show, among others.
Thiros said it is important to keep Holt Arena available to the community for the aforementioned events.
"We did not wish to eliminate outside use of Holt Arena in the spring months, as it would have a tremendous negative impact on our partners, as well as a negative economic impact for Pocatello," Thiros said. "Part of the decision was certainly focused on remaining a good and meaningful regional community partner. With the days and space gained by moving to Reed, we can continue to accommodate important regional events."
Thiros said there is also "an exhaustive list of logistical items" to work through to get Reed Gym ready for the upcoming basketball season. Some of them are needed alterations to Reed's current basketball setup. Thiros said the court will be refinished, partly to accommodate the NCAA's newly established 3-point line, and that ISU is "exploring making some other enhancements to floor design."
Other planned changes include upgrades to Reed's shot clocks and LED tables, plus "enhanced signage on the exterior of Reed Gym," though Thiros would not specify what that signage might look like.
"We are going to add a little more 'roar' to the front of the building and are excited about that," she said.
Thiros also said there is now "some flexibility in (Reed's) seating configuration to alleviate issues from past seasons where courtside seating blocked the stairs and walkway in places. Those problems have been addressed successfully."
Thiros said season-ticket holders, along with members of ISU's Cage Club and Bengal Athletic Boosters, will still have priority seating at Reed Gym – though Reed Gym's seating configuration differs from Holt Arena's and may alter some seat locations and ticket availability for non-season-ticket holders.
"The lower deck and the center sections of the upper deck are both designated for season-ticket holders," Thiros said. "It does create some scarcity, however, so we encourage those who want to see coach Looney and the Bengals in action to move now to purchase their seats."
Remaining immediate challenges included in the move are transferring marketing materials from Holt Arena to Reed Gym, and improving the logistics of Reed Gym's locker rooms. Thiros said ISU has been able to transfer its sponsors' marketing assets "very well," adding that "in many cases, the exposure is much greater in the more intimate setting, and our sponsors are very excited about that."
Reed Gym's locker rooms are currently not located in private locations. They are accessed by exiting Reed Gym's basketball court and walking across a hallway that is public and often busy with pedestrian traffic.
"Locker room space is a big challenge in Reed Gym, and we are still arriving at the precise solution that will ensure proper spaces for home and visiting teams, officials and the ongoing public use of Reed Gym which will be happening concurrently with basketball games," Thiros said.
Thiros said that despite the lengthy to-do list, Reed Gym will be ready to accommodate a full slate of men's and women's basketball games this coming season.
"Our team is making great progress early, and we will be ready for the season," Thiros said. "Across departments, people are working very hard and very well together to make the move successful."