BOISE — Idaho Sen. Mike Crapo held a roundtable discussion with bankers and other business leaders in Boise on Tuesday at which he decried proposed new IRS reporting rules for financial institutions as an invasion of Americans' privacy.
"I think this is the biggest violation of personal privacy that has ever even been proposed, let alone enacted, by the United States government, and it's something that every American ought to be incredibly worried about," Crapo declared.
The proposal from the Biden Administration, outlined as one of myriad proposals regarding taxes and revenue in a 114-page "green book" published by the U.S. Treasury in late May, proposes to require banks to report to the IRS total gross inflows and outflows each year for all accounts containing more than $600. It hasn't been turned into a legislative or regulatory proposal yet, but Senate Finance Committee Chairman Ron Wyden, D-Oregon, is looking instead at a reporting threshold of $10,000, excluding the account-holder's total wages or other income, such as Social Security, that's already reported to the IRS.
"People who earn a paycheck already have their wages reported to the IRS by their employers," Wyden said in a recent statement. "That's why working people voluntarily pay the taxes they owe. It's wealthy business owners who are on the honor system. They earn income that isn't reported to the IRS by an independent third party. This means they are free to cheat on their taxes and steal from the hard-working Americans who do pay what they owe."
The Biden Administration notes voluntary tax compliance is extremely high for taxes on wages, at 95%. But for other types of business income that's not already reported to the IRS, voluntary compliance is around 50%.
"It's just another example of the two tax codes – one that's mandatory for working people and voluntary for those at the top," Wyden said. "There's been a lot of misinformation about this proposal peddled by tax cheats who want to continue to cheat."
While the Biden Administration says it wouldn't increase IRS audit rates on taxpayers who earn less than $400,000, Crapo said he believes the reporting rule would naturally lead to that. The gross amounts deposited into the bank don't reflect the deductions or offsets to those amounts that a taxpayer may cite in their tax return, and only looking deeply into each taxpayer's returns would explain differences between the taxpayer's gross income, as deposited in the bank, and net taxable income.
Idaho state Treasurer Julie Ellsworth, who joined the roundtable discussion, said, "This is an egregious overreach. This is essentially going to be an ongoing audit of every person."
The proposal has aroused fears that it would require all transactions to be reported to the IRS and trigger audits of even moderate-income taxpayers who have business income from rentals or other sources. But a "Myth vs. Fact" sheet distributed by Wyden's office stresses that transactions wouldn't be reported, just "two additional numbers," total deposits and total withdrawals. The reporting would occur at the same time that financial institutions already report to the IRS interest earned on those same accounts.
Crapo said, "The president likes to say, 'I'm just asking for two numbers.'" But he said he doesn't trust the IRS, which would have regulatory authority over the new reporting program. "Those two numbers are not really enough to help the IRS do a lot," Crapo said during the roundtable, "but they are enough for the IRS to use its algorithms to decide what further data they want to go in and mine."
He maintained that the IRS would use the reporting to more closely examine "everybody who's got a job, everybody who's on unemployment," all the way down to the "kid who's got a summer job mowing lawns."
Though Crapo stressed that the initial $600 threshold proposal was "not every $600 transaction, it is every account that has over $600 worth of total transactions in a year," several of the other participants in the roundtable suggested information on all transactions would have to be reported.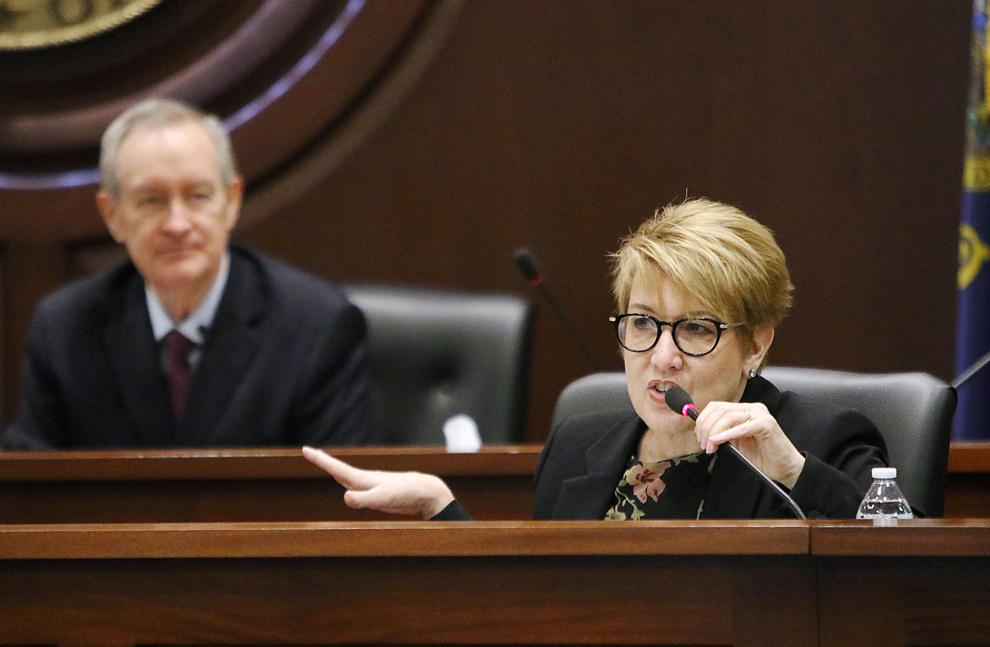 "Bankers firmly believe that Americans should honor their tax obligations, but requiring banks and credit unions to report every single transaction is just ridiculous," said John V. Evans Jr., president and CEO of DL Evans Bank.
Deneen May, president of the Western Idaho Region for Zions Bank, said, "We believe that neither Zions Bank nor any other financial institution should be required to be the reporting arm of the IRS."
And Charley Jones, president and owner of Stinker Stores, said, "I've never been afraid of Big Brother — then I see this. … You can't make this stuff up."
Crapo, who held the roundtable discussion in the Lincoln Auditorium of the state Capitol on Tuesday, said, "The alarm that you're hearing from folks here is starting to be heard across the country."
He is the former chairman of the Senate Finance Committee, which Wyden now chairs; Crapo is now the ranking Republican on the panel. The committee will have a key role in crafting any legislation related to tax laws and regulation.
Crapo noted that the U.S Senate is divided 50-50 between Democrats and Republicans, and the House has just a narrow edge for Democrats, at 220-212 with three vacancies. "We're trying to get those votes, and it's a close, serious battle," he said, "which is one of the reasons I'm here trying to broadcast this and get the pressure from the public."
He called on Idahoans to step up pressure on Congress to kill the proposed rule.
Wyden's office said the intent of the reporting rule is to go after wealthy tax cheats who hide millions in unreported business income, though opponents have been focusing on its potential impact on small business owners and sole proprietorships.
Natasha Sarin, deputy assistant secretary for economic policy at the U.S. Treasury, wrote in a Sept. 7 article that the nation's "tax gap" — the difference between the amount of taxes owed and the amount actually collected — is around $600 billion a year. She said that's partly because "an understaffed IRS, with outdated technology, is unable to collect 15% of taxes that are owed, and a lack of resources means that audit rates have fallen across the board." But they've fallen more in the last decade for high earners, she wrote, whose complex returns require more resources to audit.
The administration is estimating that the new reporting rule could enable the IRS to collect $460 billion in taxes over the next decade that already were due, but would have been evaded.
The Biden Administration also is proposing to expand the IRS with an $80 billion funding boost over the next 10 years for enforcement, information technology and taxpayer services; that's a separate proposal that it's estimating would result in $320 billion in additional tax collections over a decade.
Crapo said he and Rep. Kevin Brady, R-Texas, the ranking Republican on the House Ways & Means Committee, have introduced legislation aimed at heading off the new reporting rule; writing into law Biden's pledge not to increase audits of taxpayers making less than $400,000 a year; and requiring other, more modest measures to study and address the tax gap. The bill, dubbed the Tax Gap Reform and IRS Enforcement Act, has 11 original Senate co-sponsors, all Republicans.
Crapo said he's not appeased by raising the $600 threshold to $10,000 and said any number would be inappropriate. Kent Oram, president of Idaho Central Credit Union, agreed. "It doesn't matter," he said. "It's the same amount of work on America's financial institutions to comply with something like this. … This is a massive overreach, and we oppose it."
Evans said he'd only support it if the threshold were $1 million.
Ellsworth joined with state treasurers and auditors from 18 other states to sign a Sept. 20 letter to President Biden and U.S. Treasury Secretary Janet Yellen opposing the new reporting rule. "We do not believe the federal government should give the IRS the unprecedented and unconstitutional power to peer into law abiding citizens' private financial accounts," they wrote.
Crapo said he also feared the rule would cause more Americans to go "unbanked," avoiding financial institutions entirely.