A group of Southeast Idaho houndsmen are upset with a proposal from the Idaho Department of Fish and Game to remove all statewide mountain lion harvest quotas, saying the plan amounts to the agency declaring war on the species.
The Idaho Fish and Game Commission is set to approve proposals for big game animals, including mountain lions, during a special meeting in Boise on March 18. If the proposal is approved as is, it would remove all male and female mountain lion harvest quotas from the 31 of approximately 100 hunting units in the state that have such restrictions and would allow hunters to kill as many of the big cats as they want.
However, Jesse Vanleuven, president of the Eastern Idaho Houndsmen Association, says the units that have historically implemented mountain lion quotas have done so to reduce the potential for overharvest, especially during winters with heavy snowfall and in areas with easy access.
Vanleuven described houndsmen as people that utilize hound dogs — including Bluetick, Redbone and Treeing Walker coonhounds — to help chase the animals they're hunting, in this case mountain lions. He added that most houndsmen choose not to harvest, or kill, the mountain lions they hunt because they are more interested in the sport for the relationship between the hounds and the thrill of the chase.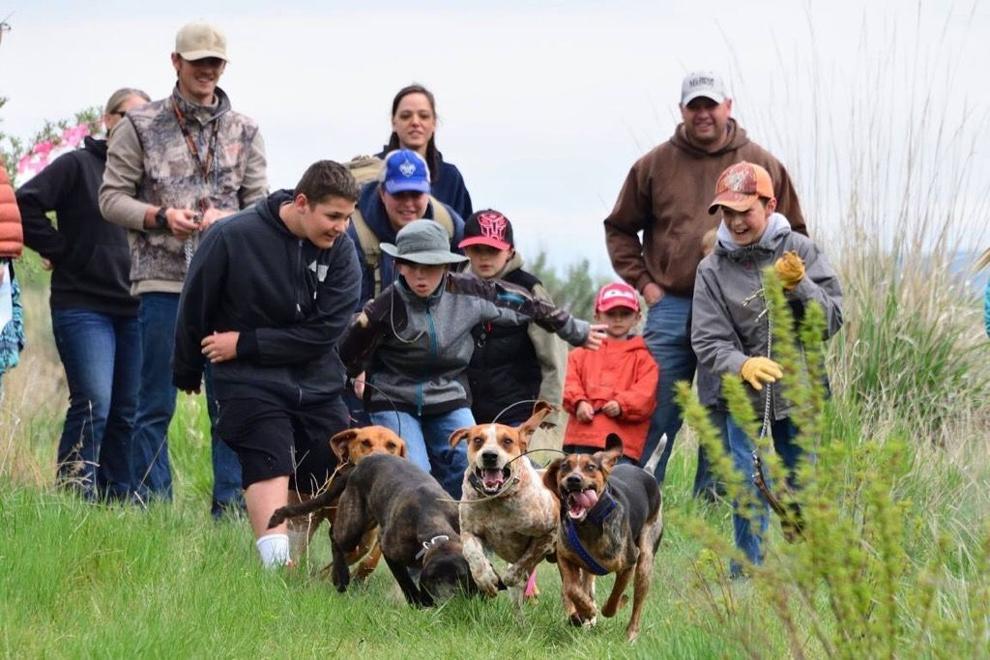 In addition to statewide consistency, Fish and Game says the mountain lion quota removal proposal is intended to "reduce predation in areas with underperforming deer or elk populations" such as Southeast Idaho.
"Our region is known for the quality of deer hunting and our herd in recent years has declined in relation to hard winters," said Dan Garren, supervisor of the Idaho Fish and Game Southeast Regional Office. "We've come out of those winters and the deer herd has not really responded the way we thought it would and so we're trying to find ways to improve the herd in the Southeast Region."
Garren says Idaho Fish and Game is implementing two methods to help improve local struggling deer herds. The first involves "cutting all discretionary mortality that we can control on deer," Garren said, referring to the proposal to eliminate all youth and archery doe hunting opportunities in the Southeast Region.
"That takes care of the human element that could be impacting the local herd," Garren said. "The other part is to try and reduce mortality associated with lions and to do that we need to reduce the lion abundance and this proposed regulation is consistent with that goal."
For at least the last two years, the Southeast Region has implemented a quota system for both male and female mountain lions. Depending on the particular Southeast Region unit, the local mountain lion harvest quotas range from as few as three male lions to as many as eight and as few as five female lions to as many as nine.
The take season for mountain lions runs from Aug. 30 to March 31 in Idaho and hunters are prohibited from using the assistance of hounds between Oct. 1 and Nov. 30.
Vanleuven says his association is absolutely opposed to the quota removals as Idaho would become the only one of 13 western states that allow mountain lion hunting to not have some type of a harvest limit.
"When it comes to sustaining an animal population, quota systems have been proven to work throughout the West," said Vanleuven, who lives in Menan, a town north of Idaho Falls. "Here in Idaho we have regions that don't have quotas but it's because of the limitations to access, winter closures or proximity to urban areas and private property that tend to hold more cats. But for East and Southeast Idaho, access is relatively easy and my biggest fear is that the removal of the quota system statewide will result in a significant local overharvest."
Additionally, Vanleuven says the rationale from Fish and Game that mountain lion quota removals will provide statewide consistency is nonsensical in that houndsmen and others who hunt mountain lions know how to determine mountain lion gender and are familiar with the variances between units regarding quota limits.
Vanleuven also noted the quota removal comes somewhat as a slap to the face considering Eastern Idaho Houndsmen Association members have for the last two years worked hand-in-hand with Fish and Game to try and develop a system for estimating the local mountain lion population.
Fish and Game Southeast Region Wildlife Manager Zach Lockyer explained the partnership involved a two-step process.
"Over the last two years, we have been working with houndsmen to deploy GPS collars on mountain lions," Lockyer said. "This was step two in a project to come up with a technique to estimate lion abundance, with the first two years involving the use of remote trail cameras and DNA samples. Then the last two years we complemented that with GPS collars and the houndsmen worked very hard and were instrumental in making that happen."
The fact Fish and Game would propose the elimination of mountain lion harvest quotas without consulting with the Eastern Idaho Houndsmen Association has left the organization feeling betrayed.
Vanleuven said, "We absolutely feel slighted. It was about two weeks after we collared the last cat that the proposal came out to remove the quotas and it was shocking to me that (Fish and Game) would make this determination without reviewing the results of the study."
Vanleuven did admit that to his knowledge a majority of the GPS collars failed, ceasing to report back data on the mountain lions about five or six months into the devices' 22-month life expectancy.
Lockyer said he was hopeful the removal of mountain lion quotas wouldn't have a negative impact on what he described as an overwhelmingly helpful and positive relationship between Fish and Game and local houndsmen.
"Local houndsmen have been great to work with and I think we have a solid relationship," Lockyer said. "There is also a large number of deer and elk hunters in this state that have been disappointed in recent years. While there are some houndsmen who dislike this proposal, I hope we can maintain a positive relationship and continue working with them."
The big game regulations the Fish and Game Commission will consider next month are revisited every year. All regulations included in any proposals approved next month will be in effect for the 2021-22 hunting season.
While the public comment period regarding the plans has already expired, the Fish and Game Commission will accept additional comments during its March 17 public hearing in Boise prior to the March 18 special meeting.
Though the proposed mountain lion quota removals will not be necessarily permanent if approved by the commission, Eastern Idaho Houndsmen Association member Nick Muckerman of Inkom says it's rare Fish and Game will re-implement a quota once it's been removed, especially for predators such as mountain lions. Further, Muckerman believes a full year of open season on mountain lions could annihilate the local lion population.
"To me, even one year is too long," Muckerman said. "If I got together with 10 or 15 houndsmen and we went to a game management unit with good access and good snow and we all separated out, within just a couple days we could kill 80 to 90 percent of the cats up there. The tables can turn so quickly because the tracks in the snow make them very vulnerable. It's basically declaring all out war on the species and it just makes no sense to me that Fish and Game wouldn't propose raising the quotas before outright eliminating them."