An Inkom man will spend 30 days in jail for bludgeoning the former Marsh Valley School District superintendent with a baseball bat last summer, according to court records.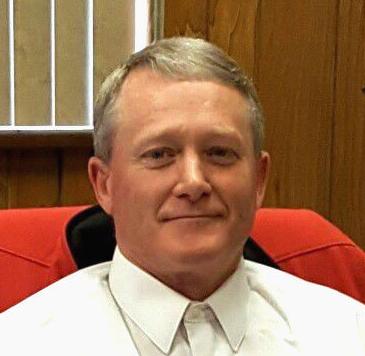 David Lance Battson, 51, on Tuesday was sentenced to serve 30 days in the Bannock County Jail and two years on misdemeanor probation for attacking former Marsh Valley Superintendent Marvin Hansen with a Louisville Slugger on June 23, 2020. Battson broke the bat during the altercation, which occurred after allegations surfaced that Hansen had forced himself on Battson's wife, who is also a former Marsh Valley School District employee.
Battson was originally charged with felony aggravated battery for attacking Hansen and misdemeanor malicious injury to property for damaging a window at the district's main office in Arimo where the incident unfolded.
On Jan. 13, the misdemeanor malicious injury to property and felony aggravated battery charges were dismissed and Battson pleaded guilty to a reduced charge of misdemeanor battery.
The altercation between Battson and Hansen began after Battson saw Hansen talking on his cellphone outside of the district's main office in Arimo, crossed the opposite lane of travel in his pickup truck, accelerated up onto the sidewalk and came to a sudden stop a few yards from where Hansen was standing, Hansen told the Idaho State Journal last June.
After exiting the truck armed with the baseball bat, Battson struck Hansen once in the rib cage before striking him on the top of the head, Hansen said.
Battson told responding Bannock County Sheriff's Office deputies that he struck Hansen several times over the head with the bat until it broke into two pieces, according to police reports the Journal obtained last June. Battson then dug his fingers into Hansen's eyes, police said.
Hansen grabbed the larger half of the broken bat and began to retreat back toward the district office building, police reports say. It's at this juncture that Battson folded his truck seat forward and retrieved a tire iron, Hansen said.
Hansen locked himself inside his office in the district building and phoned police, he said.
In an effort to enter the district office building Battson smashed a glass door with the tire iron but cut his elbow in the process, police said.
Following his unsuccessful entrance, Battson walked across the street, sat on the sidewalk and waited for sheriff's deputies to arrive. He told the deputies it was pointless to flee considering everybody at the district office knew who he was. Deputies found Hansen in his office with his eye swollen and holding a bandage to his bloody head.
Both Battson and Hansen were transported to Portneuf Medical Center in Pocatello for treatment of injuries that were not life-threatening. Hansen sustained broken ribs and a concussion as a result of the attack and remained hospitalized at PMC overnight.
Battson was treated at PMC and then transported to the Bannock County Jail in Pocatello where he remained incarcerated until posting a $10,000 bond the day after the incident.
In addition to the jail time and two years of probation, Battson was ordered to pay approximately $750 in fines.
Battson's Pocatello attorney Shane Reichert said he understood the court's rationale for imposing a sentence of 30 days in jail against Battson, adding that the remaining sentence of probation was reached in agreement of both parties.
"Mr. Battson is remorseful for his actions and behaviors, however, he disputes whether Mr. Hansen has any culpability regarding any inappropriate sexual contact with his wife," Reichert said. "Obviously, Mr. and Mrs. Battson have their view of what happened, which is also disputed by Mr. Hansen. Mr. Battson understands and appreciates that his actions were inappropriate. This was an isolated incident and local individuals know Mr. Battson to be respectful, polite and a productive member of the community."
Last month, Hansen and Marsh Valley settled a pay dispute that had culminated in Hansen filing a tort claim against the district indicating he would seek $500,000 in damages if a civil suit were filed. A previous investigation by the Marsh Valley School District determined Hansen committed ethical violations in relation to his unauthorized personal use of a district car and cell phone, Hansen said via Facebook last summer.
Bannock County Sheriff Tony Manu told the Journal Thursday that a Tri-County Sheriff's Office investigation into allegations Hansen forced himself sexually on Battson's wife resulted in no evidence that Hansen committed any crimes. Neither the school district nor law enforcement has found that Hansen committed any inappropriate sexual acts with Battson's wife.
Hansen resigned from his position as district superintendent as a result of the investigation and was later re-hired as an administrative assistant.
The Marsh Valley School District Board of Trustees ultimately voted to pay $27,500 to buy out Hansen's remaining contract as an administrative assistant with the district that was set to expire at the end of June, the same amount Hansen would have earned had he remained an employee through the length of his contract.