BOISE — Boise Police Department officers on Tuesday arrested Terry Wilson, 37, an organizer with Black Lives Matter Boise and former Boise State University adjunct professor, after police said they believed him to be involved in the vandalism of an Abraham Lincoln statue in Julia Davis Park.
The statue, called "Seated Lincoln," was defaced with red chalk paint on Feb. 1, the first day of Black History Month. The chalk paint — meant to signify blood — was not permanent, and the statue sustained no permanent damage. Feces and signs were also left around the statue, but activists who organized the protests previously told the Idaho Press they had no involvement with the feces left at the scene.
Wilson was injured in an altercation with police after an officer approached him on Tuesday with an arrest warrant for a misdemeanor vandalism charge. Police said Wilson fled inside a residence and resisted arrest.
Wilson said his arrest at the home of his children's grandmother in Boise was unnecessarily violent. He said police entered the property, forced him outside, and held him on the ground. Wilson, who is a Stage 4 Hodgkins Lymphoma survivor and has a port in his chest, said he was thrown to the ground in front of his wife and children, who began to videotape the incident.
The Black Lives Matter activist and criminologist was worried the impact would rip the port open. His family indicated to the officers during the arrest that Wilson had cancer and is still sick. Medical records show he was given a CT scan on his head and spine, and had X-rays taken on his shoulder and hip. Wilson said he has bruises on his chest and is sore, has a hip contusion, and shared a photograph of a gash across his shoulder.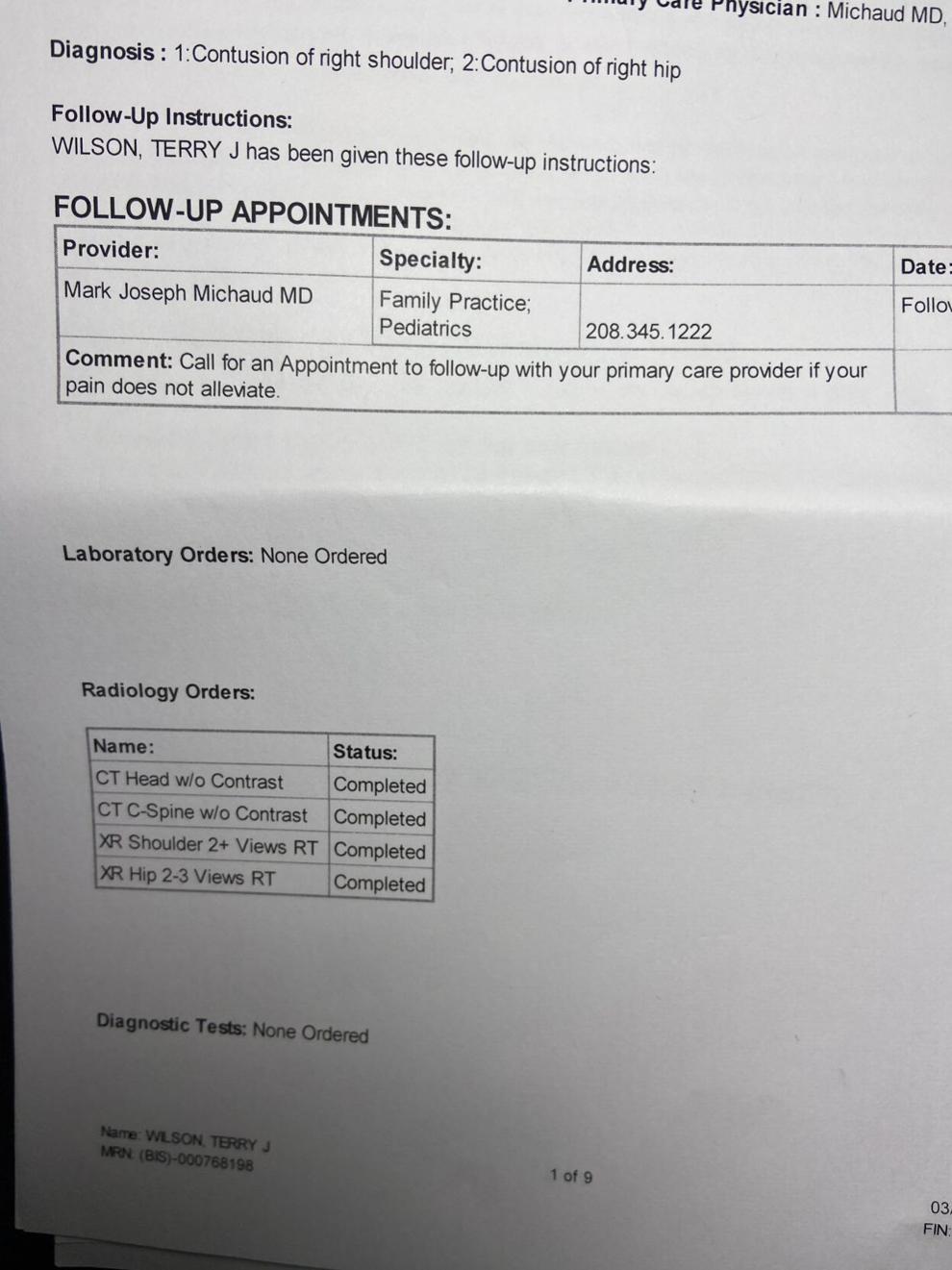 At the Ada County Jail, Wilson said he was denied blood clot medication, which he was prescribed less than 10 days ago following a blood clot diagnosis, as well as his pain medication. Ada County Sheriff's Office said Wilson was booked at the jail after he was taken to the hospital and "medically cleared."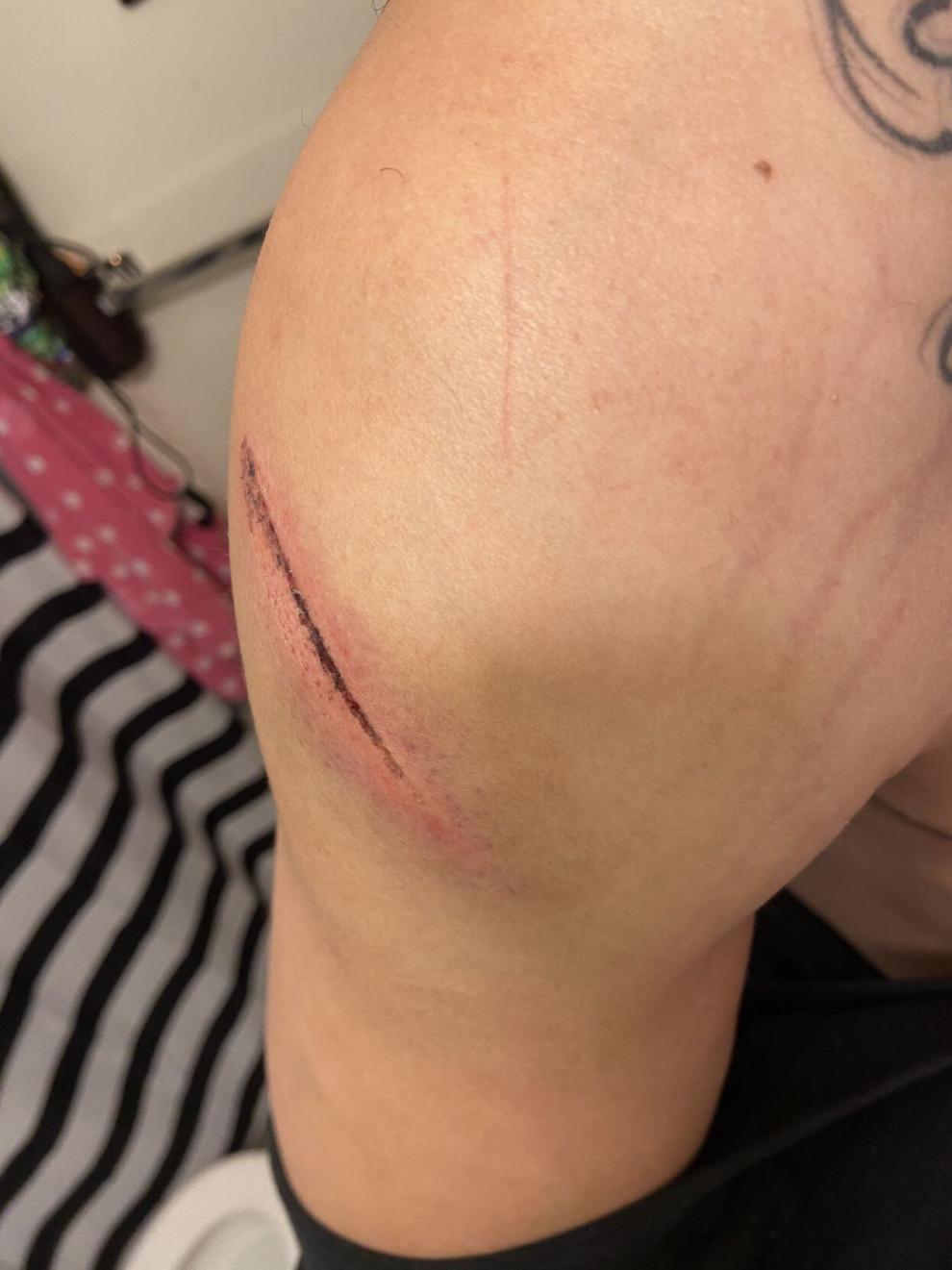 "He was not in jail overnight and spent just over three hours in custody before being released," sheriff's office spokesman Patrick Orr said.
He added that the classification process for inmates who are going to be assigned to the jail or the standard medical evaluation was not done because he was bonding out, and that medication has to be checked by health services staff and "confirmed by a medical provider" before inmates get access.
Wilson was released just before midnight on March 23 after posting $900 bond, according court records and Ada County. Wilson said he was not able to take his medication until 12 hours after his scheduled dosage time.
According to Wilson, the arresting officer did not identify himself and did not indicate he had a warrant before the making the arrest. Boise Police contested this account, stating that an officer arrived to serve the warrant, causing Wilson to reenter the home, which qualifies as resisting arrest, which then caused the officer to ask for backup, stating he was in pursuit.
Wilson said he counted six uniformed police officers and several others in plain clothes, and Boise PD confirmed that multiple officers responded after the first officer on scene called for backup. "There was no foot pursuit — I was dragged out of the house," Wilson said.
In his report of the encounter, Boise Police Officer Connor Burch wrote, "I shouted again that he had a warrant, and he quickly entered the residence. I entered the home, as I was in fresh pursuit, and became engaged in a struggle with Wilson, who actively resisted my efforts to take him into custody. After our altercation spilled out of the residence, I notified him several times that he was under arrest; but he continued to resist by tensing his muscles, pulling away from me, and trying to escape. Eventually, Ofc. Anderson and I were able to gain control of him and place him into handcuffs."
Wilson was charged with misdemeanor vandalism as well as with possession of marijuana and paraphernalia and resisting arrest, according to court records.
Wilson said he was carrying a cannabis vape pen on him which he uses for treatment with cancer in remission and alleges he is personally acquainted with Burch the arresting officer, who he attended a criminal justice program at Boise State University with. The university confirmed Thursday the officer was a student in its criminal justice program.
"I was with my kids and my family, and they are now seeking mental health support because of what happened," said Wilson, adding that his son expressed thinking his dad was going to die. "I am innocent and I plan to contest these charges," he said in reference to vandalism and resisting arrest.
Wilson acknowledged being a medical marijuana user — however Idaho law makes no exceptions for such use — and said he will accept whatever consequences come after the charges are reviewed by a jury of his peers. He is being represented by an attorney with the National Lawyer's Guild.
Possession of marijuana under 3 ounces is a misdemeanor punishable by up to one year in prison. Misdemeanor paraphernalia charges also carry up to a one-year sentence, while resisting arrest is punishable by a fine of up to $1,000. Misdemeanor vandalism is punishable by up to one year in prison.
During the arrest, according to the police report, an officer located a firearm in Wilson's fanny pack. Wilson said he is licensed to carry the pistol and keeps it for safety. He referenced a federal court case out of North Carolina in which members of an alleged weapons production ring with connections to neo-Nazi groups had moved to Boise to stockpile weapons and train in the mountains. According to federal court records, two group members had surveilled a Black Lives Matter rally on Boise State's campus last summer and discussed shooting those protestors. That case, filed in the Eastern District of North Carolina, is ongoing.