Pocatello's legislative district to remain mostly blue amid large voter turnout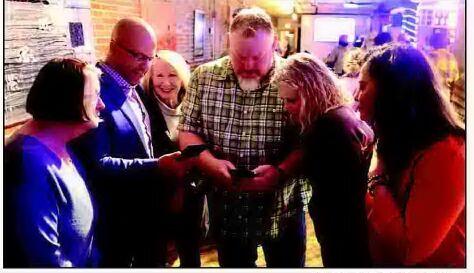 Idaho's Legislative District 29 will remain mostly Democratic following Tuesday's election.
Two of three Democrats defeated their Republican challengers in the district Tuesday, including Rep. James Ruchti, who will move from the House to the Senate to fill the seat, and hopefully the shoes, of the late Mark Nye.
"Mark was good to people and good to Pocatello. I hope I can earn the same reputation," Ruchti said, adding, "I'm grateful for everyone who contributed their time, their money and their energy to this campaign. I'm grateful to people who knocked on doors, made phone calls, held house parties, donated money and the list goes on."
He continued, "This victory shows a wholesale rejection of the extremism my opponent was selling our community. Tens of thousands of dollars were poured into this district in support of my opponent by extremist groups. That includes extremists from back East and from North Idaho. This victory shows Pocatellans don't want extremist politics and they don't tolerate dirty politics. They elect people who are rational and reasonable. People who focus on real problems facing working families, not made up social problems designed to scare people. This community knows me, and they know I will go to Boise to work for them on issues important to them."
Ruchti, a Pocatello West Point graduate who served in the U.S. Army as a military intelligence officer defeated Pocatello Republican David T. Worley, an infantry officer in the Army National Guard. Worley secured 6,678 votes to Ruchtis 7,863, a difference of 1,185 votes.
What election officials described as a "mistake" at the Bannock County Elections Office with regard to absentee and early ballots resulted in them being counted last as opposed to first.
This meant that Bannock County's absentee and early ballots weren't completely counted until about 2 a.m. Wednesday and this ended up giving a significant late boost for Pocatello's Democratic legislative candidates who up until that point had been losing their races, Bannock County Clerk Jason Dixon said.
Dixon, a Republican, added that he is confident the results of the election are accurate.
"Our IT guy, who is wonderful and also happens to be human, made a mistake when telling the tabulator how to process the ballots and all of the early and absentee ballots would have been counted as same-day election ballots," Dixon said about the hiccup. "We could have just kept it that way and the numbers would have been the same, but we wouldn't have had any way of differentiating the returns. So we finished counting election day ballots and then recounted the absentee and early ballots."
Pie continued, "There were no strange shenanigans. It was a mistake that we wanted to make sure was easily remedied by keeping same-day and absentee/early ballots separate and clean."
In Idaho Legislative District 29, which includes Pocatello, some of Chub-buck and an area south of the Gate City, Pocatello Republican Jake Stevens — an Idaho State University graduate, U.S. Army chief warrant officer and Bayer IT professional — was defeated by local electrician and union member Nate Roberts, D-Pocatello, in the State Representative Seat B race.
Stevens secured 7,209 votes to Roberts' 7,321, a difference of just 112 votes. Stevens described the late counting of the absentee and early ballots as odd, though he is unsure if he will officially request a recount via letter to the Idaho Office of the Attorney General, as outlined in Idaho code.
Stevens has 20 days to file the request once Bannock County elections officials complete the vote canvass and certify Tuesday's results.
"After the polls are closed, early and absentee ballots are always counted first," Stevens said. "They were counted first on Tuesday but they weren't inputted into the machine correctly. They were inputted as election day ballots instead of early and absentee. Supposedly, those results were completely thrown out and no one even danced at them."
He continued, "Then we had all the election day ballots and I'm ahead by 12 or 13 (percentage) points. A little after 2 a.m. they do the repeat count of the early and absentee ballots and all of a sudden it's flipped around — something like 63 percent (of early and absentee voters) had voted for my opponent in my race. That's an enormous discrepancy from what you saw on election day and it's just odd. I don't want to insinuate anything really. I'm not making any implications or any accusations or anything like that. I'm simply saying that it's odd and anomalous."
Roberts said he has faith in the Bannock County election process and commended the state for having one of the most secure and effective voting systems in the country. "I have nothing but gratitude for the community of Pocatello," Roberts said. "It's an honor to be selected to represent them and I will do so to the best of my ability for both sides — those who voted for me and those who voted against me. I want to make sure that everybody has a voice."
The only incumbent running to retain his post in District 29, Republican Dustin Whitney Manwar-ing, a Pocatello attorney, was victorious against a challenge from human rights and child welfare attorney Mary Shea, D-Pocatello, for State Representative Seat A. Manwaring secured 7,575 votes compared to Shea's 6,931, a difference of 644 votes.
"I am pleased with Pocatello getting it right," Manwaring said. "These are competitive races and there's distinctions in each of the candidates and I think Pocatello is choosing the candidates, not just the party. That's making a difference. Were one of the few if not the last district that is doing that, so I'm just proud of Pocatello for taking the election and the candidates seriously and doing their homework."
In Idaho Legislative District 28, which includes Power County, Franklin County and parts of Bannock County, rancher and incumbent state Sen. Jim Guthrie, R-McCammon, outlasted a challenge from independent candidate Mike Saville, a businessman also from McCammon.
In Bannock County, Guthrie secured 6,265 votes compared to Saville's 2,669, while in Power County, Guthrie had 1,526 votes to Saville's 410, and in Franklin County, Guthrie received 3,645 votes to Savilles 534. There were multiple contested races on Tuesday for Bannock County offices and Republicans won them all. Republican Anita Hymas defeated Democrat Tamara Code in the assessor race while Republican incumbent Jeff Hough and GOP political newcomer John Crowder won their respective county commission contests.
"I am disappointed that we did not see more Republican victories nationally and locally," Crowder said. "It was disappointing that we lost two seats in District 29. At the county level, I was happy that we had solid wins across the board."
He continued, "I'd like to thank the voters for their support, for their trust and for putting me in this position. It's an important position, especially with respect to what were dealing with right now, with high inflation and ever-increasing property taxes. I ran on a platform primarily holding the line on spending and trying to provide tax relief to the residents of Bannock County and I'm anxious to get to work on their behalf to do that."
Hymas received 15,614 votes to Code's 9,330 in the assessor race, while Hough received 15,170 votes to Democratic challenger Lisa Alexander's 9,999 to retain his Bannock County Commission post, and Crowder had 14,753 votes to Democrat Kathleen Lewis' 10,412 in the other Bannock County Commission race.
In adjacent Power County, the only contested local race on Tuesday was for county clerk. Incumbent Republican Clerk Sharee Sprague received 1,359 votes to defeat Democrat Leona Jackson, who received 582 votes.
In Lava Hot Springs, voters rejected a ballot initiative that would allow the city to increase its local option non-property tax to 4 percent of retail sales, 4 percent for liquor-by-the-drink and 5 percent for hotel-motel/ space occupancy. Those percentages are currently 2 percent, 2 percent and 3 percent, respectively.
That initiative failed with 80 votes against and 57 votes in favor, but had it passed, Lava Hot Springs voters did approve a secondary initiative Tuesday that would have earmarked the additional tax dollars for the development of a comprehensive plan for the city, law enforcement services, the maintenance of infrastructure, and capital improvements including stormwater capital improvements. That measure passed with 85 votes in favor and 51 votes against, though it's moot considering the funding mechanism initiative above failed.
Dixon said the voter turnout Tuesday in Bannock County was close to being on par with the equivalent midterm election in 2018 when 64 percent of registered county voters cast ballots. For Tuesdays election, nearly 56 percent of registered voters cast ballots in Bannock County, including 17,713 on election day and 8,079 early and absentee ballots.
Dixon said he will not know the exact number of same-day voter registrations until the election canvass has been completed, which he expects to be done in the next couple weeks.
"Turnout was huge Tuesday night," Dixon said. "We ended up with around 25,000 ballots and we'll have an exact amount once we are finished with the canvas." He continued, "I'll tell you what, at the end of the night around 5 or 6 p.m., I was out to a couple of polling locations taking some supplies back out and I have never seen voters like this in a frenzy the way it was unless its a presidential election. The parking lots were full and there were people coming in and out, in and out, in and out. It was a heyday."