POCATELLO — Not much says freedom more than the loud roar of a motorcycle, let alone the sound over 100 make in unison, which is how members of the Pocatello POW*MIA organization sought to draw attention to those who paid the ultimate sacrifice this Memorial Day.
At one point Monday, over 100 men and women involved with the local POW*MIA chapter commemorated Memorial Day on motorcycles during the 17th annual Thunder Run throughout Bannock County.
"This ride is about the people of our military who have fallen or didn't come home," says Tim Cowden, the director of the Pocatello POW*MIA and a U.S. Army veteran who served two tours in Iraq. "It's about the people that have served and are still serving for the United States of America. This is about remembering the men and women and their families who have paid the ultimate sacrifice."
As vehicles full of people lined the alleys of cemeteries throughout the county while they prepared to pay respect to the men and women who have died while serving in the American military, Cowden and over 100 riders or supporters of the POW*MIA came together to pay their own respects in the loud, thunderous way they know best, Cowden said.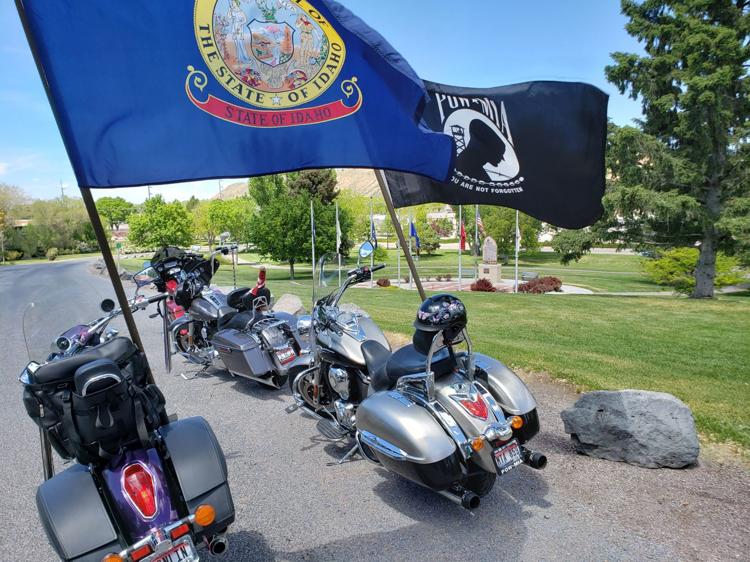 After meeting at the Restlawn Memorial Gardens near Upper Ross Park on the 2800 block of South Fifth Avenue in Pocatello to stake American flags into the ground, hundreds of POW*MIA motorcycle riders staggered several feet apart from one another rode in unison to the Idaho Field of Heroes memorial at Century High School.
From there, the riders took Interstate 15 to Downey, then traveled to Lava Hot Springs, back to Chubbuck and then to Upper Ross Park for lunch.
After lunch, the crew, which had dwindled down to about 50 riders, took their Thunder Run past the entrance to the Idaho State Veteran's Home on Alvin Ricken Drive in Pocatello to incorporate the veterans who couldn't interact directly with the riders because of restrictions the facility put in place because of the COVID-19 pandemic.
"In the POW*MIA, everybody has that same respect for one another, whether you have served in the military or not," says Rudy Moore, a Pocatello POW*MIA member and a U.S. Army veteran of the Korean War.
"The reason for this ride is to get out there in the public, and ride loudly, so people can notice and remember what this day is all about, because we can't let people forget. Normally, we'll go up to the veterans home and talk with the men and women who served before us. We couldn't do it that way this year like we normally do, but we sure did let them know we haven't forgotten about them."
After twice circling the Idaho State Veterans Home, the riders traveled back to the Restlawn Memorial Gardens to retire the flags they had placed earlier Monday morning, and they closed the event with a gathering at the Field of Heroes.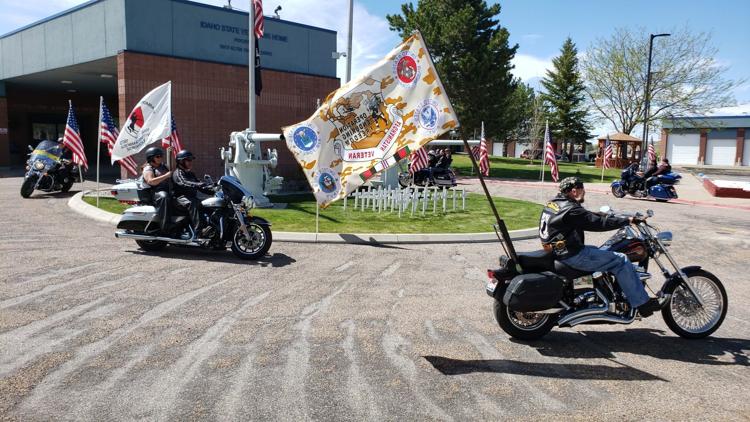 "Memorial Day is for all of our fallen or missing soldiers," Cowden said. "It's for the men and women who have worn the uniform since the Revolutionary War and have gone into battle for this country and died. We're out here to pay our respects to the soldiers who gave their life for this country for us as Americans to be as free as we are and to live in one of the greatest nations there is."
Memorial Day represents a great deal to a large number of people, says Moore, but for him and other members of the POW*MIA, Memorial Day is one that simply adds emphasis to feelings they share every day. For members of the POW*MIA, every day is Memorial Day, Moore says.
"This is a constant feeling for us," Moore said. "This holiday represents a lot, but for so many people in this organization and all over the country, this is not a one-day deal. It's all year long. We live this, teach this and breathe this."
And part of that education involves the loud roar of the motorcycle, says Cami Chopski, a long-time participant of the annual Thunder Run and a self-described patriot. While the message of what's important about Memorial Day wouldn't change regardless of how it's presented, Chopski says a motorcycle sure helps.
"I see motorcycles as a tool," she said. "These loud machines get people's attention, and it brings people in to ask questions. Once we get their attention, that's when we can begin to educate folks about our mission and the importance of remembering our fallen and missing heroes."
Chopski continued, "There is not an event more important than Memorial Day in my opinion. The sacrifices that people are willing to make so we can come out here and do this is hard to put into words, so we take the time to ride from memorial to memorial to remind people about those sacrifices."
Cowden expanded on Chopski's sentiment, adding that the POW*MIA Thunder Run wouldn't be nearly as effective if everyone drove a car or pickup truck.
"When you think of it, motorcycles are one of those things that just go hand-in-hand with freedom," Cowden said. "And you just don't get the same respect if you're riding around in a pickup truck."
Members of the Pocatello POW*MIA adhered to social distancing guidelines throughout the Memorial Day event and are currently working out all of the kinks for its upcoming POW*MIA Awareness Rally set for July 24 and 25 at the Bannock County Event Center.
"So far, we have the green light for the 20th annual Awareness Rally but we're still working to figure out how this current quarantine will affect things," Cowden said. "We want to make sure we are prepared for any changes because of social distancing but will ensure there are no issues. We will do this event, or something in its honor, even if it's just for one day, but we're still working out all the details."
While Chopski is not a U.S. veteran, she said she still understands the importance of Memorial Day and doing her part to thank the men and women who died to afford her the freedoms she has today.
"I didn't put my life on the line or turn myself over to the government and say, 'Let's do this,' but when they come home it's my responsibility to make sure they are welcomed back and are received the way they should be," Chopski said. "And to let the ones who don't make it back know they are not forgotten. I will ride for them today and every Memorial Day."