POCATELLO — What is the energy vision for our future? Why do cities need to lower their carbon footprint? What are Idaho cities doing to address this issue? These questions will be explored during "Our Energy Future: Strategies to Lower Municipal Carbon Footprint," a forum to be held on May 20 from 6 to 8 p.m. in the Pocatello City Council Chambers. The League of Women Voters of Pocatello and the Portneuf Resource Council invite the public to attend this event.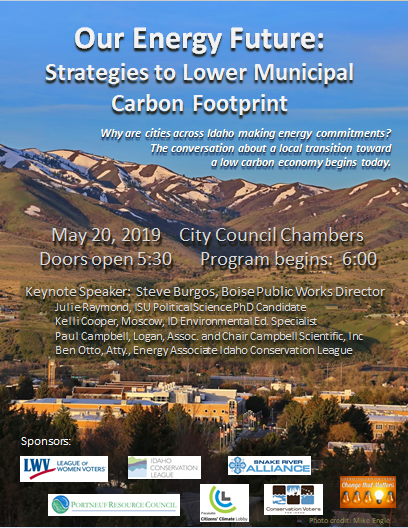 The focus of the forum is to encourage Pocatello and Chubbuck leaders to define a vision for their cities' energy future. Cities across the nation are taking steps to reduce their carbon emissions for their financial health, citizen well- being and their futures. There are many strategies to reduce city emissions, from a net-zero approach, to a commitment to 100 percent renewable energy, to greenhouse gas emission reduction. This forum will provide insight and generate ideas for possible next steps from the experiences of our neighbors who have committed to a brighter energy future: Boise, Moscow and Logan.
Julie Raymond, Idaho State University political science doctoral candidate, will discuss the economic impact Idaho cities are experiencing because of climate change. In 2018, Boise Mayor Dave Bieter declared that electrically powered Boise facilities would be 100 percent renewable by the year 2030. Steve Burgos, Boise public works director, will share how Boise is transitioning to a cleaner energy future. Moscow has committed to a 20 percent reduction in greenhouse gas emissions from 2005 levels by 2020. Kelli Cooper, city of Moscow sustainability technician, will focus on this small city's efforts. Paul Campbell, chairman of Campbell Scientific in Logan, Utah, will discuss the economic advantages from a business perspective. Ben Otto, Idaho Conservation League's energy associate, will re-cap the feasible opportunities for our communities to move forward.
"This forum is an opportunity for Pocatello and Chubbuck citizens to come together and learn from our neighboring cities," stated Jamar Brown, Pocatello League president. "We hope it will start the conversation for how our cities to make specific goals that take into account financial, technical and regulatory feasibility to for a sustainable energy future."
Earlier this year, the Portneuf Resource Council wrote a letter to city of Pocatello and Chubbuck leaders asking them to create a clean energy plan. Citizens' Climate Lobby (Pocatello), League of Women Voters of Pocatello, Portneuf Valley Audubon, Snake River Alliance, Southeast Idaho Environmental Network and Watershed Guardians cosigned the letters. Last month, the Pocatello League contacted city leaders inviting them to the forum and asking them to provider questions or concerns, so they could be addressed at the forum.
Linda Engle, Portneuf Resource Council member, commented on Mayor Blad's recent Earth Day proclamation: "We need to heed our mayor's advice and make the transition to a low carbon economy as equitable and smooth as possible. We hope this forum encourages Chubbuck and Pocatello to act on the mayor's declaration and create a strategy that defines a vision for our cities' energy future."
She added, "Clean energy grows our economy and reduces our carbon footprint. It's the right time to plan this transition. "
The program will be recorded by Pocatello Community Media and will be available later on YouTube.