BOISE — For nearly 28 years, Rev. David Wettstein's Sundays have followed a routine.
Each week, Wettstein has led worship at St. Stephen's Episcopal Church in Boise, where he's been a pastor since 1992.
But now, amid the coronavirus pandemic, Wettstein's Sundays look much different.
He no longer delivers his sermons to a packed church. Instead, Wettstein records his talk a few days prior, so members of the congregation can stream it via Facebook and/or YouTube that Sunday. The red, brick building on North Cole Road remains mostly empty, except for the few people who help Wettstein record there.
"It's been very strange, you know. I'm 64 years old, and for my entire adult life, I get up on Sunday morning and lead worship," the California native said. "So, it's been an adjustment."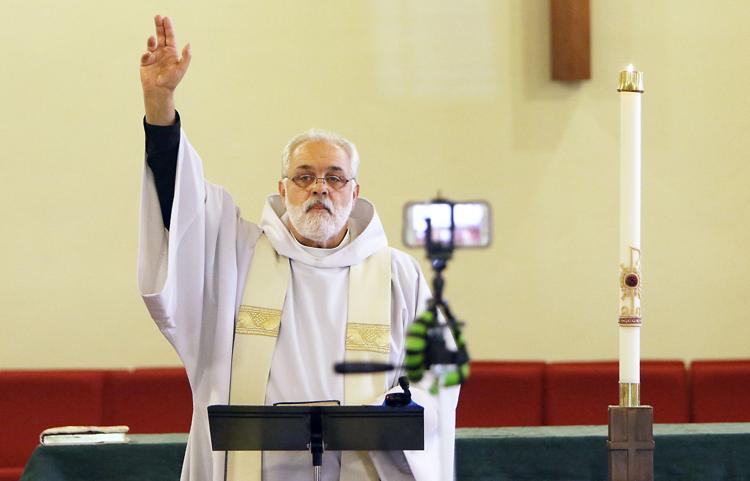 And while Wettstein misses seeing his parishioners weekly, there is no plan to resume in-person services any time soon — possibly until July, he said.  
St. Stephen's is one of several places of worship in the Treasure Valley to remain closed despite being able to reopen under the first stage of Gov. Brad Little's Idaho Rebounds plan, which entered into its second phase Saturday. In-person services were able to resume, beginning May 1, if members adhered to strict physical distancing, sanitation protocol, and guidance set by the Centers for Disease Control and Prevention.
"Nobody is anxious to get back. There is some who would like to come back, but because our parish is older, they know the wisdom in staying home," Wettstein said. "We are in that vulnerable place and I don't want anybody to get sick because they came to church. There's many ways we can worship at home. … I'm not willing to defy science for the sake of devotion." 
Other local places of worship that remain closed include the Chabad Jewish Center in Boise, the Islamic Center of Boise, Crossroads Community Church in Nampa, Boone Memorial Presbyterian Church in Caldwell, and Ten Mile Christian in Meridian. 
The Church of Jesus Christ of Latter-day Saints announced last week the reopening of 17 temples — including the Boise, Idaho Falls and Twin Falls temples — for marriage ceremonies to be performed by appointment starting Monday. It is unclear if individual churches were beginning to reopen as well.
'KEEPING OUR DISTANCE'
Like Wettstein, Steve Moore isn't sure when in-person services will resume at Ten Mile Christian Church, and for the time being, the senior minister also is utilizing video to share his message on Sundays.
Although, the 69-year-old said the church doesn't consider itself technically closed during this time.
"Our church never closed. We've continued our ministry in many, many ways — just not in-person," said Moore, who joined 48 years ago at age 21. "Necessity is the mother of invention."
Before the pandemic, Moore said Ten Mile Christian would see several hundred people on any given Sunday during one of its three services. The facility on West Franklin Road has 585 seats. 
Moore said one of the primary reasons in-person services remain suspended is because of the staff's inability to ensure social distancing due to the size of the congregation and layout of the facility.
If people were to stay six feet apart, only a fraction of congregants could attend, Moore said. Chairs would need to be spread out and aisles expanded.
"To truly social distance, in my opinion, it all but eliminates the possibility of a large gathering," he said. "It's not realistic. … Is it the way we like it? No, but Jesus didn't like going to the cross either, and he still did it. He did what was right."
Moore said the church staff is continuing to closely monitor the situation on a two-week basis, mirroring the governor's office. Some small groups that can maintain social distancing, such as Ten Mile's Celebrate Recovery team, will resume in-person meetings soon, he added.
"We want people who are not Christians to respect our behavior and choices," Moore said. "We're going to come out of this stronger than we've ever been. … I'm real proud of our people."
Wettstein said when St. Stephen's does resume in-person services, many of its standard operations will change such as communion, a ceremony in which bread and wine are consecrated and then consumed, which also is called the Eucharist. 
The church staff is still working on its official plan moving forward, Wettstein said. But there's still no hurry to reopen.
"Our parishioners realize their own vulnerability. They know the love of God is with them at all times in all places, and if they can't be together because of health reasons, that doesn't mean God isn't there," Wettstein said. "There's no need to rush back and pretend everything is all right, because we know everything is not all right. … There's nothing unholy about keeping our distance. We'll come back together when it's safe to do so."
'WE'RE DOING IT RIGHT'
Not all places of worship in the Treasure Valley remain closed.
St. Mark's Catholic Church in Boise resumed in-person services on May 2, the first Sunday after Little introduced Idaho Rebound and the state entered into Stage 1 of the four-part plan. 
Will Rainford, St. Marks director of parish operations, said this decision was made in part because of certain characteristics of the religion. Other parishes in Idaho have reopened as well, including St. Paul's Catholic Church in Nampa and the Roman Catholic Diocese of Boise.
"Catholicism depends on community. We encounter Jesus on our own; we encounter God on our own in our daily lives. But it is in coming together, that we celebrate and live the life that God has given us," Rainford said. "Even in the midst of being isolated, we have maintained community, and now, we are coming back together as a community in a safe, healthy way."
Rainford said only 200 people are allowed to attend church services to allow for proper social distancing. Normally, more than 1,200 are able to be seated. Mass is held at 8 a.m. on Tuesdays, Thursdays, Fridays and Saturdays, and Wednesdays at 8:30 a.m. On Sundays, services are scheduled for 8:30 a.m., 11 a.m. and 5 p.m. Mass also is held at 5 p.m. on Saturdays for the church's higher risk members, such as the elderly or people who are immunocompromised. Before reopening for in-person services, St. Marks relied on technology, similar to St. Stephen's and Ten Mile Christian.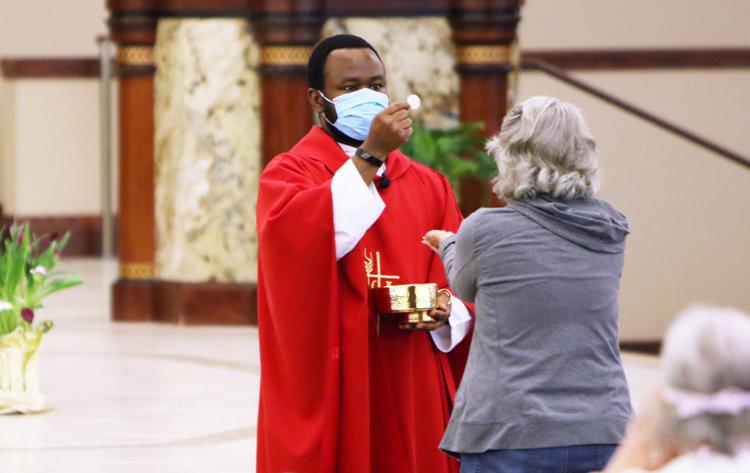 Now, parishioners must be prescreened for risk of infection, wear a mask, have their temperature taken and sanitize their hands before entering the West Northview Street church, Rainford said. Once inside, movement is restricted by designated standing spaces, walking paths and seating. Church staff and volunteers are on-site to ensure compliance, he added. 
Communion — which is considered the "heart of Catholicism" — is delivered in a different way as well. Rainford said when a member walks up to the priest to receive the Eucharist, they must keep their mask on and extend their hand. During the ceremony, there is no direct contact between the recipient and priest, who also is wearing a mask. 
Rainford said he believes St. Mark's is the "most cautious, protective church that's open" in the Treasure Valley, if not all of Idaho.
"We spent about a month preparing to open in a very careful, planned, health-conscious way," Rainford said. "We felt that we could open because we felt that it was safe for us to do so. … We've had doctors and nurses review our plans and procedures. They've been on-hand to observe us, and they all tell us we're doing it right."