POCATELLO — A Salt Lake City couple has found success in the Gate City with a unique business model that has allowed them to share their gourmet doughnut creations without a brick-and-mortar storefront.
Alyssa and Helam Heimuli, who live in the North Salt Lake City area, have for about the last two years been operating Sugarhouse Donut Company, a doughnut-by-delivery business of which the baking confectionery and their primary customer base is in Pocatello.
"It's been super exciting to put our creativity to the test and come up with different ideas to keep our customers happy," Alyssa said. "It's definitely a lot of work but it's worth it and has been a ton of fun for us."
Sugarhouse Donut Company got off the ground in early 2018 after Alyssa and Helam were guests at a friend's wedding in which bare mini doughnuts with an array of self-serve toppings were offered. After briefly discussing the idea, the perfect enterprise opportunity opened up when a doughnut business in the Sugar House neighborhood of east Salt Lake City went up for sale.
"At the time we had just started a shaved ice business and were thinking about doing doughnuts as well after attending our friend's wedding," Helam said. "We were excited about food trucks and that concept of mobile food options. A few weeks later an opportunity opened up to purchase a mini doughnut business in Utah and here we are."
The couple thought the name Sugarhouse Donut Company sounded a bit sophisticated and decided against a rebrand upon acquisition, Helam said. Initially, the husband-and-wife team incorporated a business model similar to that of the previous owners — selling their sweet, holey creations at sporting events, conventions and large gatherings.
"We knew nothing about doughnuts when we first started out but we just loved the idea and the concept," Helam said. "In Utah, the previous owners ran it like a food booth at events, catering at outdoor art festivals, University of Utah athletic games and outdoor expos. We tried to run it that same way for about eight months to a year."
Helam described the event catering model as pretty hit or miss. 
"Some days we would come out really good and others were not that great at all," Helam said. "Combine that with the shaved ice business, me working full time, my wife going to school full time and us raising two kids, we started to feel a little bit underwater."
Last summer became so chaotic for the Heimuli family that they seriously considered selling both the doughnut and shaved ice ventures and walking away from the small business world all together, Helam said.
"We would spend our weekdays at school and work and focus on the doughnuts during the weekend," Helam said. "Friday and Saturday nights we would have the doughnuts at events and it basically became a 24/7 grind where we were constantly doing something. We seriously toyed with the idea of selling both businesses and walking away, but we were fortunate enough after a particularly late night to decide to change our business model to fit our own schedule. It was scary because it seemed like nobody had ever done what we were considering."
Since that night, Sugarhouse Donut Company only operates on a delivery basis during select weekends using social media as their primary source of advertising. Customers are asked to place their orders during the week via Facebook or by calling 208-317-6564 and the business will deliver the orders right to their client's doors.
Helam said local residents of The Church of Jesus Christ of Latter-day Saints faith have made up most of their recent business, providing doughnut orders for family reunions, baptisms and large gatherings.
"Many people in Utah are running that same model now, but we had never heard of it before," Helam said. "Essentially it was the best situation we could ask for."
Sugarhouse Donut Company offers three different sized boxes of doughnuts — a $9 mini box that comes with 16 doughnuts, a $13 medium with 25 doughnuts and a 49-doughnut mega box for $26. 
Moreover, the different doughnut flavors are constantly changing, dependent only upon the limitations of their creative minds, Alyssa said.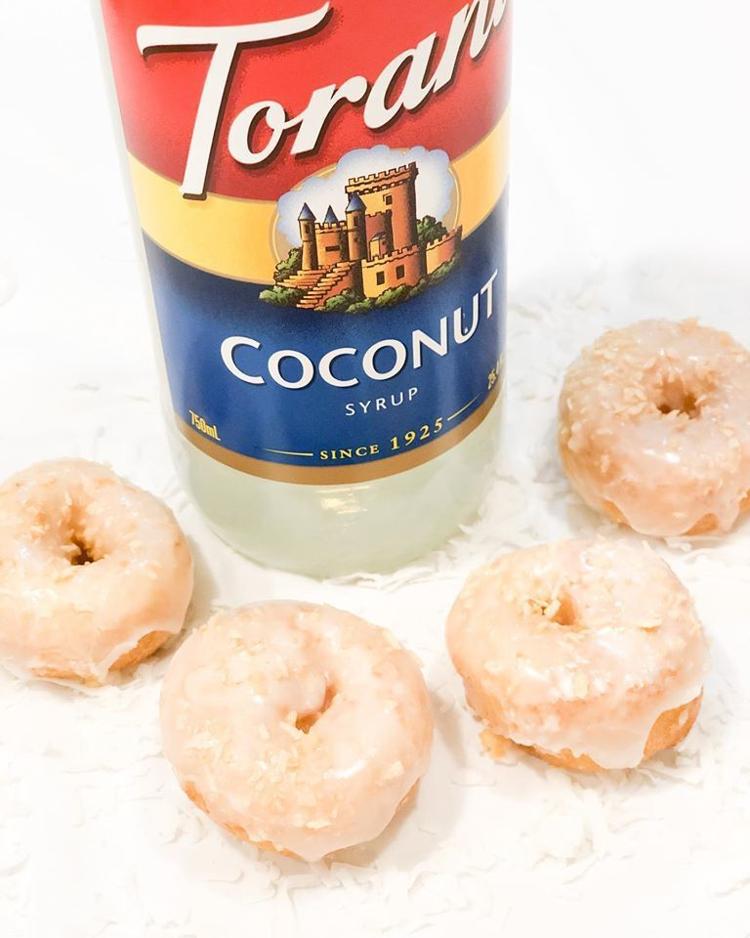 "We offer mini cake doughnuts and try to get really creative with the toppings and their names," Helam added. "When we see something out in everyday life that we enjoy, we try to turn it into doughnut toppings. For instance we offer a Tootie Frootie doughnut, which has a vanilla glaze with Fruity Pebbles on top. Another one of our most popular is a coconut crunch, which has a coconut glaze and coconut flakes."
Previous doughnut flavors have included Andes mint, funfetti, strawberry cheesecake, french toast and varying berry streusels, Helam said. 
"When we announce a delivery day we also announce four different flavors that we are providing that week," Helam said. "We will also offer a specific box: For instance home deliveries we only offer the mini box and it's usually four of each of the flavors. But for special events, corporate parties or weddings they can submit a custom order and we will figure out how that will work."
While personal events have comprised most of their recent business, Helam said they are also willing to work with customers who want to serve Sugarhouse doughnuts during the week for office meetings and conferences.
"People can reach out to us if they have big corporate events and request doughnuts for the week or whatever they are after and we will make it work," Helam said. We can definitely do office parties and corporate events when they come up."
The couple has no immediate plans to open a physical storefront, but they haven't ruled out such an expansion for later, said Helam, adding that for now their goal is to develop a more consistent weekend delivery schedule.
"This has really been a ton of fun for my wife and I and we're thrilled to see what the future holds," Helam said. "We're excited every day and as more people become aware of us the customer base keeps growing which causes us to get even more excited."