Station Square has been a staple of Old Town Pocatello for more than 100 years, but for several decades, it sank into the background with many vacant retail spaces and a lack of vision.
But in the past couple years, that has been changing. The building's owners took over Station Square in August 2017 and have been working since then to make the building at 200 S. Main St. more relevant.
The biggest update is the addition of a coworking space as well the addition of a boutique cycling studio, which is set to open in May.
Here's a closer look at some of the changes happening at Station Square.
SQUARED: A POCATELLO COWORKING SPACE
Coworking as an idea has been around since 2005 and has existed in major cities across the U.S. since then. In Idaho, the most notable coworking space is Trailhead in downtown Boise, which was started in 2015. Squared: A Pocatello Coworking Space will be the state's most recent addition.
The idea behind coworking is that people without a traditional office space — whether they are entrepreneurs who are just starting out or they're people who work from home and want a place to get out of the house — can have a space where they can brainstorm with other people or hold meetings in a more professional environment than, say, a coffee shop.
According to Wikipedia, coworking is "a social gathering of a group of people who are still working independently, but who share values and who are interested in the synergy that can happen from working with people who value working in the same place alongside each other."
Coworking has been rapidly growing internationally in the past several years.
Coworker.com says, "Now a global phenomenon, coworking spaces are popping up … with an annual growth rate of 24.2 percent. It is predicted that there will be more than 30,432 coworking spaces and over 5.1 million coworking members by the year 2022."
Now, Pocatello will be a part of that movement.
Squared will be located on the mezzanine level of Station Square and will have different levels of membership. In the lowest level, members can come into the office and work at any available spot, but will still have access to all the activities and amenities that other members have. The middle level includes a permanent work space as well as cabinets in which to lock things up. On the upper end, you can rent out a private office. All members will have access to private meeting spaces as well as a conference room with up-to-date technology that can accommodate up to 20 people. The conference room will also be available for rent to people in the community.
Squared does not yet have a set opening date, but some of the suites have already been rented in advance.
Squared was started and is owned by Station Square co-owner Denis Clijsters of Bricks & More LLC and Rob Lion, an associate professor of human resource development in the College of Education at Idaho State University. The two hope it will be a place that will nurture the entrepreneurial culture in Pocatello and add to an already thriving business community.
"This will be shared offices, flexible office spaces … to start to help and foster entrepreneurship in the community," Clijsters told the Bannock County Historical Society during a tour of Station Square in April. "I believe the Station Square building is the perfect home for that."
Clijsters said later that there are a lot of pluses of working in a coworking space, including fewer distractions and more collaboration.
"Instead of working from home and being distracted by TVs and those kinds of things and being isolated and you don't know where to ask questions, come to us," he said. "We're kind of the first gate to the Small Business Administration or the Bannock Development Corp., and many other organizations who really do the work."
Clijsters added, "In a company, you have your colleagues and you can always ask questions, and that's how you will be learning at your company. If you start alone, at home, in your living room, you don't really have that network, and we try to supplement that network here."
Lion told the East Idaho Business Journal via Facebook that he wants Squared be a place where people want to spend their time and to be a place where great ideas make it off the ground.
"We want to nurture business development by providing an affordable work experience that has a strong support system by its design — we are being intentional about this last part," Lion said. "Our goal is to hear people say, 'I want to be there' or 'I want to be a part of that.' We want to support those budding startups, whether that being a high school student with a great idea from their entrepreneurship class or people graduating from ISU that are faced with a decision: Do I go work for someone else, or do I take this idea I've been working on, surround myself with great people and go for it?"
Lion added, "My ultimate goal of the coworking space is that we fill it with people ranging from startups to established companies that merely need an office space or two and that such businesses become so successful they outgrow the space and services. I want to see this space, both coworking and Station Square, to become a destination for people of all interests."
One of the goals for Squared is to eventually have a relationship with lots of different organizations in town to help the space grow and its participants prosper.
"We see this as part of the community's identity and see this as a tool for our area," Lion said. "We would love for participation from ISU, but also local financial institutions, etc. Also, we welcome successful entrepreneurs in the area as well as outside to be a part of this, too. We see this as a resource to the community and a place where we can build a community of entrepreneurs and innovators."
Clijsters said a big thing he wants to see with Squared is close collaboration with ISU.
Jeff Street, the director of ISU's Center for Entrepreneurship and Economic Development, said that although no official relationship exists between ISU and Squared, he is very supportive of the venture and plans on directing students to the space when they're ready to take the next steps for their businesses.
"I'm very highly supportive of the coworking concept," Street said. "I think that it is a good midpoint between working at home and working in an organized office space, at a corporate office or a company office."
Street said he thinks the university can be a source of potential Squared members.
"Would it be a good place for the university to recommend to students who are spinning off and perhaps starting companies? Yes," Street said. "I think it would be a good space. I think it would be a good idea. There are a lot of entrepreneurs in Eastern Idaho who want to start their own small businesses, and the coworking space would be a good way for them to get an address and a front for their business. It also would be a good opportunity for them to mingle with others who may be starting a new business in the area."
Street referenced Trailhead, a coworking space in Boise that has experienced massive growth over the past several years and is a central part of the growth of the entrepreneurial culture in Idaho's capital city. Although Pocatello and Boise are very different cities, Street said he thinks Squared could play a role similar to that of Trailhead.
Street said about Squared, "It could be the place where anyone who's entrepreneurial in this area would say, 'So how do I connect with others?' and the first thing that people like me will say is 'Why don't you try going to (Squared)?'"
Lion also heads up the local Think B.I.G. group in Pocatello, which is a brainstorming group that meets twice a month with the goal of connecting people with others who have similar interests and connecting those people to businesses and organizations that can help get their ideas off the ground.
He said the Squared project is the next step for Think B.I.G.
"I see this project as complimentary and the second phase of the Think B.I.G. framework," Lion said. "We need to continue to put a lot of emphasis to grow Think B.I.G. to get diverse experiences and mindsets around the same table. Once that happens, there is great energy among such groups. …We see this as our opportunity to influence the growth and development in the area by getting talented people together to build companies. The coworking is a partial strategy to help support the genesis of such endeavors."
THE POWERHOUSE, A BOUTIQUE CYCLING STUDIO
Angie Lion is hoping the people of Pocatello will be empowered at The Powerhouse.
The new boutique cycling studio, located on the mezzanine level of Station Square, will likely open in May.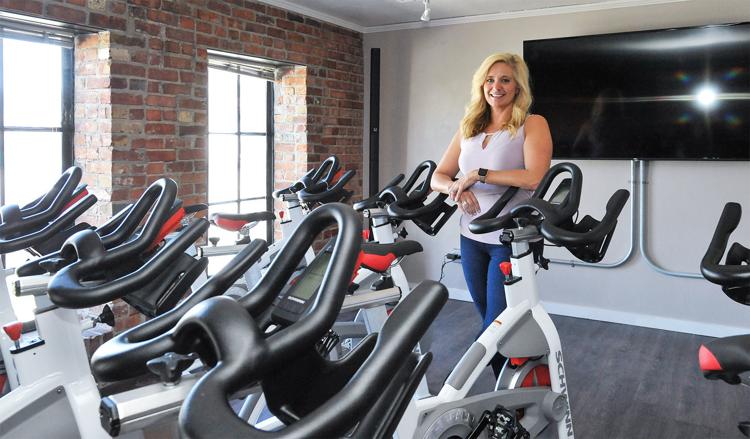 Lion, the owner of The Powerhouse, says the studio is a place for anyone and everyone, no matter their fitness level. Even if you're a beginner, you'll fit in just as well as more experienced riders.
"I'm not looking for just cyclists," Lion said. "I want it to be a place for people who have never been on a stationary bike or for the soccer mom whose goal is just to keep up with her kids and look good in her clothes."
She added, "I don't want people to feel like they need to get in shape to come to the classes — at all. That's just fear. That doesn't make any sense. That's what we're here to do is help people get into shape. … We want to create a supportive environment where people want to keep coming back and they want to tell their friends."
Indoor cycling studios have long existed in other parts of the state and country, but this will be a first for the Gate City. Many of the gyms in town have spin classes, but The Powerhouse is the only place devoted only to cycling and has performance tracking using Fitmetrix technology.
"We're hoping to build a community of people that we miss them if they're gone," Lion said. "We want to invest in the bikes and in the technology and the people so they are seeing the results."
Lion said it was important for her to bring something like The Powerhouse to Pocatello.
"I think Pocatello is a world-class place to live, but we need world-class opportunities here," Lion said.
Another important thing about the group classes is that a community of people you know will help you push yourself harder.
"We're not going to be a place where we're judgy," Lion said. "We want everybody to be successful. Happy people show up. I want us to be a tribe of people that come together for a common goal. We're here to sweat together and push ourselves harder than we would ever push on our own. That's why you need a group of people because you know you won't push that hard by yourself. I won't. Nobody does. You take the path of least resistance."
The Powerhouse will have the latest in cycling technology. The bikes, combined with The Powerhouse app, will track your performance, and you will receive an email after each class telling you how you did and how many calories you burned. A person can burn up to 800 calories in a 45-minute session.
Registering for classes is simple: Just download The Powerhouse app on iTunes or Google Play and register from there.
Though classes haven't been scheduled yet, you can buy memberships online now at www.thepowerhouse.us. If you would like to become a founding member, monthly memberships including unlimited classes are currently $55. Your first ride is free, and after that, you can drop in for a single class for $15 or you can buy a 10-class pass for $125. There is also currently a Mother's Day special that is five classes for $55. Businesses can also rent the space for events.
To start, there will be two classes each weekday — one in the morning and one at night — but Lion said once they've been open a few months and start transitioning into cooler weather, they will expand to more classes each day, depending on what members want.
Lion said there has been a lot of interest in The Powerhouse, and she doesn't think she'll have trouble attracting people to her business. She is still hiring instructors, and her team is willing to train people who are interested in becoming certified to teach classes. Anyone can apply online at The Powerhouse website.
"I get people asking me all the time, 'When does this open?," she said about her business.
Though The Powerhouse does not have an official opening date, the cycling studio will be open during First Friday Art Walk from 5 to 8 p.m. May 3 so people can come in and try out the bikes.
For more information, visit www.thepowerhouse.us or facebook.com/pg/thepowerhouse.us.
"I love Old Town and I think it has so much potential," said Lion, who shares her husband Rob's passion for Station Square. "It's just a great, awesome Idaho town. I think it's been underutilized. … I want to bring a new pulse into downtown."
CRAFTED: A BEVERAGE CO.
When you walk in the Main Street side of Station Square, the first thing you'll notice is a large kiosk-type area. It's circular with an open top, and it's hard to miss.
The area has been home to several businesses in recent years. Most recently, A Different Cup coffee shop was located there, but that business recently moved to 904 S. Fourth Ave.
Now, the space is being renovated and will soon be home to Crafted: A Beverage Co. The building's co-owner Clijsters said it will complement the coworking space, giving people another place to hang out while they work.
Crafted will have wine and three beers on tap, as well as a full coffee bar and snacks.
"Its purpose is not to be a bar, but if you want to take a break and have a beer, or you have a meeting and you want to have a cup of coffee," Clijsters said.
THE THIRD FLOOR
Station Square was originally built as the Fargo Department Store and was remodeled into Station Square about 40 years ago. Since that remodel, the apartments on the top floor have remained empty and virtually untouched.
Since purchasing the building, Clijsters has been working on getting all the permits in place to begin renovating those apartments so he can rent them out.
Now, Clijsters has all the permits, and the process of restoring the apartments to their glory days will begin in the fall. The estimated $1 million renovation will take about a year or two.
"We have the stamp, and we're ready to start after the summer," Clijsters told the Bannock County Historical Society during April's Station Square Tour. "... It will be my biggest renovation project."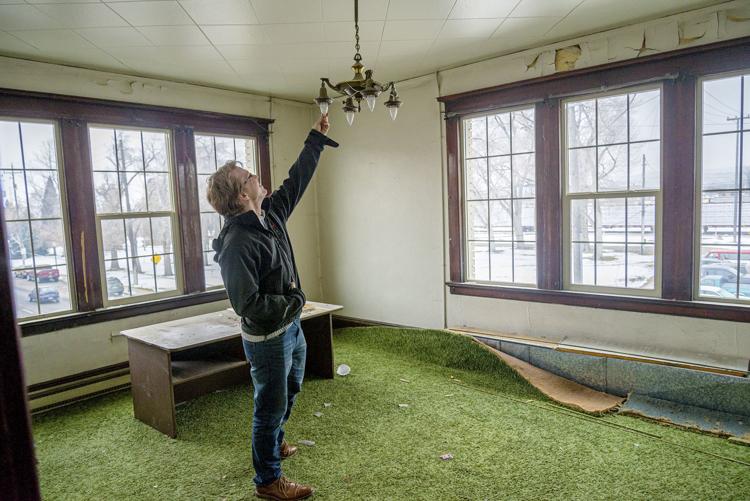 There are currently 19 studio apartments on Station Square's third floor, with additional space for three two-bedroom apartments. The studios will rent out for between $450 and $500 when completed, Clijsters said.
The apartments were originally called the Stafford Apartments, and Clijsters said he is planning on either bringing back that name or calling them the Station Square Apartments.
Also on the top floor of Station Square is an event space big enough for 100 people that will be called The Yard: A Gathering Place.
Clijsters says he hopes to hold all kinds of events there.
A TASTE OF HAWAII
Station Square's only restaurant, A Taste of Hawaii, recently reopened on the Union Pacific Avenue side of the building on the first floor after the owners installed a new gas line that will enable them to serve more authentic Hawaiian cuisine. They also removed a wall, adding four feet of space to the restaurant.
A couple of new menu items have been added, including the kalua burger, which includes shredded pork covered in any sauce topping a quarter-pound burger patty.
***
From Hawaiian food to beer to office space, Station Square will soon have something for everyone.