POCATELLO — Lana and Keith Davies built Mastercraft Pool and Spa from the ground up starting in their own backyard more than three decades ago. It hasn't been an easy process, but Lana says it's one that's been well worth it. The business now employs 24 people, including three of the couple's four children, and operates out of a big warehouse on Highway 30 in Pocatello.
"It's been a lot of hard work," Lana said. "Blood, sweat and tears have gone into this successful business."
The business got its start in 1985. Keith had been working as a sales rep for a company that sold pools and treatment chemicals. Eventually, he decided to start his own company, and Mastercraft was born. For about 20 years, the Davies family operated out of their home and yard, selling pool supplies and offering upkeep services.
"As scary as it was, more than 30 years later, we are a success — just the American story where we started in our home," Lana said.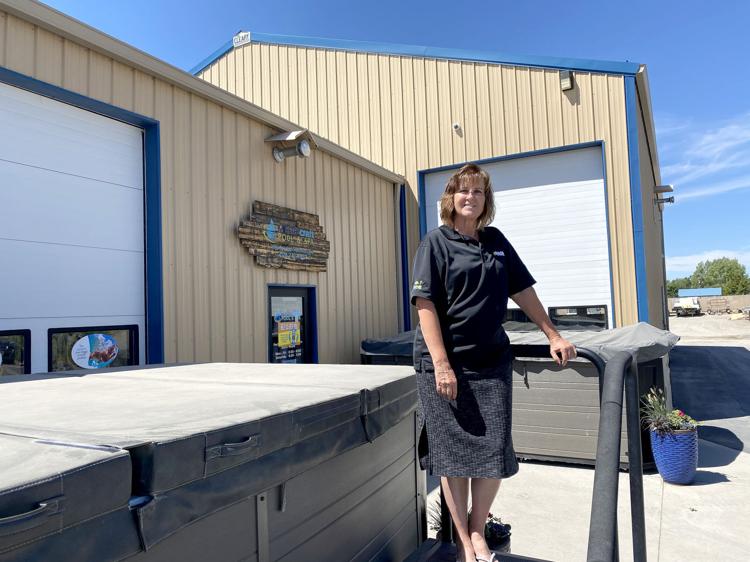 Eventually, the business got so successful that Keith didn't have time to deliver products to customers anymore; that's when customers started coming to their home — and into their bedroom where the office was.
"It was when our customers started coming into our backyard and into our home and into our bedroom to talk to him that I was like 'OK, I can't do this anymore,'" Lana said. "Then we took a leap of faith and bought this place."
In 2012, they bought the warehouse and retail space at 3650 U.S. Highway 30, and Lana said they're still bursting at the seams. They just added more office space and a showroom was added a few years ago.
"We're Pocatello loyal. Doesn't mean we don't do business outside of the area, but it's been nice because this has been our home," Lana said. "I grew up in American Falls, so I didn't go far. He was born and raised in southern Utah but he's basically lived here all his life so we just decided to establish it here."
BUSINESS KEEPS FLOWING
It's easy to see why Mastercraft stays busy — it's the only business of its type in the area, servicing as far as Twin Falls, Malad and Sun Valley as well as Big Sky, Montana, and Jackson, Wyoming. The closest competitors are in Salt Lake City and Boise. 
"We maintain all the swimming pools in the community — hotels, motels, fitness centers, all of the bodies of water in this area," Lana said. That entails "making sure that their equipment is running properly, providing the chemicals needed to keep their water sanitized and healthy. ... And then if there's any parts or any repairs that they need to keep our business going, that's what we provide from a commercial aspect."
Plus, the business sells hot tubs and pools now — a side of the business Lana says has really been taking off.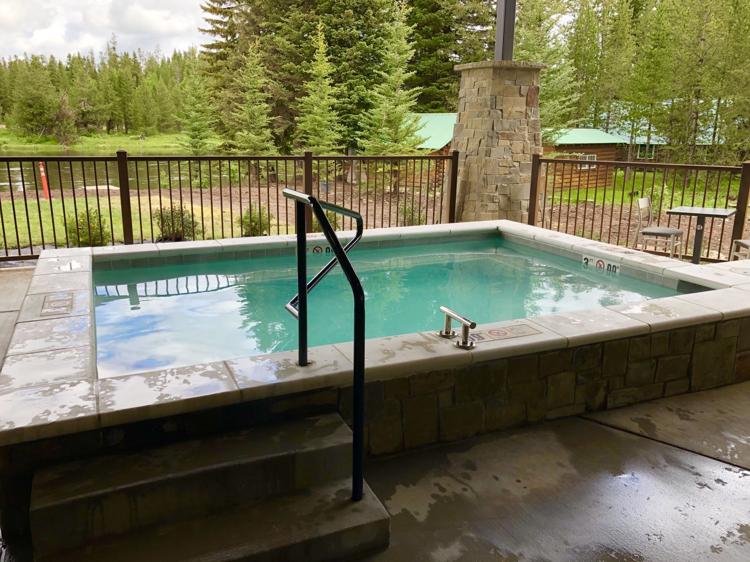 It's a big ordeal to get a pool installed, whether you get a premade fiberglass pool or a concrete one.
The fiberglass pools are manufactured in California. Mastercraft employees, including Keith and Lana, drive to the Golden State, load up to three of the pools on a trailer and haul them back to Pocatello. The pools are an oversized load (up to 16 feet by 40 feet), and taking them home — sometimes in seven-lane traffic — requires two pilot cars. Once home, the installation process for fiberglass pools takes four to six weeks.
The concrete pools take much longer because they're built from the ground up on location.
"We can make it any shape, any size, any depth, and put the steps wherever you want it, put a hot tub in the middle, whatever," Lana said. "It's all very customizable. But because of the process, it takes a lot longer."
The process involves digging a hole, shaping the pool with rebar. Then they spray on concrete and shape it to the pool, and then they plaster it and get rid of any imperfections. It takes two or three months to finish. Concrete pools are generally commissioned by businesses, whereas the fiberglass ones are usually for residential customers.
Lana said Mastercraft usually installs 12 fiberglass pools per year, and they install up to three at a time. That side of the business is still growing as well.
"We're already selling pools into 2021 and 2021 is almost full," Lana said. "I expect by this year's end, we'll be selling pools for 2022. Fall of 2021 is nearly booked for these fiberglass pools. If we get efficient and proficient as we keep doing just (fiberglass) and do less of the concrete that takes more time, we could probably do 12 to 15 fiberglass pools in one summer."
BUILDING BACKYARD PARADISES

While many businesses have been negatively affected by the coronavirus pandemic, Lana says Mastercraft has been doing fine. They didn't have to shut down during the stay-home order "because keeping water healthy is necessary for keeping the public safe," Lana said.
More people are staying home more often than before the outbreak, and they're trying to find things to keep them entertained while social distancing. 
"People have I think chosen to spend their hard-earned money on things that will keep them home and things that they can do at home or RVs or whatever where they can leave and go still enjoy their time together," she said. "Hot tub business has actually increased because people have been coming in and getting hot tubs to stay at home. The construction hasn't really changed much because the people who were already on the calendar had already made their down payments for the pools so that didn't really affect construction any. And then service, I think they've been just as busy making sure all our current customers have been taken care of."
One thing that has impacted Mastercraft is the fact that they can't have a display at the Eastern Idaho State Fair in Blackfoot. Lana says that's always been a good marketing event for them.
Since they can't be at the fair this year, they have decided to hold a parking lot sale at their Pocatello shop over several days at the beginning of September.
Lana says that a pandemic is a great time to invest in something you can enjoy at home every day.
"What people have come back to us with is very positive and they wish they'd have done it a long time ago because they've created their own staycation and their own recreation and free time right in their backyard, so they can use it all the time," she said.
She always says it's a viable option for people because it costs about as much as a boat or a brand new pickup, but it's something people can use all the time. Plus, people can use pools for most of the year because they have heating capabilities.
"You can get an extended season of nine or 10 months in Idaho," Lana said. "And whether you're in it or sitting out by it or looking out at the beautiful features that have been created, you can say you use it every day because it's therapeutic and it's so good for your body. There's proof and science backing the benefits of water therapy."
A FAMILY AFFAIR
Lana and Keith have four children — three boys and one girl — and all the boys are in the business with them. The oldest, Skylar, manages the service department. The middle boy, Chad, is the service and operations manager. Jaxon, the youngest, is the project manager, meaning he handles the construction and installation of the pools. Lana said they also have a nephew that works for them, and other family members have worked at Mastercraft over the years as well.
"It's a family affair," Lana said.
She says her boys are the ones who keep the business up to date with the latest technology.
"We've got our brand-new website and our phones are updated," she said. "They're the ones bringing the new feel into the business. I feel like our donation was the structure and the foundation and the hard grit of it and then what they're adding is just enhancing it. They'll be able to keep it going for a lot of years to come if they decide to stick with it."
Lana isn't sure whether any of her kids will keep the business going after she and Keith retire. But if they do, she thinks they'll probably expand the business into more markets.
"I suspect that once we're out of the picture a little bit, if they want to branch out and they see that the numbers work, the finances are there that they can branch out and do it, I bet that they probably will," she said.
Lana said making a successful business wasn't an easy process, especially because she says she and Keith aren't big risk takers.
"There were a lot of years where it was scary and nerve-wracking and stressful and tearful, but I think perseverance and just making the decision to try it (made it work)," she said.
Lana also noted that she and Keith got into the business at the right time
"There's nobody else to take care of these people," she said.
Plus, they've done their best to keep people coming back.
"We've established great relationships with local businesses over the years, people who have been with us from day one, since he was just calling on them, repping a different company, and they're still with us," Lana said.
For more information about Mastercraft, visit mastercraftpool.com.