POCATELLO — When Hanna Schwartz was a child, she wanted to be a florist. Though she ended up becoming a nurse instead, she has now found a way to share her lifelong love of Idaho's wildflowers with others through a business she started with her husband, John.
It began last year when she began making resin jewelry featuring native wildflowers just for fun. She had an "abundance" of flowers that she'd been collecting and pressing since high school with an old school flower press she inherited from her mom.
She began wearing her pieces when she was out, and people loved them, which gave her the encouragement to do more.
"It kind of went from there — just having a lot of flowers and not knowing what to do with them," Hanna said.
At that point, it was still a hobby, not a business. Then one day in November 2020, she came home from her nursing job at Portneuf Medical Center in Pocatello and told John that she had went into the Cloud 9 Gift Shop at the hospital and the person working told her they loved the earrings she was wearing and wanted to buy 30.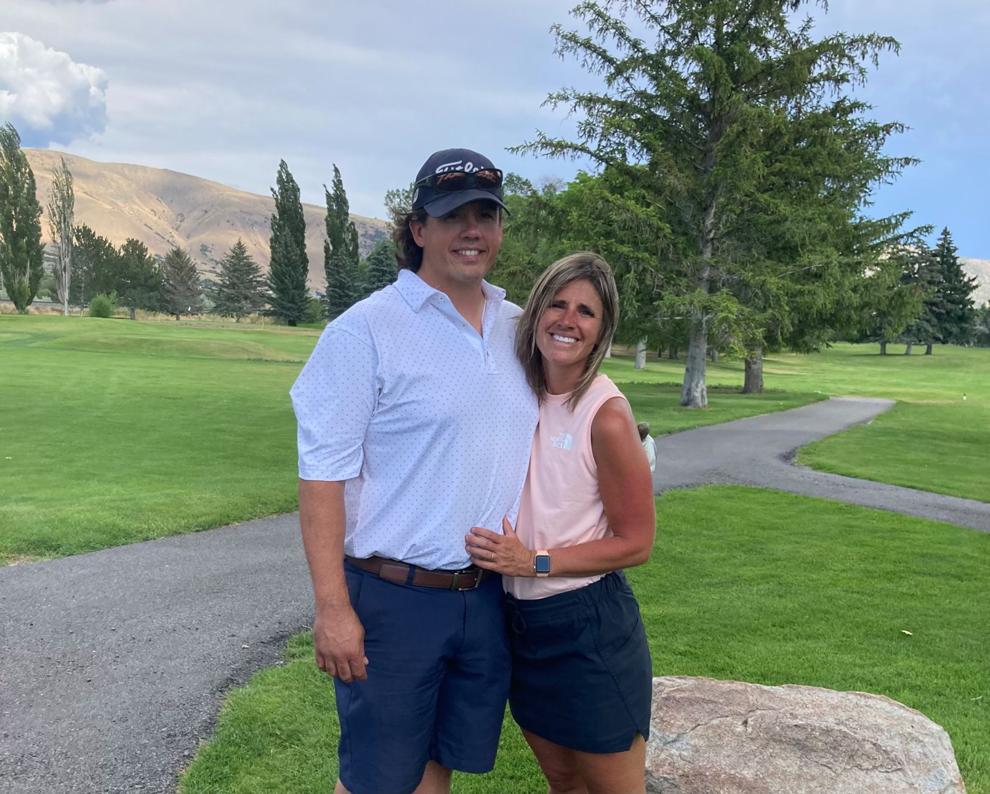 That was when Juniper Jewelry officially began, and John says business took off almost immediately, with the earrings at the hospital selling quickly.
From there, Hanna and John signed up as vendors for the Portneuf Valley Farmers Market, which takes place weekly in downtown Pocatello from May through October.
"There was a moratorium on jewelry because there were already some jewelry people, but since ours was so unique (they) wanted us," John said. "We started off with just the little table with just the little stud earrings and then we just had awesome conversations with people about what people liked and recommendations and we were paying attention to what goes. We developed from little studs to everything," which includes necklaces, dangle earrings and rings.
The two work as a team, with Hanna making all of the jewelry and John handling most of the public-facing duties like manning the booth.
"It's hard to watch people critiquing your stuff, so that's why I like John selling it because I get kind of shy about it," Hanna said. "I just go pet all the dogs at the farmers market."
It was important to the Schwartzes to use high-quality metals for their products.
"Nothing's falling apart," John said, "and people with irritations are coming back and saying, 'I haven't even taken your stuff off and I don't have any problems.'"
He said that one thing that surprised them at the beginning was the variety of people who found joy in their jewelry.
"What made us happy at first, and it still does, is people from all walks of life come to our table," John said. "It wasn't even about buying it or not. There were so many smiles. People were so happy. Wildflowers make them so happy and remind them of things. … That's what got us pumped up."
In a little more than a year, business has grown exponentially.
"It was just a small hobby that turned into something big and I can't quite wrap my brain around it," Hanna said.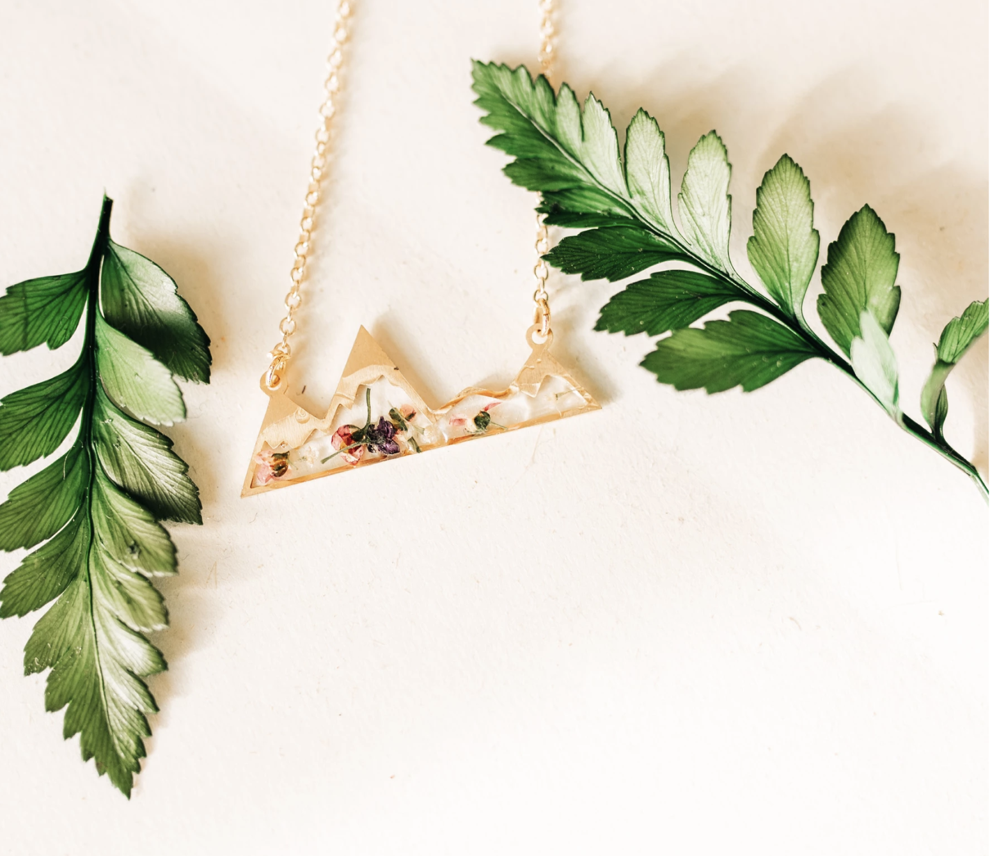 In addition to being sold at the farmers market and area craft fairs, Juniper Jewelry can now also be found at six Pocatello businesses:
Idaho Unlimited, 215 E. Cedar St.
The Cloud 9 Gift Shop at Portneuf Medical Center.
Goldsmith, 205 S. Fourth Ave.
Real Deals, 415 Yellowstone Ave., Suite F.
Goodbye Hello Crafts and Boutique, 144 N. Main St.
Poky Dot Boutique, 201 N. Main St., which is the only place in town that sells Hanna's rings.
The jewelry can also be found at Challis Floral and Gifts on Main Street in Challis.
"It feels like it got popular fast," Hanna said. "I'm not a business-minded person, I've always been in the medical field, so I don't really know why it did, but it got busy fast."
Both Hanna and John have jobs in addition to their jewelry-making business. John works for Intermountain Gas as a service tech. Until recently, Hanna worked at PMC full time, but she recently transitioned to part time and took a second job with the school district as a nurse, which freed her up to work more on her business.
She was resistant to setting up an online shop because every piece of jewelry is unique, meaning it can't be exactly replicated.
"Every piece is so different. The flower's different. The way it was pressed is different," she said. "How do you streamline that online? You can tell me what color flower you like but each piece is going to be so different. … That is where I didn't love the idea of online because I can't replicate it exactly, but people were wanting it so we did that, but I much prefer selling it through the stores (and the farmers market). I just like that hometown feel of it all."
John added, "I think it's good for our process because people left and right were sending messages, like, 'We like this, we like that.' It's so much easier for us to go on our website."
One aspect of the business that Hanna has found especially fulfilling was something she didn't set out to do in the beginning: custom orders. She says people asked her if she could do work with flowers that were in some way important to them, and she decided, "Why not?"
She will take flowers from funerals or weddings or other important occasions and turn them into jewelry.
In one instance, she made necklaces for all the bridesmaids in a wedding. In another, she took the flowers from a woman's husband's funeral and made them into necklaces and keychains for the couple's six children.
"The custom stuff I really, really like," Hanna said. "I think I cried with the woman with the children. That one was hard. She came to visit us and I got a little choked up."
She's also had a couple other interesting custom jobs.
"This young lady, her grandparents had this really cool, yellow, vintage wallpaper with daisies," Hanna said. "Cutest wallpaper. Totally 1950s, 1960s. I made coasters and earrings for her family."
She's even been asked by someone to turn a loved one's ashes into a necklace.
"The wildflowers are just a fun way to have a piece of Idaho, but the custom work has been cool to do for people," she said.
Hanna collects herself or is gifted all the flowers she uses in her jewelry. She says that when she picks flowers herself, she is always respectful of nature. She's a trail runner, so the places where she collects specimens are much farther up in the mountains than where most people are hiking.
"I never pick in national forests and I always pick off trail and it's never a lot at a time," she said. "… There's these little pockets that it just takes me 5, 6 miles to get to them, way up trail and I go off (the trail), so I feel like I try to be as respectful as possible on the trails because I love them. Our trails, we're so gifted with them, so I would never want to be disrespectful."
Friends and family will also drop off flowers at her house, and a woman who does landscaping at the golf course near where they live will leave them the clippings from flowers that she's had to trim. Hanna has also asked neighbors if she can take the wildflowers from their property before they wilt. Plus, a lot of the plants she picks are weeds — pretty weeds, but still weeds.
"A lot of them are close to dying. … It's kind of a way to use them before they die," she said.
Plus, she said, because her jewelry is small and intricate, she doesn't have to use much of a plant in a single piece, so "one flower can go a long way."
Hanna expressed gratitude at having been able to start this successful business without having to leave the safety of their jobs.
"That's the thing with this is we've both felt like it wasn't the scary thing probably a lot of business owners have because we have these two jobs that we still have, so this is more of like, 'Let's just see if people like it,'" she said. "So we have so much respect for bakers or people who go (into the farmers market) with their whole week's work right there. It's terrifying. It's humbling. It was so humbling. … Owning a business is terrifying, so I think we're lucky and fortunate enough that we have our normal jobs to survive."
Eventually, the couple would like to travel around the region to other farmers markets and hopefully get their products in more shops in Idaho outside of Pocatello.
"It's been fun because I love flowers, especially wildflowers, so to see people love it as much as we do … made us really excited and motivated us," Hanna said. "I think people are really proud of Idaho products and something local."
For now, Hanna is happy to see people enjoying her work.
"Each piece is so special. It is a little piece of us, I guess — or Mother Nature. We can't really take credit for that," she said.