POCATELLO — Floating season is nearly here, and two Pocatello-based businesses want to make getting out on the water easier than ever.
The newest is YAKSUP Outdoor Rentals, which was started by Levi Lish and his wife, Melissa, after they saw a need for more access to watercraft in the area. The name YAKSUP is a portmanteau of "kayak" and "SUP," the acronym for stand-up paddle board.
"There weren't a lot of options and a lot of quantity as far as if you wanted to go out camping for the weekend and rent a kayak or be able to get into it without necessarily having to go buy your own kayak and store it and do that whole thing," Levi Lish said. 
While other rental companies focus more on providing watercraft for single-day adventures, Lish said they are hoping to attract more of the types of people who want kayaks for weekend getaways.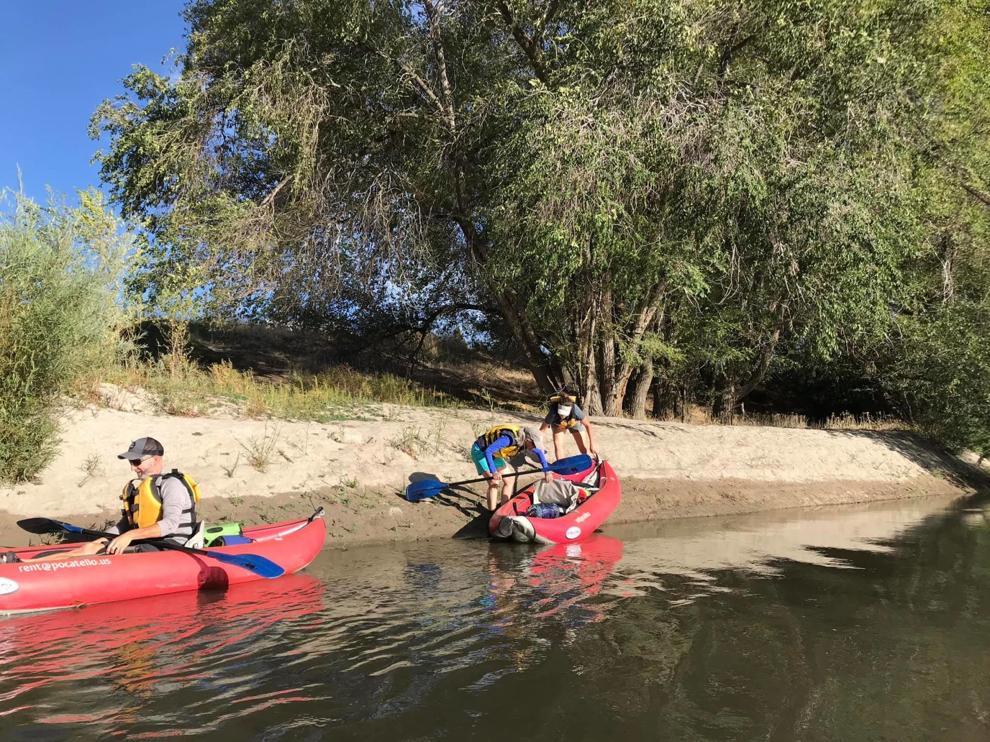 "We're kind of aiming at getting those customers who want to go out for the weekend and take it for a couple of days, whether you're going to Island Park or going somewhere over the course of a couple of days," he said.
YAKSUP will offer a unique service as well — they'll deliver their rentals anywhere within 50 miles of Pocatello, making getting on the road to your outdoor adventure as convenient as possible. The business's kayaks are $25 for a 24-hour period.
"If you're all set up with your camper and we've talked earlier in the week and we set up a time and a place that we can meet, you can drag your camper on your way out of town and I can meet you, toss your kayaks in, and you guys are on your way," Lish said.
Because this is YAKSUP's first season, Lish says that once everything really gets up and running, they'll likely have to work out a few kinks in their delivery process. He said it isn't logical to, for instance, deliver one kayak to Idaho Falls, so they will likely have minimum orders or potentially a delivery fee — but he says they will handle those instances on a case-by case basis.
"(Delivery) makes a lot of sense in theory and we're going to see how it works as the rubber hits the road," he said. "We'll try to coordinate with people as best as we possibly can. … It'll be an evolution, I'm sure."
Currently, the business only offers kayaks, but in the future they would like to be able to provide stand-up paddle boards as well. Current world events have made it harder to buy those types of products.
"Between COVID and the Texas freeze and all this kind of crazy stuff, it's really, really difficult to get your hands on kayaks and stand-up paddle boards right now," Lish said. 
In addition to YASKUP, Pocatello also has another fledgling business that's helping people get their feet wet.
Portneuf River Rentals opened for business in the middle of summer last year. While they were only open for a couple months, owner Josh Randall says the first season was a big success.
"Most weekends and most of the week we were pretty much sold out of all of our kayaks that we have," he said. "People really took advantage of what we're offering."
The business was so successful in 2020 that Randall says they aren't changing much this year. He has, however, added more tubes to his stockpile of watercraft.
Randall says Portneuf River Rentals has on hand about 30 traditional kayaks, 35 sit-on-top kayaks, 20 youth kayaks and 40 tubes. The adult kayaks are $25 for the day, youth kayaks are $15, and tubes are $10.
The business is operated out of Randall's Pocatello home, and recreationists pick up and drop off their rentals there. It is open seven days a week between the hours of 7 a.m. and 9 p.m. and also offers a shuttle service if a group rents six or more kayaks for the day.
The emergence of watercraft rental businesses in Pocatello correlates with the city's effort to draw attention to the Portneuf River as a recreational resource right in the backyard of local residents. 
As part of raising that awareness, the city of Pocatello is planning on holding its second Poky Portneuf Paddle from 4 to 7:30 p.m. June 25. Both YAKSUP and Portneuf River Rentals are planning to provide their services. The event drew more than 1,000 people in its first year in 2019, but the COVID-19 pandemic forced it to be canceled in 2020.
During the event, people can float from either Edson Fichter Pond or Taysom Rotary Park to Centennial Park, and a shuttle service will be provided between all three. At Centennial Park, the city is planning a party with food trucks, music, a beer garden and vendor booths. 
Lish said they will likely end up doing a discounted rate — or maybe even free rentals — during the event.
"We'll provide some kayak rentals for that day and then hopefully be able to shuttle people back and forth to kind of throw in on that and be a part of that and help them get that event off smoothly," he said.
Randall gave kudos to the city for cleaning up and renovating parts of the river to make it more accessible. He directed people to check out the Portneuf River Vision website, river.pocatello.us, for more information, including a map of access points.
"That's the go-to source to see what Pocatello is planning on doing with the Portneuf River," he said.
While the Portneuf River is a great recreation spot for locals, both Randall and Lish encouraged people to get out and explore other waterways as well.
"They can rent one from us and take it anywhere that they would like," Randall said. "We had a gal who went on a weeklong kayaking trip across different places in Idaho and she had a lot of fun doing that."
Lish says he's been using YAKSUP's Facebook page to educate people about some of the other places in the region where people can launch their kayaks.
"We're trying really hard to also educate people and let them know, 'Not only can you get kayaks but this is where you can use them,'" he said. "Jensen's Grove is extremely close, the Portneuf River is gaining some steam, the Portneuf Wellness Complex, and then out from there. There's a ton of reservoirs and ponds that are great for that."
He said that educating people serves two purposes.
"It gets people excited. It gets them to want to come rent," Lish said. "But it also helps stoke ideas, even if they just want to go out there and camp and they don't ultimately do kayaks or whatever, but they just get out and recreate and enjoy. We have such a beautiful area. I really feel like helping to get people out there and enjoy that is a big focus of ours."
Lish's personal favorite spots include Blue Heart Springs and Thousand Springs State Park near Hagerman in southern Idaho, as well as Alexander Reservoir near Soda Springs.
Lish says he's excited to get YAKSUP off the ground, and he is anticipating a successful first year based on the reactions he's seen from people online.
"People seem really excited — a lot of people tagging other people and saying, 'You know, we should keep these guys in mind for when we go do X, Y or Z,'" he said. "I just think there's a really big appetite for people to get out and recreate, especially as (COVID-19) restrictions get lifted and everybody can kind of just go out and do their thing. It's been really encouraging."
Lish continued, "We're crossing our fingers that it's successful and hopefully we can help people get out there and recreate and enjoy. We've got a ton of local waterways that are just begging people to go out and have a good time on a Saturday or Sunday and spend some time outdoors with your friends."
Both YAKSUP and Portneuf River Rentals are currently taking reservations for the summer, and both plan to open for the season over Memorial Day weekend. To make a reservation from Portneuf River Rentals, call 208-339-6484, email portneufrentals@gmail.com or send a message at facebook.com/portneufriverrentals. Reservations through YAKSUP can be made via email at yaksuprentals@gmail.com or by sending a message at facebook.com/yaksuprentals.