POCATELLO — In February, the only residents of the Valentine Building's first story were pigeons. The floors sported a patchwork of torn-up carpet and paint and oil stains. And the rooms that once housed desks and chairs of the First National Bank had become barren spaces that only held a memory of the once-thriving business that filled the 1916-built neoclassical revival building.
By March, that had all changed.
Lured by its white terracotta-clad façade, 28,000 square feet of space and the potential that promised a rewarding end product if given some tender love and care, a group of investors took a liking to the historic Pocatello building and purchased it in September 2020.
And while the upstairs was quickly rented out and renovations were made, the first floor remained in a vacant state of limbo as a shelved project to be revisited in 2022.
It wasn't until locals Mecinna and Jared Price ran into a bind and needed a place for their daughter's wedding that the building's first-story interior was completely overhauled into a marble-clad event center — in only 27 days.
"We hadn't even planned on doing it, it just happened," said Mecinna, who committed to renting the first floor for several years and converted it into the Valentine Ballroom, a downtown Pocatello wedding and event center, in less than a month.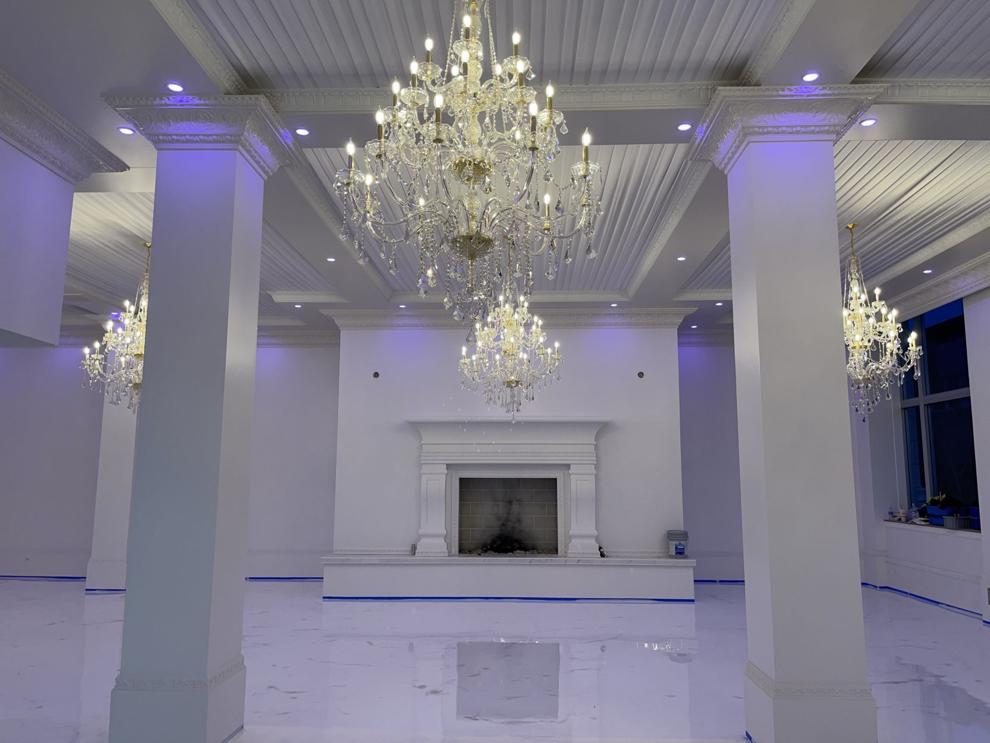 Yet the Prices' decision wasn't entirely out of the blue. They'd had their eye on the building in the past in hopes of sprucing it into a ballroom and had even made several offers on it until local businessman Dane Simmons Jr. and a group of investors committed to it.
Luckily, the Prices' vision for the Valentine Building's first floor hadn't reached a dead end, and once the situation with her daughter's wedding popped up, Mecinna moved quickly.
"I called Dane, we've been friends forever, and I said, 'Hey, (my daughter) just got engaged,'" she said. "And I asked if we could look at the Valentine again for (her) wedding. Due to COVID, there weren't any options available and it was too cold to have it in our yard."
She continued, "And so we met down here that day … and he asked what we were going to do with it when we had been thinking of buying it. And I told him we were going to do a ballroom. We had talked about doing a large gathering space for the community because we can't ever find one when we need one. Whether it's for a Christmas party or just a big work meeting or a wedding party for our daughters, there's never a big open space that's really that workable."
Simmons then spoke with the group of the building's other investors and told Mecinna she could use the building for her daughter's wedding for free — if the Prices made all renovation decisions and got the ball rolling.
"He said, 'I'll give you the budget, and you can make the design decisions,'" she said. "I was excited about the building and agreed to it. My husband said, 'You have one month to turn that whole place around.'"
And they did. They knocked down several walls, installed white and gray-veined epoxy flooring in the main ballroom, and converted old offices into a bridal lounge and grooms den. They plan to renovate an additional room into a second meeting space, which will have hardwood floors and a pebbled glass wall once completed.
In addition to large-scale changes, Mecinna had the desire to introduce formal, beautiful details to the center, and as such several features and items were installed including a grand fireplace, a baby grand piano, an art television, LED lighting and 24 large crystal chandeliers hanging throughout rooms and halls.
During renovations, Mecinna explained that there was a portion of the building that she wasn't positive on what to do with until the idea to add a wedding gown boutique sprang to mind. Now Valentine Bridal and Events sits snug to the left of the building's lobby, which is run by Candace Sandy and is open by appointment only.
The rapid renovations were made possible in part due to the fact that the Valentine Building's upper story had been in the process of a remodel and the Prices were able to use the contractors for the first floor.
"Dane had a whole group of contractors upstairs remodeling and they were almost done," Mecinna said. "So we ended up having them come down and take a break upstairs and start on this for the month to get this done in time. We already had a foreman and contractors and they were amazing. They worked around the clock the whole month, they were here late at night. I've worked with a lot of contractors in my day, and they were amazing. I am very grateful to them."
Mecinna explained they were able to get the remodeling completed in time for her daughter's wedding, and that the reception went off without a hitch.
"Her wedding was on March 19 and we signed for the building on Valentine's Day," she said.
And while the hectic weeks of planning a wedding and seeing a complete remodel executed in just four weeks are over, Mecinna said the Valentine Ballroom has already had several bookings over the past few weeks, and it's not exclusive to just weddings.
Whether it be baby showers, piano recitals, work parties or holiday celebrations, Mecinna wanted to bring an event center to the area that was large enough to cater to big groups without sacrificing a beautiful venue.
"The community needs another place for business meetings, Christmas parties or even big family gatherings," she said.
The Valentine Ballroom is also planning to host several high school proms in its halls after District 25 announced that none of its schools would be holding an official prom night due to COVID-19 restrictions.
"That's been fun too because we've had a lot of homeschooled kids call and ask if they can come and I'm like, 'Of course you can come, just pick which one you want to go to,'" she said. "It's been fun to hear a few of them say how excited they are because it's more of a community event than a school event and more of them can be involved."
Some of the other services the event center provides are in-house catering, which is done by the Valentine Bridal and Events. The Valentine Ballroom also provides formal valets that alleviate the stress of parking, which has been some people's concerns regarding parking in Old Town.
Mecinna has further compiled together several wedding packages, which provides brides-to-be a one-stop-wedding-shop of pre-selected caterers, photographers, cake designers, wedding dress fittings, invitation artists and more.
"It's very methodical and it accomplishes everything in one day and it gets everyone excited," she said. "They say, 'Oh, my wedding is planned in two hours and I don't have to shop around for so many things.'"
She added, "We can plan the wedding or people can plan their wedding and just rent the building. We're flexible on this."
All this attention to detail, scheduling and event planning, and working with people is something familiar to Mecinna, who runs six other businesses with her husband, including Nouveau Medspa and Salon, MP Dance Company, Price Properties, Price Products, and the six locations of Medical Ear in Southeast Idaho. Dr. Jared Price is also a physician at Portneuf Medical Center in the Wound Center.
"Now I think, 'What have I gotten myself into?'" she said with a laugh. "I now work every weekend doing other people's weddings and I've somehow got seven businesses and don't have time to run half of them. But I do a lot of event planning anyways. I have fantastic people who help and work for me. I have my own system of running things and I know…a lot of people just from growing up around here."
And for those interested in learning more about the wedding services the Valentine Ballroom provides, Mecinna said they're planning to participate in the Old Town's Friday Art Walk every month after last month's art walk was such a success.
They'd brought in many wedding vendors, from florists to photographers to invitation designers, and had the bridal store open for people to get an idea of the different services the event center can offer.
"It was like a mini bridal fair," she said. "We had the doormen here and the valet parking going so people could see how professional our guys are. When it ended at eight, our DJ turned down the chandeliers and turned up the LED lights and cranked the music. We ended up having a dance party that we didn't plan on. It was a blast."
These moments of bringing people together in a historic location in Pocatello and witnessing the gratitude from locals who are glad to see a piece of the city restored has been an emotional experience for Mecinna, who grew up in Pocatello and spent a lot of time in her younger years in Old Town.
"One of the things I've really appreciated is the community support and feedback from people," she said. "My grandpa owned Roy's Western Wear, just around the corner from Valentine, and I grew up running around downtown on these streets. … It's been so nice having people come in and say how excited they are about what we've done with the building."
Another moment that stood out to her after the renovation process was the visit from a previous employee of the First National Bank. He expressed gratitude at the work that had gone into restoring the building.
"He went right by the window where his desk used to sit and looked outside and he just got so emotional, he gave me a hug and he said, 'Thank you for preserving the history of Pocatello and for doing something good with this building,'" Mecinna said. "And I think about the original architect who was Frank Paradise and the owner, Carl Valentine, and I think about them all the time and wonder what they would have thought seeing what we're doing with their building."
The Valentine Ballroom is now open for 2021 event bookings and can be reached at their Instagram or Facebook page, Valentine Ballroom, or email at valentineballroom@gmail.com.
A website — ValentineBallroom.com — is also in the works where customers can browse and purchase from the Valentine Bridal's dress inventory online, as well as get information on other details regarding all that the event center has to offer.
The Valentine Ballroom is located at 100 S. Arthur Ave.