The last time I went to Maple Grove Hot Springs was summer 2015. Maple Grove is on the Oneida Narrows near the town of Thatcher — a suburb of Grace. My 2015 experience at the springs was "rustic." The location is beautiful. A lazy river runs through green hills; birds and wildlife meander through. However, the soaking pools were a little slimy, and there were coffee cans filled with sand and cigarette butts. The amenities did not match the scenery. Fast forward to 2019 when the Small Business Development Center got a call from one of the new Maple Grove owners.
Jordan Menzel is an energetic single dad whose career has included serving as a graduate assistant to former Secretary of State Madeline Albright at Georgetown University, running a startup software company and refurbishing a 1976 Airstream. (Google "Menzel Airstream" to see the incredible transformation.) He most recently left his position at Choice Humanitarian, an international development non-profit. Choice organizes volunteers to learn from rural communities abroad and support their local projects.
Menzel was on hunting trip near the Maple Grove in September of 2018. A Salt Lake friend had mentioned the property, and nearly on a whim, Menzel stopped by to see it. Two weeks later, he learned it had closed and that the owner planned to sell.
"I reached out the friend who told me about it, and connected with others who had a love for the property. We all united around wanting to preserve the space," he said.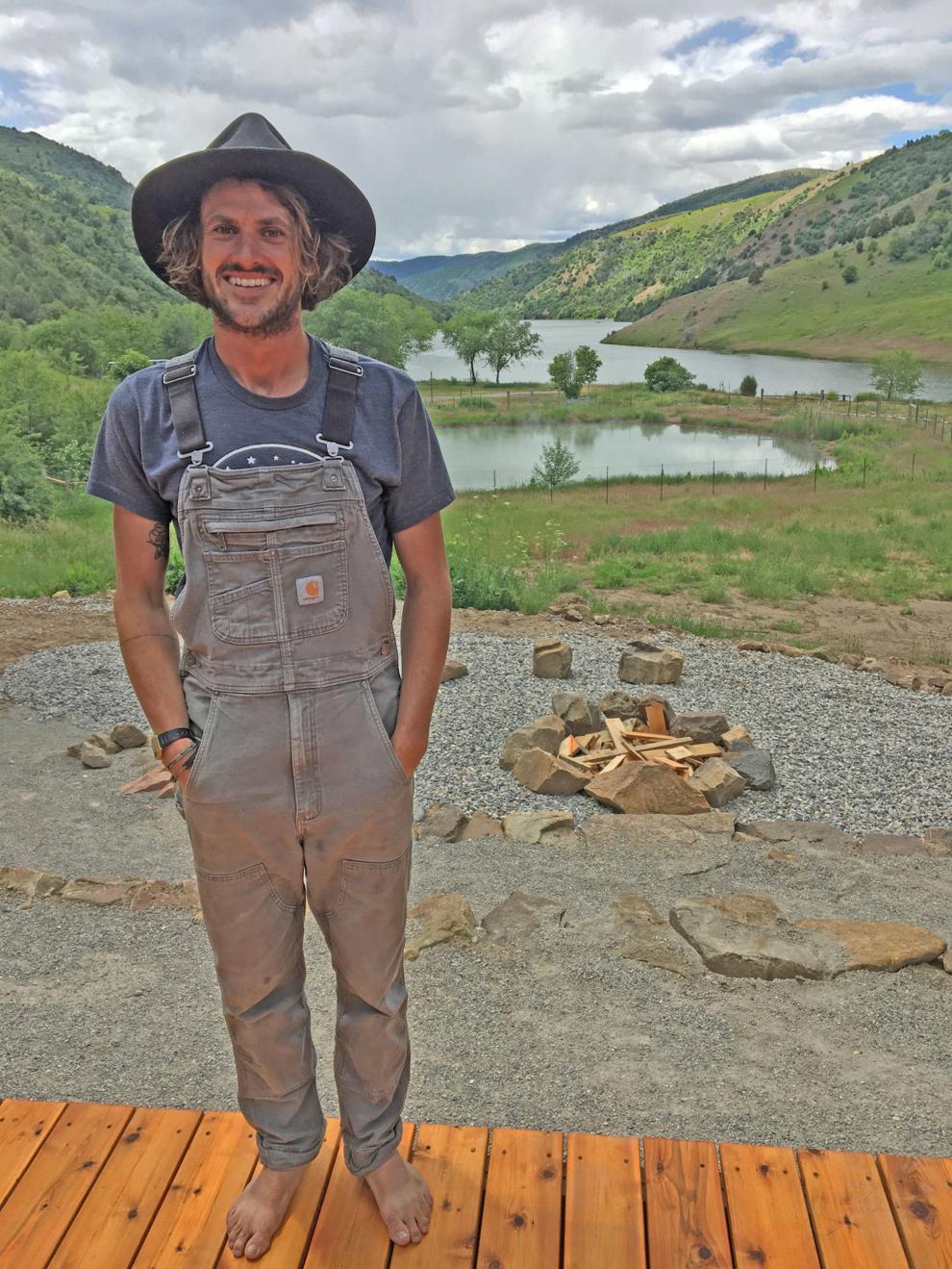 Menzel was looking for a creative project he could see through — from start to finish. Maple Grove fit the bill. The team had to move fast and make a big commitment quickly. On the day they were set to close on a commercial loan, the deal fell through.
"I and my partners had a week to raise the money, and amazingly we did," Menzel said.
Then the real work began to open the property for a partial summer season.
On a cool, sunny Saturday in June, Menzel hosted an open house at Maple Grove.
"I love helping people experience transformational change through non-traditional tourism," he said.
Menzel and partners redesigned Maple Grove Hot Springs with this goal in mind and completely reimagined the property from when I visited in 2015.
Maple Grove is now a 45-acre fully off-grid experiential retreat center and hot springs property that includes furnished yurts, cabins and canvas tents for overnight stays as well as walk-in campsites. There are three stone mineral pools and one large swimming pool, all fed from a natural lithium hot springs 100 yards away. A river house with a grab-and-go café, bathrooms and showers is on the verge of completion. Most striking is the breezy, new 30-foot retreat center ready for yoga, meetings and learning.
"We want guests to be able to rely on a peaceful, safe experience in a natural setting," Menzel said.
Buying any new business is a huge undertaking, and the addition of managing a remote property adds challenges.
"This is the hardest I have ever done," Menzel said. "The land has immense resources, but they require immense attention."
The Small Business Development Center helped Menzel navigate taxes, employee hiring and registering with the state.
"I am glad I found the SBDC," Menzel said. "It is helpful to know I am not in this alone."
His team faced piping, irrigation and valves that were in various states of disrepair. There is spring water, solar power and septic to organize as well as structures to refurbish. All this happens without cellphone or internet access on site. Additionally, Menzel works to ensure the new brand does not alienate old customers as he expands the customer base. The Maple Grove philosophy now focuses on safety and quiet. Reservations are entirely online, even for day visits. This ensures the property is never overcrowded. Guests also agree to refrain from excess noise (e.g. generators), and drugs and alcohol are not allowed.
To book nightly stays and day time soaks at Maple Grove, visit maplegrovesprings.com. Day passes are $15.
In spite of the hard work, "this happiest and most balanced thing I have done," said Menzel. "I start and end my work days in the springs, watching eagles fly by or seeing a moose cross the Narrows."
The SBDC is taxpayer funded to provide no cost consulting and low cost training to any small business. Ann Swanson is the regional director of the Small Business Development Center (SBDC) at the ISU College of Business at 208-282-4402 or swanann@isu.edu.