POCATELLO — Ashley Delonas is no stranger to conquering big challenges — after all, she's climbed all nine of Idaho's mountains over 12,000 feet and has been a successful entrepreneur for 12 years.
But this summer, the local artist found herself in the middle of the biggest test of her career. She was on the brink of either profound success or great failure and financial disaster.
Instead of spending her days working on the artwork that made her well known locally — small pieces made of stained glass, feathers, rocks and gemstones soldered between the tines of antlers — Delonas put all that aside to spend four months creating her masterpiece: a five-panel stained glass antler chandelier weighing 50 pounds and measuring 3 feet in diameter.
It was a risk that paid off.
Delonas — whose Pocatello-based business is named Mountain Girl Studios — had been accepted into the exclusive Western Design Conference, an annual event in Jackson, Wyoming, made up of some of the West's best creatives.
At the event in September, she sold her masterpiece — which she named "Ascend" — for $20,000.
Delonas has been an artistic entrepreneur for more than a decade, quietly building success with her intricate, hand-crafted pieces and selling them at local craft fairs and farmers markets.
There came a point, however, where she wanted to do something different — something bigger, something better.
"I was being called to something greater," she said. "Instead of something that takes you a day, you make something that takes you four months. That was what I had been yearning for these last two to three years."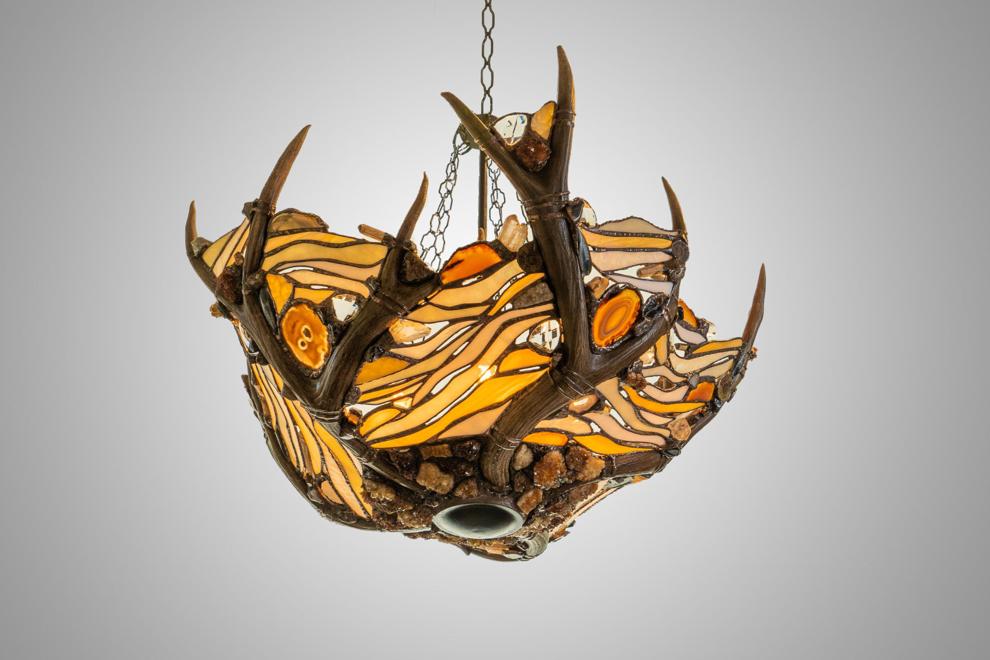 So Delonas applied to be a part of the 2020 Western Design Conference and was accepted, which left her feeling "blown away."
"People from around the world apply and they only accept around 100 of the top best artists, Western designers and influencers of the West," she said. "It's very prestigious. It's like the Harvard and Yale of art shows."
Then the COVID-19 pandemic hit, and the 2020 show was canceled, which turned out to be a blessing.
"I was able to build a stronger body of work (because of COVID)," Delonas said. "It worked out perfectly for me. I wouldn't have had time or the knowledge base to design the pieces that I did if I didn't have two years to plan for this show."
Making the massive chandelier was — to put it lightly — complicated.
"It's so meticulously time consuming," she said. "You had to get the antler frame completely 100 percent sound and bulletproof. The frame's got to be structurally sound before you can start soldering glass in. … You design one kind of panel and then you repeat that throughout each section. One of those glass panels could take me seven to 10 days just to do the glass work."
Not only was the process tedious, Delonas' studio setup doesn't have everything she needs.
"I don't have running water or a 220 plug for my big kiln, so I was always having to run my chandelier back and forth, up and down the stairs, trying to make it work to get it washed and whatnot," she said. "It got harder as I got further along with it because once you start adding panels, it's getting heavier."
Because her masterpiece has rounded sides, that makes the process a lot different from designing something that can be laid flat.
"The most challenging part about the whole chandelier other than designing it was the solder," Delonas said. "My chandelier is not flat, so I'm trying to work with a liquid metal on a not-flat surface, and the solder is constantly rolling and rotating."
In addition to the complex process of making the chandelier, Delonas was dealing with her own negative thoughts as well as the burdensome comments of others.
There's no guarantee it will sell, they said. If she failed, they reminded her, she'd have nothing to show for it. Surely no one will spend five digits on a fancy lamp, they said. They asked, why doesn't she just stick to the farmers markets? That's so much safer.
"The whole time I was nervous knowing I was spending so much time building this one chandelier and risking not making money now to hopefully sell something that I know has to be priced so high," she said.
At this point, the frustrating masterpiece was named "Brink." It's generally considered a word with a negative connotation — think "the brink of war" or "the brink of death" — but one of the definitions, per dictionary.com, is "a crucial or critical point, especially of a situation or state beyond which success or catastrophe occurs."
Fitting, given everything Delonas had put on the line with this project.
"Sometimes we're so fearful of that big risk, … so you choose not to do it. You choose to be safe," she said. "It would have been safer to make my money at the markets and just do Idahos and light switches. And I was like, 'I can't do this to myself. I've got into an amazing show. I've got an amazing opportunity to finally show what it is that's in my head.' And that's exactly what I did."
Then, four long months after she began, "Brink" was finished.
"I've never worked so hard and been so focused, ever — not with college, not with anything ever," Delonas said.
In a social media post she made after she completed the chandelier, she wrote, "I completely surrendered myself and all my time to this artistic pull and even though it was the hardest thing I have ever done, or ever made, it has been the most enlightening, spiritual process of my artistic self development."
When the East Idaho Business Journal asked her to elaborate on that, Delonas said, "You don't really know you're going through an enlightening or spiritual process until you're onto the other side of it. If you had asked me in May, in June, while I was building it, as pieces are breaking and I'm having to learn and fix things (I would have said), 'This isn't spiritual. This isn't enlightening at all.' It was breaking me, mentally, everything."
Eventually, though, Delonas realized that it wasn't all bad. She had learned a lot. She had reached a new level in her artistry.
"I came to realize I wanted a proper name for it," she said. "It was all made. I was super proud of it. It just came to me: I'm going to name this piece 'Ascend' because the definition of that is to get to a higher rank or point in a degree in your life, and that was the whole risk I was taking with 'Brink' aka 'Ascend.' I now see how much it grew me."
Delonas finished her project just two days before the exhibition in Jackson. A massive achievement on its own, she still had to sell it. She still had to see if four months of hard work would be worth it.
"Ascend" was carefully boxed up and they were on their way to Jackson for the Western Design Conference, which took place this year from Sept. 9 to 12.
"I was so scared," Delonas said. "I was taking such a risk and if it wouldn't pay off, how was I mentally going to recover?"
The entire time she'd been working on her chandelier, devoting countless hours of sweat and tears, she'd been fantasizing about the type of person she'd want to take home her masterpiece.
"Every piece that I put into that chandelier," she said, "I constantly was asking myself, 'Who is my ideal client? Who can buy this? Who can afford this? What are their tastes and what are their likes and what does their house look like?' I was hoping (the buyer) would be female, some badass lady, and that's exactly who she was."
The night Delonas made her big sale was one of the busier ones. A woman who seemed surprisingly just like the ideal client Delonas had been hoping for walked into the booth with a friend. They were immediately intrigued by "Ascend."
The woman asked how much it was; Delonas confidently said, "It's $20,000."
Delonas then turned to walk away and give the woman time to sit with the price, mull it over a little bit. Most people don't make those kinds of purchases on a whim.
This woman did, though. Within a couple seconds, the woman said, "I'll take it" — nonchalantly, not knowing just how much was riding on this one transaction.
Delonas turned back to her, surprised, saying, "You heard my price."
"Yes. $20,000," she said, handing over her credit card.
"The second that she had her card in her hand, that was the trembling moment, when the tears began and the flood of emotions began," Delonas said. "It was very powerful and humbling. I conquered so many more things than just a sale in that moment."
All her hard work was worth it. It hadn't been a waste of time. In fact, quite the opposite.
She had stepped up to the brink and jumped off the edge — discovering, instead of disaster, a profound realization.
"It wasn't until after I turned around and I looked to the lady who said that to me, I think that's when it all started coming to me: This was the best thing I ever decided to do. It was the biggest risk. And it got me to the next point in my life," Delonas said.
This experience was immensely validating to her. It meant that not only could she do a hard task, but also that her work is worth the price.
"I'm so thankful that I didn't listen to my inner critic and to the naysayers and listened to the beat of my own drum," she said. "I'm so excited for what I'll be doing in the future. The thought of me selling a $100,000 piece is now imprinted in my mind, and I totally think I can do it. I now have so much more confidence than I did three or four months ago because I didn't have that big sale under my belt. But now that I do, it gave me that, 'OK, you can think bigger now.'"
In addition to conquering professional challenges, Delonas has completed a major accomplishment in her personal life as well.
In 2018, the Idaho State Journal spoke to Delonas about her business. In that article, she said she had climbed seven of the nine mountains in Idaho that are over 12,000 feet.
Since then, she has climbed the last two, an experience she says was "powerful."
"That was kind of the birth of me conquering personal struggles," she said. "When you summit these mountains, something demanding like that, it makes you feel like you can conquer big things."
The journey to complete all nine 12ers began in 2012 with Mount Borah. Delonas made it to the peak with her dad and her brother.
The experience was so addicting that the three of them made a pact that they were going to climb all nine — together. The next year, Delonas met her now-husband, who had already summited Borah, and he joined in on their collective goal.
It took six years of trying to coordinate schedules during a short climbing season, but they reached the top of the last peak in 2018.
"For me, it was always about conquering it with my family — with my dad, with my brother and with my husband," Delonas said. "That was the goal. We couldn't leave a man behind. We could have summited those mountains all in one year, but it was about camaraderie and doing them together as a family more than anything."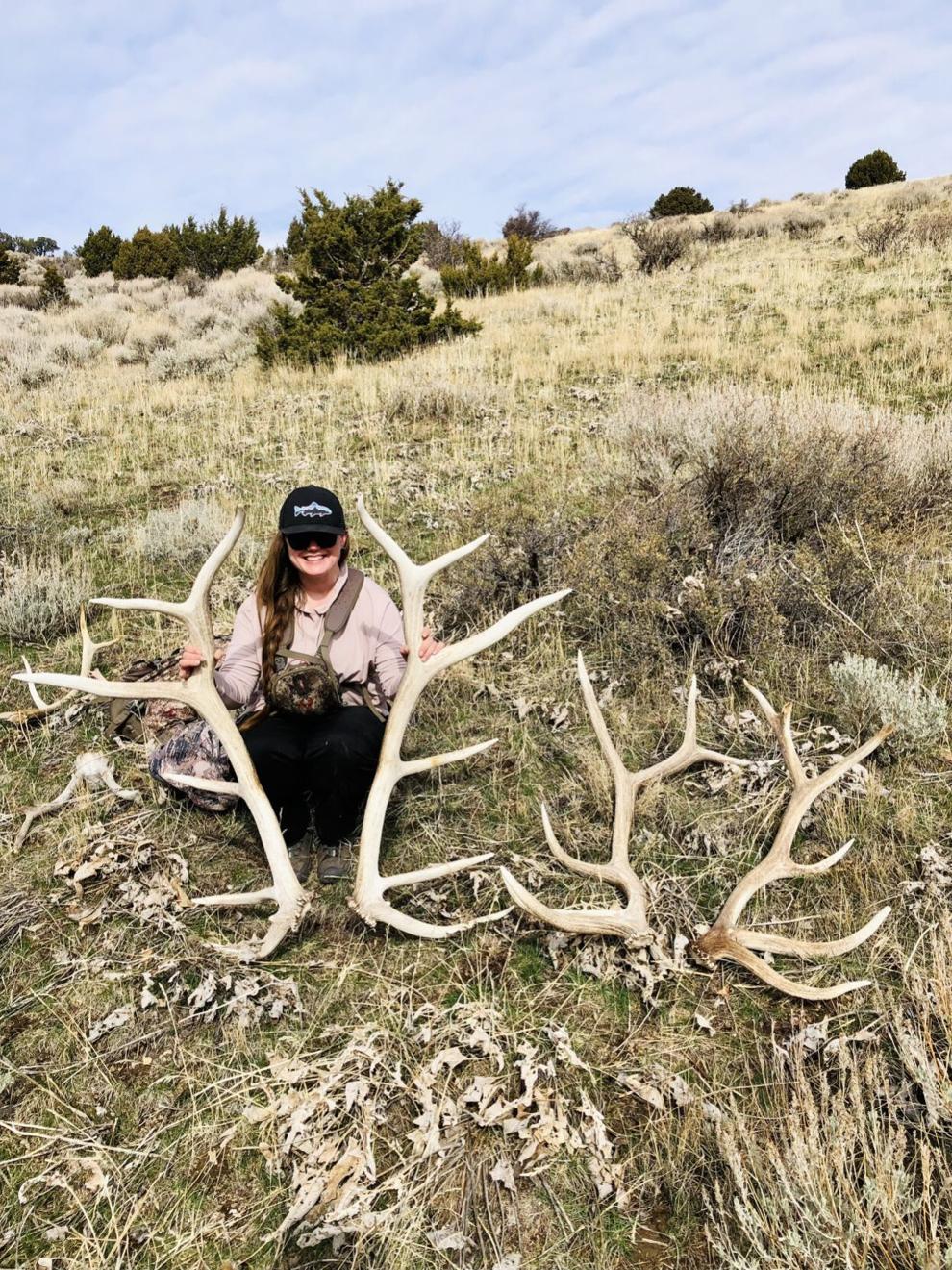 "At the time, there were only a handful of women on the register, and I was so proud to be a member of that select group," Delonas said.
And she might be doing it all over again soon. Her then-10-year-old son came on the last climb, and now he's got the bug.
"Now my son, he's got one under his belt and he wants to go finish the other eight, so I think I'll be doing them again," Delonas said, not sounding particularly put out by that prospect.
Her work is heavily influenced by her love of the outdoors, beyond just climbing peaks. In fact, her work would not be possible without her love of hunting for antler sheds.
"It's the best thing in the world," Delonas said. "When you're hiking and you come across this beautiful, massive, six-point elk shed bathing in the Idaho sun, it's spiritual and awesome. There's nothing better than that."
Shed hunting has also changed the way she thinks about life.
"You've got to make room for new growth, so you have to shed your old, and that's what antlers do," she said. "Every single year, deer, moose and elk drop their antlers to make way for the new ones, the better ones. That's a metaphor I carry through every aspect of my life: What do we all need to shed?"
Delonas said that there are probably a thousand elk, deer and moose antlers in her house — many of which have come from her husband, who is a geologist in Mackay and spends his days roaming the mountains there.
"(Shed hunting is) my favorite thing to do in the whole world," she said. "I love making antler chandeliers, but there is nothing that compares to not making anything and being in the mountains."
With mountains conquered and a masterpiece sold, Delonas has reached new heights in both her personal life and her career.
"I really bossed down this summer in ways I never have," she said.
She hired someone to manage her social media. She used freelancers for various jobs. And, most importantly, she hired an art coach.
"You really have to surround yourself with people who are going toward where you're wanting to go, and that's why I hired an art coach," Delonas said. "She helped me work through all these mindsets and limiting beliefs I had and pushed me to make that masterpiece."
As a result, so much has changed.
"It's the power of manifesting what you put out there," she said. "I kind of feel powerful from it. It's been a 12-years-in-the-making dream. Even five years ago, I never would have had the audacity to dare that I could dream something, that I could create something for a couple months, and make $20,000 off of it."
In the future, Delonas would like to find a way to make it so more people can see her work, either by creating an art installation somewhere or by finding somewhere to have an exhibition. She was bummed that not many people were able to see "Ascend" before it was sold because she completed it only two days before the exhibition.
For now, Delonas is back to making her smaller items, and she appeared at several craft shows in November. But now she knows that doesn't have to be her future.
"I think it's just ascending to that next rank and that next level in my creative endeavors," she said. "I don't want to produce mass product anymore. They're all fun, artistic, beautiful things, but there's something about creating four or five masterpieces a year and that's it, and that's my goal now. Having one under my belt — one big sale — is a huge confidence booster. If I can pull that off and I can do that, I think I have a product people want all over the world."
For more information on Delonas' work, visit mountaingirlstudios.com. You can follow her on Facebook and Instagram, @mountain_girl_studios.